ASUS P4P800S-E: Basic Features
 Motherboard Specifications
CPU Interface
Socket-478
Chipset
Intel 82848P MCH (North Bridge)
Intel 82801ER ICH5R (South Bridge)
Bus Speeds
up to 400MHz (in 1MHz increments)
Core Voltage
up to 1.950V (in 0.0125V increments between 1.55V and 1.60V;
in 0.0250V increments after 1.60V)
DRAM Voltage
up to 2.85V (in 0.1V increments)
Chipset Voltage
N/A
AGP Voltage
up to 1.80V (in 0.05V increments)
Memory Slots
3 X 184-pin DDR DIMM Slots
Expansion Slots
1 X AGP 8X Slot
5 X PCI Slots
Onboard IDE RAID
N/A
Onboard USB 2.0/IEEE-1394
Eight USB 2.0 ports supported by ICH5R
VIA VT6307 IEEE 1394 FireWire (up to 2 ports)
Onboard LAN
Intel PRO/1000CT 10/100/1000 (CSA bus)
Onboard Audio
Analog Devices AD1985 AC'97 codec
Onboard Serial ATA
Two SATA connectors via ICH5R (RAID 0 & RAID 1)
BIOS Revision
1001b7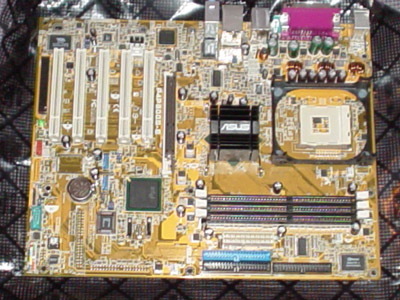 Click to enlarge.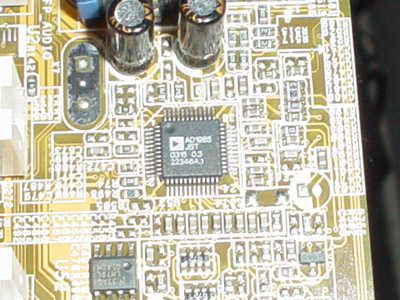 Click to enlarge.
ASUS and Analog Devices have been close friends for a while now, both cooperating on the development of sound solutions. Therefore, it isn't surprising to see that ASUS utilizes an Analog Devices AD1985 AC'97 codec for the P4P800S-E's onboard sound. The AD1985 codec is not capable of higher quality sound at 24 bit/96KHz sampling rates, but it is capable of outputting adequate quality when an analog speaker system is utilized using an analog out port.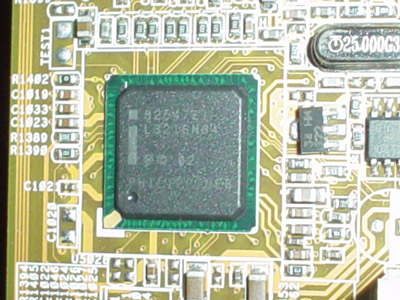 Click to enlarge.
The P4P800S-E uses a LAN controller from Intel, dubbed the PRO/1000CT. The PRO/1000CT is more than your standard 10/100 Fast Ethernet adapter, and therefore, will serve more than just users who have basic broadband needs. The PRO/1000CT is the only onboard adapter we know of that is capable of using Intel's dedicated GbE (Gigabit Ethernet) bus known as CSA (Communications Streaming Architecture). GbE is capable of speeds of up to 1000Mbps, and that means that users and corporations alike will find GbE to be very useful for transferring a large amount of information between networks and server clusters, among other such system configurations. Home users have much less of a need for GbE, as the vast majority of home and home office users never need to transfer anywhere in the range of the possible throughput a GbE network offers. Still, there are always
some
users who will find a need for GbE networks in their homes. If you're one of those types of people, then you have every reason to love the fact that the P4P800S-E comes with an onboard 10/100/1000 GbE adapter. The GbE adapter travels through Intel's CSA (Commutations Streaming Architecture) bus and ends up increasing throughput rates, compared to onboard 10/100/1000 GbE adapters that travel through the often clogged PCI bus. We demonstrated this very fact in a review a few months ago.
The P4P800S-E's I/O ports are pretty standard for a value motherboard, save for a few additional niceties. The basic I/O ports that come with the P4P800S-E are two PS/2 ports, one parallel port, one serial port, four USB 2.0 ports, and Mic in, Line in, and Line out, which drive the onboard sound. Some of the additional I/O that are only common among high-end desktop motherboards include one rear IEEE 1394 FireWire port, one 10/100/1000 GbE (Gigabit Ethernet) port, and one optical out port. It is unheard to have these features on a value motherboard. At the least, we're happy to say that a top tier motherboard maker like ASUS is leading the way in this department.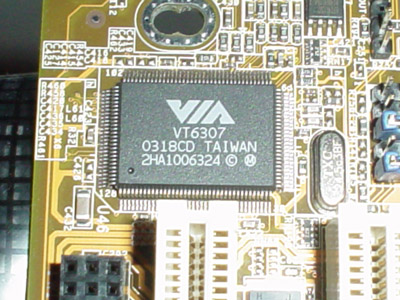 Click to enlarge.
The onboard IEEE 1394 FireWire is powered by a VIA VT6307 controller, capable of supporting a maximum of two ports. We would have preferred the VIA VT6306 because it adds an extra port, which some users will find useful if they happen to have several FireWire devices. Unfortunately, ASUS does not include an IEEE 1394 FireWire bracket to make use of the onboard FireWire header. This isn't surprising, considering ASUS has to cut costs somehow to keep the motherboard price so low.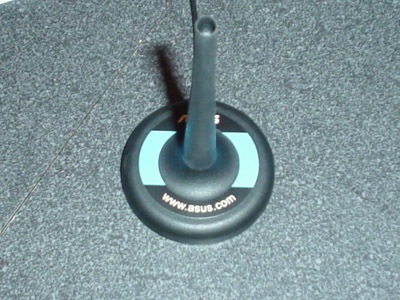 The most interesting and unique feature that the P4P800S-E brings to the table is wireless 802.11b 11Mbps capability. By plugging in the bundled 802.11b card into the P4P800S-E motherboard and connecting the dipolar antenna twist-on connector (the AP, otherwise known as the Access Point) to the antenna connector, your P4P800S-E powered system will be able to connect wirelessly to the Internet. This is all a very simple procedure that ASUS outlines in the WiFi guide to wireless connectivity that comes bundled with the P4P800S-E.
We certainly think that ASUS is going down the right path when it comes to making WiFi standard among value motherboards. 802.11b at 11Mbps is more than enough for the average Internet user. Including an 802.11g card (at 54Mbps) might have been a better option for those people who transfer large files, but 802.11b will by no means hold back anyone looking for a fast Internet experience with fast download times.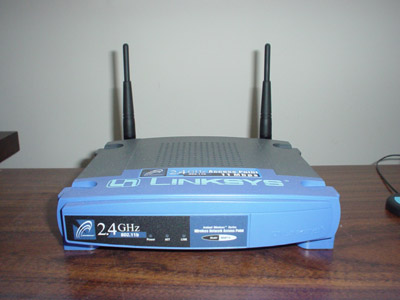 Unfortunately, one of the downsides of the bundled AP is its lack of range to other devices (this won't concern users who will be using their ASUS AP for just their motherboard). Using a Dell 600m Centrino laptop with an Intel PRO 2100 card, we were able to keep excellent signal integrity only 10 feet away from the ASUS AP. For regular laptop users who move around their living quarters quite a bit, this limited range will be a big drawback. This is exactly why some people will opt for a more powerful AP. In our case, we used a Linksys WAP11 AP, which uses an identical 802.11b standard for transferring data as the ASUS AP. The Linksys WAP11 AP had a much longer range of connectivity compared to ASUS' AP, about 75 feet in total. Since we were constrained by the dimensions of our testing lab, we may have been able to receive excellent signal integrity beyond those 75 feet. Still, it's clear that a standalone AP like the Linksys WAP11 is a much better choice if you want to have maximum range on your laptop. If you're someone who works in a small office or apartment and won't be moving your laptop more than a few feet from your ASUS AP, then you will be more than satisfied with the P4P800S-E's bundled AP.
We'd like to caution users that there are some devices in your home that may interfere with your ASUS AP. One common product that tends to hamper wireless signal integrity is 2.4GHz cordless phones. If you encounter signal issues, we suggest that you try and set up your ASUS AP as far away from your 2.4GHz cordless phone as possible. Another remedy for stopping signal interference may be to simply replace your 2.4GHz cordless phone with a 900MHz cordless phone, which does not have as much of an issue with interference.