Asus PC-DL: Basic Features
 Asus PC-DL Motherboard Specifications
CPU Interface
Dual Xeon Socket-604
Chipset
Intel 875P North Bridge
Intel ICH5R South Bridge
Bus Speeds
133 to 165 (in 1MHz increments) — 533FSB
Core Voltages Supported
Default only
AGP Voltages Supported
Default only
DRAM Voltages Supported
Default only
Chipset Voltage
Default only
CPU Multiplier Ratios
To 23X with 3.06 CPU
Memory Slots
4 x 184-pin Dual-Channel DDR DIMM Slots
Supports both Standard and ECC Memory to PC2700 (DDR333)
Expansion Slots
1 AGP 8X Slot
5 PCI Slots
Onboard IDE RAID
Standard ATA 100/66
Supporting up to 4 IDE devices
Onboard USB 2.0/IEEE-1394
8 USB 2.0 ports supported by ICH5R
2 TI TSB43AB22A Firewire
Onboard LAN
Intel 82547EI CSA Gigabit LAN
Onboard Audio
ADI AD1985 6-channel
Onboard Serial ATA
Intel ICH5R supporting 2 SATA drives
Promise PDC20378 for 2 SATA drives
Onboard RAID
Intel ICH5R SATA RAID 0,1
Promise 20378 SATA & IDE RAID 0,1, 0+1
BIOS Revision
Release BIOS 1002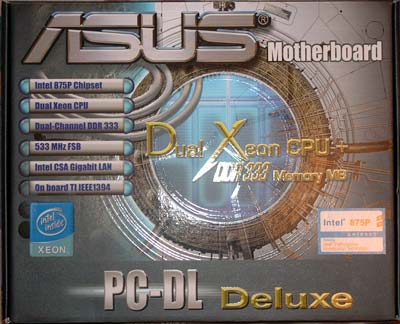 The feature list certainly looks more like a top-end consumer motherboard than a server board. In fact, the features are basically the same as the
P4C800-E
that we recently reviewed.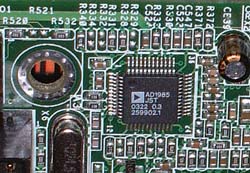 Asus has used the ADI 5.1 audio codec that has become standard on most of their recent boards. ADI is the same codec used by Intel on their 875 boards, and provides automatic switching of sound inputs. In addition, Asus has included a bracket with both coaxial and optical SPDIF out for connection to digital receivers or powered speakers. This is certainly not the kind of on-board audio you would normally expect to find on a Dual processor board.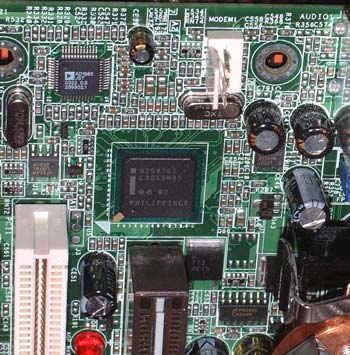 On-board LAN is provided by Intel's Gigabit LAN chip providing LAN support on the dedicated CSA bus.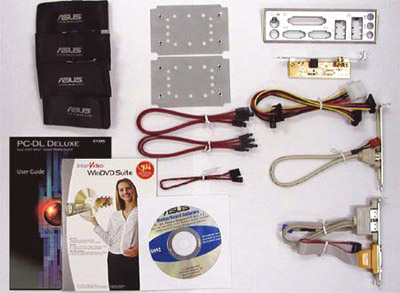 4 USB 2.0 ports are included on the I/O panel with headers for 4 additional USB 2 ports on the motherboard, for a total of 8 USB 2.0 ports provided by the Intel ICH5R South Bridge. Asus provides an accessory bracket with 2 USB ports and a game port. 2 IEEE1384 Firewire ports are available, with one on the I/O panel and one provided on an included accessory bracket.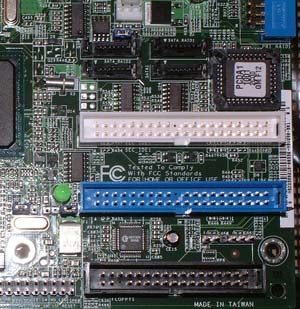 Serial ATA support is available from both the ICH5R South Bridge and the Promise 20378 controller. Up to 4 individual SATA drives or various combinations of Intel and/or Promise RAID are available. In addition, Asus provides an additional Promise IDE connector that supports up to 2 single drives or 2 ATA133 IDE drives in a RAID configuration. Asus includes four SATA cables, and the 2 sets of power splitters/adapters to allow convenient connection of up to 4 Serial ATA drives.

The Asus PC-DL provides standard IO options on the back panel, plus a firewire port, Gigabit LAN port, and 4 USB 2.0 connectors. A dedicated IO backplate is included. The mini jacks appear to be the standard line-in/line out/mic jacks, but in fact, they automatically configure themselves depending on what you plug into the jacks.
To this point, we could be talking about features on the P4C800-E, but there are several features that immediately tell you this is a Dual Xeon board.
While the PC-DL is a standard ATX configuration and fits the same cases as regular single-processor boards, you will still need a workstation/server power supply. The standard ATX power connector is 20-pin with a 4-pin 12V connector. The PC-DL requires a 24-pin power connection and the 8-pin connector only available on Xeon power supplies.

Click to enlarge.
Fortunately, there are several commonly available power supplies that will meet the requirements. The Vantec Aluminum Stealth 470W and 520W power supplies come with a 24-pin power connector plus a converter for standard 20-pin ATX. Also included are both the standard 4-pin 12V and the 8-pin connector required for Dual-Processor/Server boards like the PC-DL. In addition, both Enermax and Antec have Xeon-style power supplies available at about $50 more than a standard ATX power supply. We do like the Vantec feature of being able to use their power supply for both regular ATX boards and Xeon boards.
Early information about the PC-DL talks about the overclocking capabilities of the board. While the promise is certainly here, the current talk is overly ambitious in our opinion. The only overclocking adjustments on the current board/BIOS combination are FSB adjustment from 133 to 165 and the ability to use a lower multiplier with 3.06 Xeons. Without PCI/AGP lock and any voltage controls at all, even these features are of limited value. When we compare the components used on the PC-DL to those on top P4 boards, it is clear that Asus can provide more of these overclocking features with BIOS updates in the future. However, as it is currently shipping, any claims you see about overclocking are from those accustomed to seeing no overclocking controls at all on a Xeon board. Compared to a standard high-end Pentium 4 board, overclocking options are
very
limited.