In the beginning
LCD stands for Liquid Crystal Display. Incredibly, this technology has its roots in 1888 when Friedrich Reinitzer melted cholesteryl benzoate. It became a cloudy liquid which then turned into a blue opaque substance when cooled. Almost 80 years later, RCA began to tinker with the idea of using these liquid crystals in watches. Then, in 1968, the RCA team created a working liquid crystal timepiece, albeit they were still some years off from creating large scale devices.
To briefly go over how LCDs are possible, we have to understand Reinitzer's discovery 115 years ago. Cholesteryl benzoate is a very tightly packed fibrous material. Typically, it arranges itself in a tight helix pattern that is "twisted" together. Although LCDs today don't use cholesteryl benzoate, the materials used today share some similar properties. Modern LCDs are composed of a pool of twisted liquid crystals in front of every sub-pixel on the display. Applying various degrees of current to the liquid crystals untwists them ever slightly (enough to allow light to pass).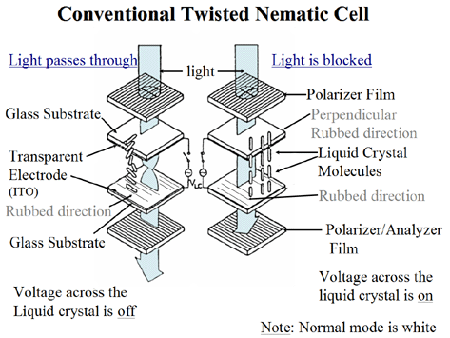 This very important principal in LCD technology is called the
twisted nematic field effect
. The important thing to understand is that LCDs do not generate light; they simply allow or inhibit light from passing through a certain place on a substrate.
When the liquid crystal is untwisted, light from the backlight passes it. There are no white sub-pixels on the display, so the color of the red, blue or green sub-pixel shines through. We no longer use cholesteryl benzoate, but rather Ferroelectric liquid crystals. These crystals are arranged in a very tight helix arrangement, which allows them to twist and untwist very rapidly. Even further advances in LCDs have brought us surface-stabilized ferroelectric liquid crystals, which form a slightly different natural pattern, but still allows for an electrical current to untwist the crystal.