Fixing a dead (sub)pixel?
The largest fear an LCD consumer has is that a dead pixel will ruin the display. While older LCDs used to be plagued by dead pixels, manufacturers are getting pretty good at producing monitors with (almost) no defects.
When analyzing LCDs for dead pixels, there are a couple of pretty easy rules to follow.
1.) In almost every case, the monitor is shipped with a dead pixel. Very rarely does a pixel actually "burn out". Thus, when buying an LCD, especially from a retail store, ask to see the LCD on before actually carrying it out the door. If a sales rep gives you a hard time, be persistent. It doesn't cost Best Buy anything to ship a monitor back to Samsung, and they would rather make money off your purchase than see you walk out the door.
2.) "Stuck" pixels have no easy fix. Sometimes you can get the store to take the monitor back, but if you order online, it can be difficult.
As an act of desperation, some people recommend "rubbing" the pixel to see if it will come back to life. We have seen dozens of monitors and dead pixels, but unfortunately, this has not worked once. From the experience of others, the majority of dead pixels that are stuck
red
seem to be totally broken and no amount of rubbing will fix them.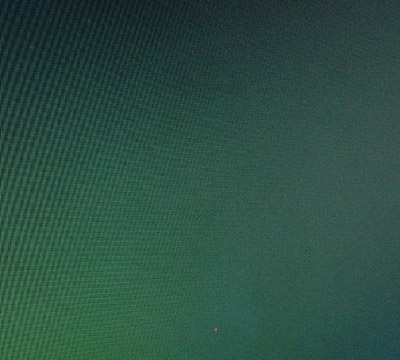 Click to enlarge.
Above, you can see an image of an LCD screen. We attempted to rub out a red pixel (seen in the lower-center of the image). However, not only were we unsuccessful, we ended up scuffing the monitor, which is also visible.
Other pixels stuck off or on seem to have much greater chances of success. Personally, it seems that rubbing the pixels does more harm than good so continue at your own risk. Take a piece of lint free cloth and wrap it around your index finger. Push about 1/4 of an inch above the broken pixel with about as much force as would take to depress a doorbell. Pull your finger down past the pixel to about 1/4 of an inch below the broken pixel. Repeat in a left to right manner as well. If you've tried it about 10 times and are still without success, then you most likely are not going to be able to bring that pixel back to life (and you will probably have a light scuff mark on your anti-glare coating as well).