Soltek KT600-R: Basic Features
 Motherboard Specifications
CPU Interface
Socket-462
Chipset
VIA KT600 North Bridge
VIA VT8237 South Bridge
Bus Speeds
100 to 233MHz (in 1MHz increments)
Core Voltages Supported
1.10V to 1.850V (in 0.025V increments)
AGP Voltages Supported
1.5V to 1.8V (in 0.1V increments)
DRAM Voltages Supported
2.5V to 2.8V (in 0.1V increments)
Chipset Voltage
None
CPU Multiplier Ratios
5X to 18X
Memory Slots
3 x 184-pin DDR DIMM Slots
Expansion Slots
1 AGP 8X Slot
6 PCI Slots
Onboard IDE RAID
Standard ATA 133/100/66
Supporting up to 4 IDE devices
Onboard USB 2.0/IEEE-1394
8 USB 2.0 ports supported by 8237
No FireWire
Onboard LAN
None
Onboard Audio
VIA VT1616 18-bit 6-channel codec
Onboard Serial ATA/RAID
VIA VT8237 Serial ATA and SATA RAID
BIOS Revision
Version AA1R
The Soltek KT600-R comes in the foil-faced embossed package that is used for many Soltek motherboards. The extras are a floppy and IDE cable, 2 SATA cables and a very nice Sata Power Adapter cable that converts one hard drive (Molex) cable to 2 SATA power connectors. As is standard on Soltek motherboards, an extra Utility CD is included that contains PC-Cillin 2002 anti-virus, Farstone's VirtualDrive 7 and RestoreIT 3 Lite, and Powerquest's Partition Magic 6.0 SE and DriveImage 4.0. There are 2 versions of the KT600 listed at the
Soltek's website
. The KT600-R (the version tested) has SATA RAID and the KT600-RL adds on-board 10/100 LAN. We doubt Soltek will bring both models into all markets, so you will need to check locally to see what model(s) are available.
Like the earlier NV400-L64, this Soltek board is purple or plum-colored. The board is smaller than full-size and uses 6 standoffs in 2 rows for mounting, where full-size boards generally use 9 or 10 standoffs in 3 rows for case mounting. This small motherboard should have no trouble fitting into any standard case.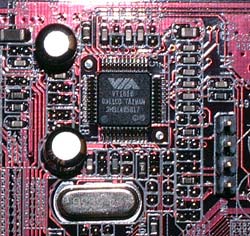 After complaining that most of the major board makers did not use VIA's sound solution, we were pleasantly surprised to find the VIA VT1616 audio codec on the Soltek. The VT1616's advantage is that it can offer high fidelity sound while using the analog out port. This is not the case for nForce2 motherboards, which use the ALC650/655 codec. In other words, the VT1616 codec provides better sound than an MCP-T powered nForce2 motherboard
unless
you make use of a SPDIF-out port and have speakers with a receiver. We expected that one of the major manufacturers would be using the more capable VT1616, but we are happy to see it used on the Soltek KT600. For more information on the VT1616, go to
www.viatech.com/en/multimedia/vt1616.jsp
.
The flexible VIA VT1616 setup is welcomed on a board designed to sell for a reasonable price, but be aware that with 3 jacks, you cannot simultaneously run 6 speakers and a microphone. This will important for some and of no consequence for others. Unfortunately, there are no SPDIF connectors or provisions for adding an SPDIF bracket to the board.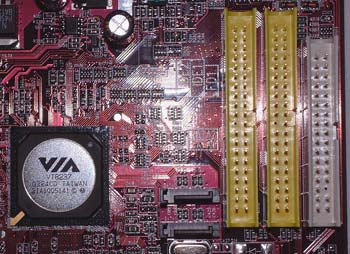 The Soltek KT600-R uses the latest VIA VT8237 South bridge, which provides support for Serial ATA and SATA RAID configuration. Most KT600 boards that we have evaluated have Serial ATA support.

Click image to view a larger picture.
The KT600-R I/O ports configuration is the standard assortment that you will find on the standard ATX backplate, which comes with most cases. The arrangement of ports follows the standard layout, so Soltek does not include a backplate. Included are: two PS/2 ports, two serial ports, one parallel port, two USB 2.0 ports, and Mic In, Line In, and Line Out, which drive the onboard sound and are configurable for rear/sub/center outputs if desired. The board does not offer any IEEE1384 Firewire ports, but we don't normally expect to find Firewire on motherboards in this price range.
There are two ATA133 IDE ports, supporting up to four IDE devices. 3 dimm slots, supporting up to 3GB of memory, are provided on the KT600-R. Memory speeds up to DDR400 are supported.
Other than the VIA KT1616 audio codec, there are no real surprises with the Soltek KT600-R. It includes what we would expect in a board designed to sell for a reasonable price. The plum or purple color makes it stand out from the crowd, and the Soltek Utilities CD is a useful addition.