Asus P4C800-E: Basic Features
 Motherboard Specifications
CPU Interface
Socket-478
Chipset
Intel 82875P MCH (North Bridge)
Intel 82801ER ICH5R (South Bridge)
Bus Speeds
up to 400 MHz (in 1MHz increments)
Core Voltages Supported
up to 1.95V (in 0.0125V increments to 1.60V, 0.025V increments 1.6 to 1.95V)
AGP VDDQ Voltages Supported
1.5 to 1.8V (0.1V increments)
DRAM Voltages Supported
up to 2.85V (in 0.1V increments)
Memory Slots
4 x 184-pin DDR DIMM Slots
Expansion Slots
1 AGP 8X Slot
5 PCI Slots
Onboard RAID
Intel ICH5R Southbridge
Promise PDC20378 Controller
Onboard USB 2.0/IEEE-1394
Eight USB 2.0 supported through South Bridge
VT6307 IEEE-1394 FireWire Controller
Onboard LAN
Intel PRO1000 CSA GigaLAN (CSA bus)
Onboard Audio
Analog Devices AD1985 Controller
Onboard Serial ATA
Two SATA connectors via Promise PDC20378 Controller
Two SATA connectors via ICH5R
(Intel SATA RAID 0,1 or non-RAID)
BIOS Revision
1.010
The basic features of the P4C800 Deluxe are described in the earlier
review of the P4C800 Deluxe
. Changes from the original P4C800 Deluxe are indicated in
bold print
. Asus has made many changes to the adjustment ranges in the BIOS. These BIOS changes also apply to the P4C800 Deluxe.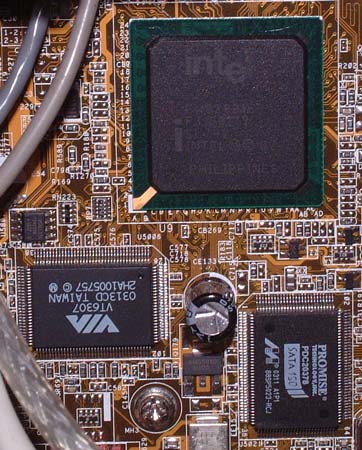 The P4C800-E Deluxe replaces the Intel ICH5 with the ICH5R. This adds the capability of Intel SATA RAID in addition to SATA RAID provided by the on-board Promise controller. With recent updates to the BIOS and Intel RAID drivers, the P4C800-E can support both Raid 0 (striping for performance) and Raid 1 (mirroring for security).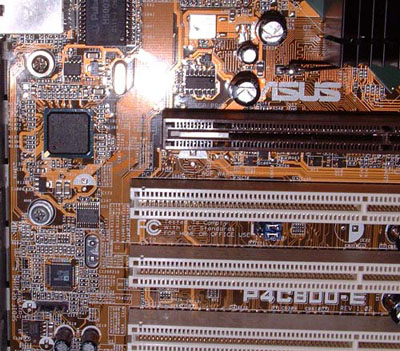 Intel's CSA Gigabit LAN replaces 3Com on the "E" revision. This PRO1000 chipset moves LAN off the PCI bus and provides communication with the chipset and CPU on a dedicated communications bus.