DFI 748-AL: Basic Features
 Motherboard Specifications
CPU Interface
Socket-462
Chipset
SiS 748 North Bridge
SiS 963L South Bridge
Bus Speeds
up to 232MHz (in 1MHz increments)
Core Voltages Supported
up to 1.850V (in 0.025V increments)
AGP Voltages Supported
up to 1.8V (in 0.1V increments)
DRAM Voltages Supported
up to 2.8V (in 0.1V increments)
Chipset Voltage
1.8V to 2.1V in 0.1V increments
CPU Multiplier Ratios
5X to 21X
Memory Slots
3 x 184-pin DDR DIMM Slots
Expansion Slots
1 AGP 8X Slot
5 PCI Slots
Onboard IDE RAID
Standard ATA 133/100/66
Supporting up to 4 IDE devices
Onboard USB 2.0/IEEE-1394
6 USB 2.0 ports supported by 964L
No FireWire
Onboard LAN
SiS 900 10/100 LAN
Onboard Audio
AC'97 2.2 compliant 5.1 codec
Onboard Serial ATA
None
BIOS Revision
Evaluation BIOS (8/08/2003)
The DFI 748-AL is a good example of how much has been added to motherboard features in the last few years. With on-board 10/100 LAN, 5.1 channel audio, 6 USB 2.0 ports, ATA133 IDE support, and 8X AGP, the 748-AL would have been considered loaded just a short time ago. Now, compared to the feature-rich boards in the market, it is considered a standard or value board. Nothing you really need is absent from the 748 unless you need firewire, and that can be added with an add-on card.
Since our test board was an Engineering Sample, we cannot be sure exactly what accessories will ship with the release 748-AL, but we would suspect you will receive IDE cables, floppy cable, a CD with drivers, possibly a USB bracket, and not much else. You shouldn't expect more than basics with a board designed to sell for a value price.
The DFI is anything but a value board in the tweaking and overclocking options. The ranges DFI has provided are the best we have seen on any announced SiS 748 motherboard. It is also the only 748 to provide CPU multiplier selection in BIOS — an important feature for many AMD users.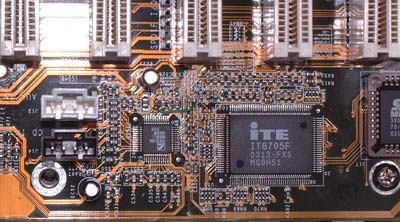 DFI has included an AC'97 compliant 6-channel audio on the 748-AL. Specifications on the website show a Realtek codec used, but our Engineering Sample was equipped with the cMedia codec used on the LANParty series. Both the Realtek and cMedia are AC'97 complaint, so either would meet specifications. There is also a connector for an optional SPDIF bracket.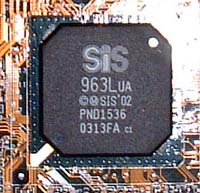 On-board LAN is provided by SiS 900 Ethernet code in the 963L southbridge. The SiS 900 is a 10/100 Ethernet connection.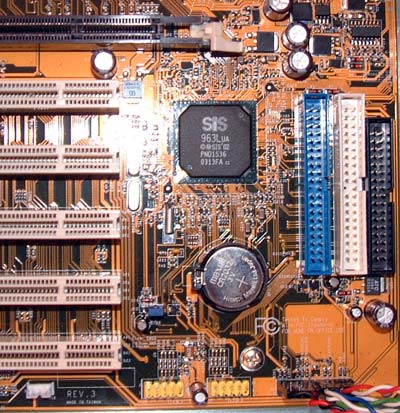 DFI has included 2 USB 2.0 ports on the I/O panel with headers for 4 additional USB 2 ports on the motherboard, for a total of 6 USB 2.0 ports provided by the 748/963L chipset. With SiS, VIA, and nVidia all providing extensive USB 2.0 support in their latest chipsets, this has become a standard feature.

The 748-AL uses the standard ATX ports configuration and can be used with the standard plates that come with ATX cases. This includes PS/2 mouse and keyboard ports, two USB 2.0 ports, one 10/100 LAN port, two serial ports, one parallel port, game port, and Mic In, Line In, and Line Out, which are controlled by the onboard sound. There are no Firewire ports.
Sis has been a pioneer in high-speed links between north and south bridges, and we find the 1GB Mutiol connection used on the 748-AL. Hyperstreaming, which was discussed in our look at the 748 chipset, is also a feature of the 748/963L chipset. Both are features designed to improve speed of the motherboard.