External Construction
The overall construction of the KT-424 is similar to any other aluminum case on the market right now. Kingwin uses 2.00mm think aluminum-magnesium sheets that are primarily folded. The KT-424 has only one very Lian Li-looking side window, rather than two on the KT-436. The top acrylic window has also been eliminated.
Breakdown

1
No power supply
2
Drive Bays x 10


4 x 5.25" External Drive Bays
2 x 3.5" External Drive Bays
4 x 3.5" Internal Drive Bays

3
80mmx80mmx25mm, 1 x Exhaust
4
Variable Fan Control
5
80mmx80mmx25mm, 2 x Intake
6
up to 2.85V (in 0.1V increments)


This is a more subdued case than the KT-436. Each external bay came with an aluminum face plate, which goes a long way in appearance. These plates are actually screwed in, and must be removed after taking off the face plate. Some might say this is an annoyance, but we think it gives the case an even sturdier look and feel, particularly if you are always fiddling for buttons on your DVD/CD drives.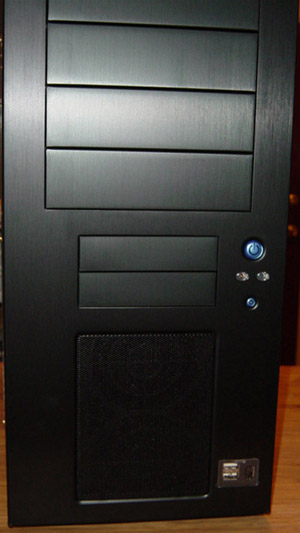 The horizontal intake has been replaced by a vertical 2-fan intake behind dense metal mesh. In our opinion, this meshed look is identical to the CoolerMaster ATC series intake.
Kingwin took a bit of heat on their last case because the power and reset buttons would get stuck on the acrylic face. Some engineer somewhere must have shook his fist and returned with the most sturdy button design that we have seen. The smooth plastic buttons are inlaid inside the aluminum housing, and do not stick. The whole component is made of a single piece of plastic that requires you to actually break it in order to remove it.