A Closer Look
We already knew that the Crucial DIMMs using Samsung chips were outstanding performers, but we decided to take a closer look at the DIMMs and their performance.

The Crucial single-sided 256Mb DIMM carries the Samsung label that identifies it as using CB3 chips.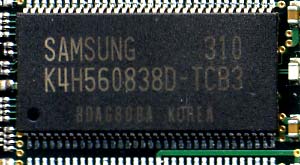 The chip markings are difficult to read in the photograph, but the chip is marked as "K4H560838D-TCB3". A check with Samsung specifications at
http://www.samsung.com/Products/Semiconductor/
show that these chips are used in modules of both DDR333 and DDR400 DIMMs. We have seen them used at DDR333 CAS2.5 and DDR400 CAS3.0.