MSI KT6 Delta-FIS2R: Basic Features
 Motherboard Specifications
CPU Interface
Socket-462
Chipset
VIA KT600 North Bridge
VIA VT8237 South Bridge
Bus Speeds
up to 280MHz (in 1MHz increments)
Core Voltage
up to 1.850V in 0.0250V increments
up to 2.300V in 0.150V increments after 1.850V
I/O Voltage
N/A
DRAM Voltage
up to 3.30V (in 0.05V increments excluding 3.15V)
Memory Slots
3 X 184-pin DDR DIMM Slots
Expansion Slots
1 X AGP 8X Slot
5 X PCI Slots
Onboard IDE RAID
Promise PDC20378 RAID Controller (two SATA connectors, one IDE connector)
Onboard USB 2.0/IEEE-1394
Eight USB 2.0 ports supported by VT8237
VIA VT6306 IEEE-1394 FireWire (up to 3 ports available)
Onboard LAN
Broadcom 5788 10/100 controller
Onboard Audio
C-Media CMI9739A AC'97 codec
Onboard Serial ATA
Two SATA connectors via VT8237 (RAID 0, 1 & 0 + 1)
Promise PDC20378 Controller (two SATA connectors)
BIOS Revision
rev. 5.1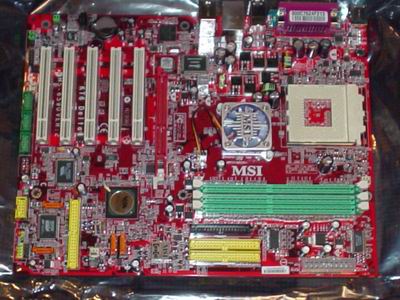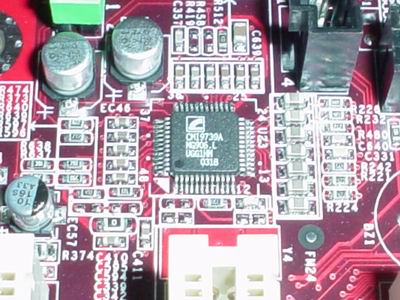 Unlike most other KT600 motherboards, MSI's KT600 motherboard utilizes C-Media's CMI9749A codec. There's nothing especially significant to note about this codec except to say that it'll offer fairly good sound quality for everyday audio tasks, such as listening to MP3s and even occasional gaming, if you're not bothered by the lack of a high fidelity surround sound system.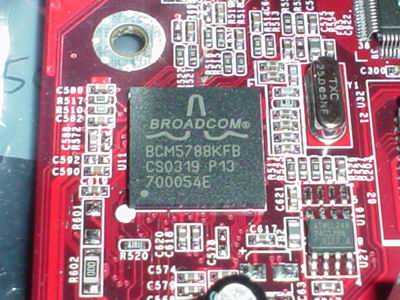 The MSI KT6 Delta-FIS2R motherboard does not use a very conventional LAN controller. The Broadcom 5788 controller is a 10/100 chip that we haven't seen before, but functions just fine as a Fast Ethernet adapter. While it is somewhat unfortunate to see that the MSI KT600 does not utilize a 10/100/1000 network controller like most modern-day motherboards (mostly Intel motherboards at this point), 10/100 controllers are still adequate for broadband user's needs. GbE (Gigabit Ethernet) can be useful for home and home office users who transfer large files between networked computers, but that's the extent of it for most users.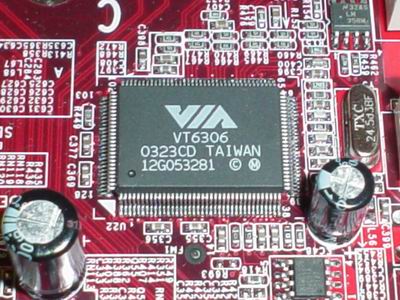 The KT6 Delta-FIS2R I/O ports configuration is standard for the market this motherboard is aimed at. The I/O ports included are two PS/2 ports, two serial ports, one parallel port, six USB 2.0 ports, one LAN port, and Mic In, Line In, and Line Out, which drive the onboard sound. As usual, MSI includes a girth of rear USB 2.0 ports, which is definitely helpful for users who use multiple USB devices at the same time, such as digital cameras, USB flash memory keys, printers, scanners, etc. Although MSI doesn't include rear IEEE 1394 FireWire support, you can still make use of the onboard VT6306 PCI-bound FireWire controller via included 3-port bracket. Motherboard makers have told us time and again that FireWire isn't in high demand as an onboard feature now that USB is so prevalent. Still, motherboard makers continue to include FireWire on their mid-range and high-end motherboards. Cost may be the underlying issue why motherboard makers are so reluctant to add rear FireWire; if that's the case, we can certainly understand their reluctance given the lack of significant demand.
As expected with all current KT600 motherboards, the MSI KT6 Delta-FIS2R has native Serial ATA support, courtesy of VIA's brand new VT8237 South Bridge. The VT8237 supports RAID 0, 1 and 0 + 1, which is a nice addition for users looking for the best combination of RAID support in a desktop motherboard. The advantage of RAID 0 + 1 is fast data access (like RAID 0), but with the ability to lose one drive, yet still have a complete duplicate surviving drive or set of drives (like RAID 1). In case you didn't already know, RAID 0 + 1 is stripping (RAID 0) and mirroring (RAID 1) combined without parity having to be calculated and written. In addition to all of this, VIA has also upped V-link's throughput from 533MB/s to 1066MB/s. All in all, VIA's new South Bridge is impressive, and certainly gives KT600 boards some added value compared to nForce2 motherboards. The new increased chipset I/O bandwidth is also a welcome addition, as it should help in those "intangible" computing experiences, such as multitasking.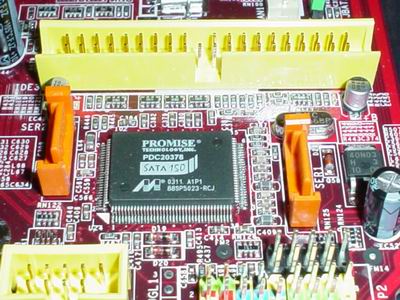 The KT6 Delta-FIS2R's Promise PDC20378 controller powers the third IDE controller on this motherboard, and is capable of supporting exactly two IDE drives. This same Promise PDC20378 controller also powers two Serial ATA connectors residing on the left and right hand sides of the controller. When you take into account the two VT8237 SATA connectors we just talked about and the Primary and Secondary IDE connectors, this motherboard is capable of supporting a grand total of ten drives.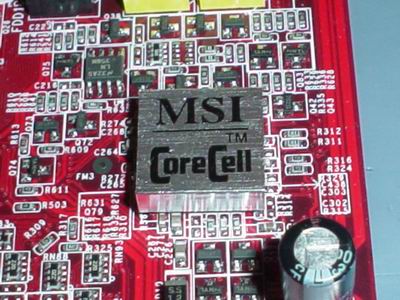 The most unique feature that the KT6 Delta-FIS2R brings to the table is CoreCell. CoreCell is MSI's own proprietary technology, whose purpose is to regulate your systems voltages and temperatures to fit users' needs better. MSI includes a (now fully functional) CoreCenter utility that is meant to tweak the voltages, fan speeds, etc., which CoreCell technology regulates. This is definitely a welcome feature for enthusiasts that covet complete control over their systems.