Except for the specifications, the EG651P was very similar to the EG465. It came with the same glossy finish, copper sheathed ATX cable, and rear variable fan controller.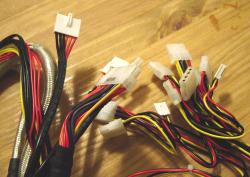 Click to Enlarge
Undoubtedly, Enermax has the best power supply cable management capabilities available. To combat interference, the ATX and +12V cables are copper meshed with rubber sheathing. This copper shielding extends all the way into the power supply housing, where the rails are also shielded in copper. It is no wonder why this power supply is also one of the heaviest.
This is the only other power supply in our review to display the ATX12V 1.2 compliance. For those of you not familiar, this is the published standard that assures stability with Intel and AMD systems. This particular standard makes sure the +3.3V rail is not neglected when increasing the wattage on the +12V rail, but also assures tight specifications on the lesser used -5VSB rail. We can see that the specifications on this unit are not skewed only to the +12V rail, so this unit does make sense for an AMD system builder as well.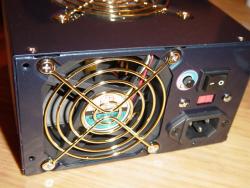 Click to Enlarge
Wattages
| | | | | | | | | | |
| --- | --- | --- | --- | --- | --- | --- | --- | --- | --- |
| | 3.3V | 5V | 12V | -12 | -5 | +5vsb | combined theoretical | actual combined | advertised total |
| Enermax EG651P-VE FMA 550W | 118.80 | 180.00 | 432.00 | 12.00 | 5.00 | 11.00 | 298.80 | 200.00 | 550.00 |
Specifications alone speak volumes for this power supply. The +12V rail has an advertised rating of 36A, or 432 watts. This puts the EG651 way above any other non-Enermax component. However, since mathematically the power supply can only sustain about 330watts on that rail, the advertised 432 is probably the peak output. Even at 330W, the EG651 still towers over most power supplies.
The EG651P-VE is one of the pricier units in our round up. Most online retailers are carrying this unit for around $135, but with rebates and deals you might get it as low as $120.
We thank MaxPoint for rushing us the two Enermax power supplies to us before the deadline for this article.