The EG465 power supply did extremely well in our last power supply roundup.  We have not really seen many other new products from Enermax in the last few months, so we obtained a slightly newer version of the supply we reviewed in our first review instead.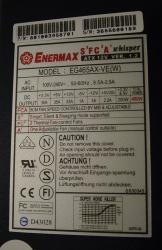 Click to Enlarge
From our previous review, you may recall the EG465 PFC's tight tolerances and excellent features.  The new version sports all of these features, but since the slightly different circuitry warrants a separate benchmark for this PSU.  The variable fan control, motherboard monitoring and copper/rubber ATX sheath are all included on this power supply.  Furthermore, the line we looked at also came in a glossy finish similar to the TTGI units. The unit includes Active PFC as one of its features as well.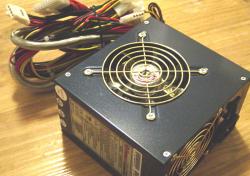 Click to Enlarge
The EG465 also comes with Enermax's trademark variable fan control on the rear of the unit.  We have not had problems with Enermax's variable fan controls.  The dial-style fan control assures that the switch can never fall into a halfway position like with Vantec or TTGI.  We will touch more on this issue later.
One annoyance the EG651 and the EG465AX both had was a loud "pop" when the power supply was turned off.  This occurred whether or not the motherboard was on or not.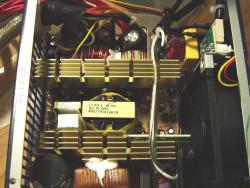 Click to Enlarge
Wattages
| | | | | | | | | | |
| --- | --- | --- | --- | --- | --- | --- | --- | --- | --- |
| | 3.3V | 5V | 12V | -12 | -5 | +5vsb | combined theoretical | actual combined | advertised  total |
| Enermax EG465AX-VE FCA 460W | 115.50 | 175.00 | 396.00 | 12.00 | 5.00 | 11.00 | 290.50 | 200.00 | 460.00 |
This power supply is really a system builder's treat.  All rails seem to be pretty evenly balanced, with plenty of room on the +3.3V and +12V.  The +12V rating appears to be the peak, however.  A higher combined rail rating would go a long way for this power supply, but we are just nitpicking rather than criticizing these specifications. When talking to Enermax, one of the features they were very proud of was their strict adhesion with the Intel ATX12V 1.2 standard. Of all the power supplies we looked at, the two Enermax units were the only power supplies which displayed this ATX12V 1.2 compliance. We will see this certainly pays off in the performance benchmarks later on.
Unfortunately, with any quality component, the EG465AX-VE is expensive. Most vendors carry the unit for about $85, which prices it aggressively for system builders. We were very pleased with the performance of this unit, as well.