HTPC Credentials
Given the fanless nature of the ECS LIVA Z and the presence of Intel HD Graphics, we expect many purchasers to use it as a media playback machine / HTPC. Given the specifications, it is quite clear that we are not looking at a madVR capable machine, but one targeted at the entry-level / average HTPC user or someone looking for a HTPC to put in a second or third room (non-primary HTPC). There are two HTPC aspects that we will explore in this section, one related to network streaming (OTT services), and the other related to local file playback. Prior to that, we have a small sub-section dealing with refresh rate accuracy.
Refresh Rate Accuracy
Starting with Haswell, Intel, AMD and NVIDIA have been on par with respect to display refresh rate accuracy. The most important refresh rate for videophiles is obviously 23.976 Hz (the 23 Hz setting). As expected, the ECS LIVA-ZN33 has no trouble with refreshing the display appropriately in this setting.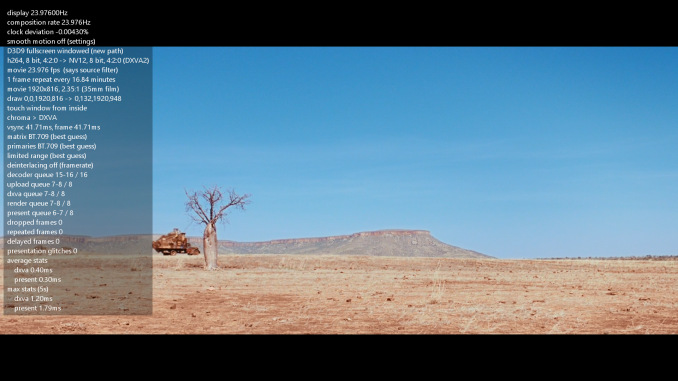 The gallery below presents some of the other refresh rates that we tested out. The first statistic in madVR's OSD indicates the display refresh rate.
Network Streaming Efficiency
Evaluation of OTT playback efficiency was done by playing back our standard YouTube test stream and five minutes from our standard Netflix test title. Using HTML5, the YouTube stream plays back a 1080p encoding. Since YouTube now defaults to HTML5 for video playback, we have stopped evaluating Adobe Flash acceleration. Note that only NVIDIA exposes GPU and VPU loads separately. Both Intel and AMD bundle the decoder load along with the GPU load. The following two graphs show the power consumption at the wall for playback of the HTML5 stream in Mozilla Firefox (v 52.0.1).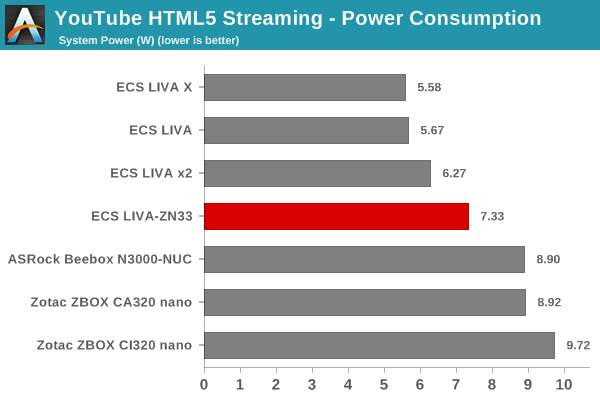 GPU load was around 49.81% for the YouTube HTML5 stream and 0.0294% for the steady state 6 Mbps Netflix streaming case.
Netflix streaming evaluation was done using the Windows 10 Netflix app. Manual stream selection is available (Ctrl-Alt-Shift-S) and debug information / statistics can also be viewed (Ctrl-Alt-Shift-D). Statistics collected for the YouTube streaming experiment were also collected here.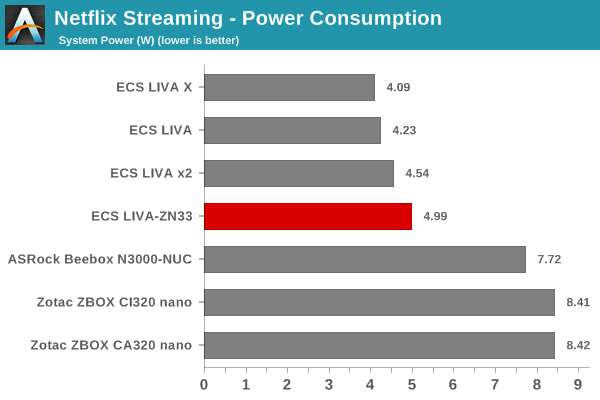 Note that these power consumption numbers were obtained for the eMMC-only configuration. As such, the OTT streaming workloads operate in a more power-efficient manner compared to PCs with SSDs such as the ASRock Beebox N3000-NUC, but, it is not as power-efficient as the previous-generation LIVA units based on the Atom-class SoCs.
Decoding and Rendering Benchmarks
Prior to testing out the decoding and rendering performance, we take a look at the DXVA decoding support available via Intel's Apollo Lake GPU drivers. Note that we are using driver version v21.20.16.4551 for the GPU.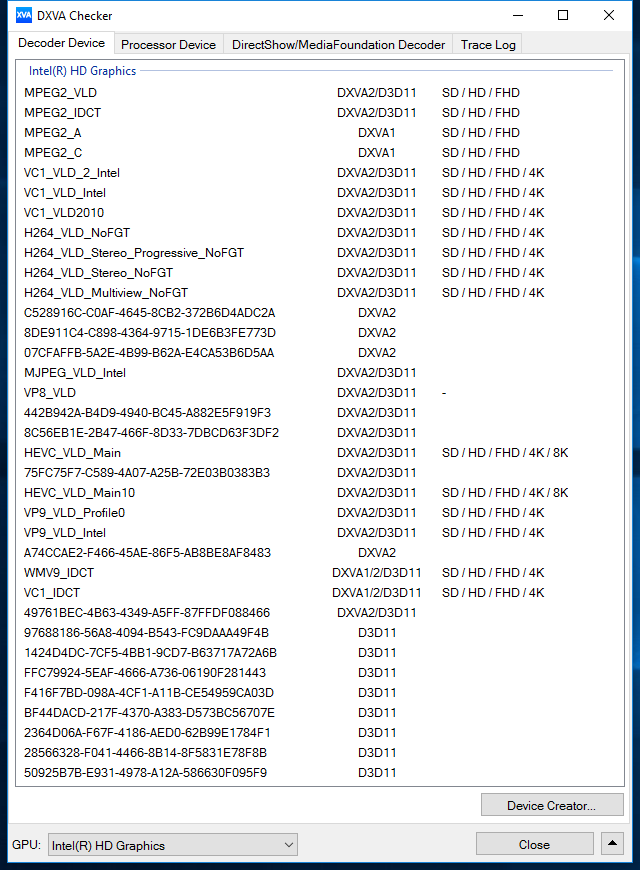 DXVAChecker confirms that the Apollo Lake GPU is able to decode all commonly-used codecs (including VP9 and HEVC Main10) up to 4K resolution.
In order to evaluate local file playback, we concentrate on EVR-CP and Kodi. We already know that EVR works quite well even with the Intel IGP for our test streams. In our earlier reviews, we focused on presenting the GPU loading and power consumption at the wall in a table (with problematic streams in bold). Starting with the Broadwell NUC review, we decided to represent the GPU load and power consumption in a graph with dual Y-axes. Elevent different test streams of 90 seconds each were played back with a gap of 30 seconds between each of them. The characteristics of each stream are annotated at the bottom of the graph. Note that the GPU usage is graphed in red and needs to be considered against the left axis, while the at-wall power consumption is graphed in blue and needs to be considered against the right axis.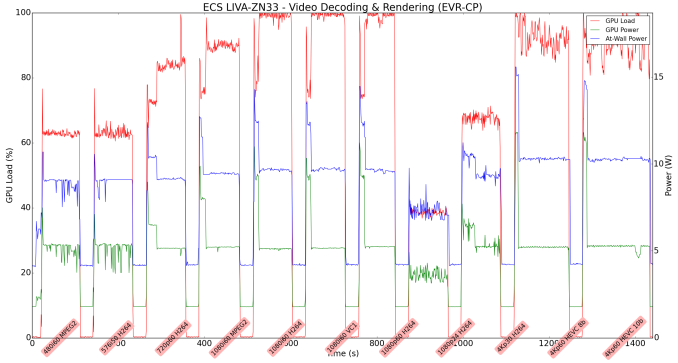 Frame drops are evident whenever the GPU load consistently stays above the 85 - 90% mark. In our test cases, this happened for 60fps interlaced content as well as 60 fps 4K content. Given that EVR-CP involves a bit mor shader work compared to lean renderers like EVR, and the fact that the Intel HD Graphics in the Intel Celeron N3350 is not very powerful, the results are entirely plausible.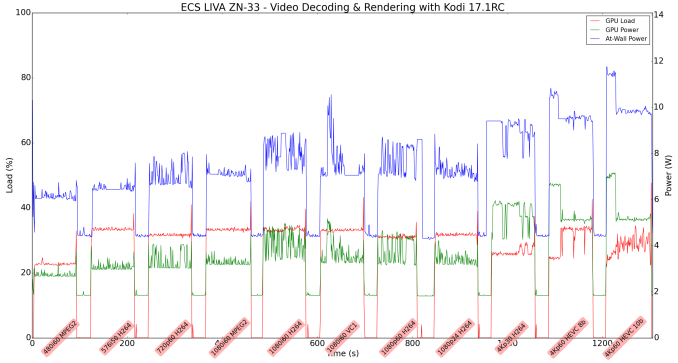 Kodi, on the other hand, has absolutely no trouble in playing back all our test streams (including the HEVC Main10 videos).