Epox 8KRA2+: Basic Features
 Motherboard Specifications
CPU Interface
Socket-462
Chipset
VIA KT600 North Bridge
VIA VT8237 South Bridge
Bus Speeds
up to 250MHz (in 1MHz increments)
Core Voltages Supported
up to 2.000V (in 0.0250V increments up to 1.85V, and 0.050V after that)
I/O Voltages Supported
N/A
DRAM Voltages Supported
up to 3.20V (in 0.1V increments)
Memory Slots
3 184-pin DDR DIMM Slots
Expansion Slots
1 AGP 8X Slot
6 PCI Slots
Onboard IDE RAID
HighPoint HPT372N controller (RAID 0, 1, & 0 + 1. Hot Swap capable)
Onboard USB 2.0/IEEE-1394
Eight USB 2.0 ports supported by VT8237
VIA VT6307 IEEE-1394 FireWire (up to 2 ports available)
Onboard LAN
VIA VT6102 10/100 controller
Onboard Audio
Realtek ALC655 codec
Onboard Serial ATA
Two SATA connectors via VT8237 (RAID 0, 1 & 0 + 1)
BIOS Revision
6/17/2003 Date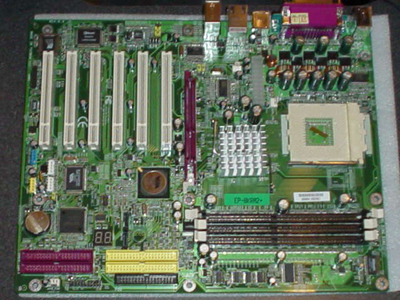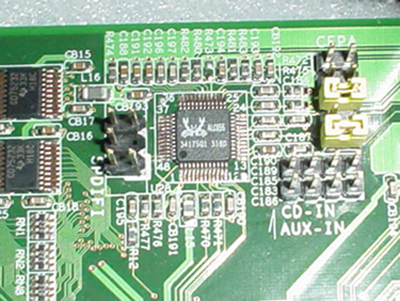 As part of the 8KRA2+'s package you get onboard Realtek ALC655 sound. This codec is capable of dynamically switching your Mic in, Line in, and Line out ports depending on which port you plug your speakers into. In other words, it doesn't matter which port you plug your speakers into, they will be automatically configured to operate properly. Gigabyte was one of the first motherboard makers to use this codec, and others are following. Unfortunately we think Epox made a mistake by using the ALC655 instead of VIA's VT1616 codec. For example, if you use the analog out port on an MCP-T powered nForce2 motherboard you will not be taking advantage of the nForce2 APU (Audio Processing Unit) embedded in the MCP-T, but instead will be hearing sound mostly processed via the Realtek ALC650 codec (which is of lower fidelity than most decent add-in sound card solutions). The VT1616's advantage stems from the fact that it can offer high fidelity sound while still using analog out. In other words you won't receive sound as good as the VT1616 codec provides from an MCP-T powered nForce2 motherboard unless you make use of a SPDIF-out port and have speakers with a receiver. Epox could have one upped other nFore2 motherboards in the sound department if they had simply opted for the VT1616 codec instead of the ALC655 codec. Of course, a KT600 motherboard with a VT1616 codec will still never be able to encode Dolby Digital sound in hardware like nForce2 motherboards with MCP-T can, but most users hardly have a need for this feature anyway.
The basic onboard LAN included with Epox's 8KRA2+ comes courtesy of the VIA VT6102 PHY. Despite the high-end nature of this motherboard the 8KRA2+'s VT6102 PHY is a simple 10/100 solution and therefore not the 10/100/1000 Gigabit solution you would expect to find on high-end Pentium 4 motherboards and select Athlon XP motherboards. Still, this will suffice for users that do not transfer large amounts of data over GbE.
The 8KRA2+'s I/O ports configuration includes two PS/2 ports, two serial ports, one parallel port, four USB 2.0 ports, one 10/100 LAN port, and Mic In, Line In, and Line Out audio ports, which drive the onboard sound. Unfortunately the 8KRA2+ does not carry any rear SPDIF or IEEE 1394 FireWire ports, something that is slowly but surely becoming standard on cutting-edge desktop motherboards. The VIA VT6307 FireWire support is only available via onboard headers, which requires you to give up a PCI slot to activate two FireWire ports. Nonetheless the 8KRA2+'s combination of I/O ports will be able to meet the needs of average users and most enthusiasts.
The 8KRA2+ fully supports IDE RAID, courtesy of HighPoint's HPT372N controller. There are two purple IDE connectors located at the bottom right-hand corner of the 8KRA2+'s PCB that are regulated by this HPT372N controller, which is not only capable of RAID 0, 1, and 0 + 1 RAID arrays but is also capable of Hot Swapping. The Hot Swap feature is a very nice addition for users that don't want the hassle of closing their apps and shutting down their system to install or uninstall drives on the HPT372N IDE connectors. The major downside to this controller is that it does not support ATAPI drives (i.e. optical drives), only hard disk drives. That means you will only be able to connect a total of four ATAPI drives to the 8KRA2+ via the Primary and Secondary IDE connectors. Our own personal systems certainly don't have more than four ATAPI drives, but there are some users that may need more than four. In total, the 8KRA2+ supports eight IDE drives and two Serial ATA drives for a total of ten active drives capable of being connected to the 8KRA2+.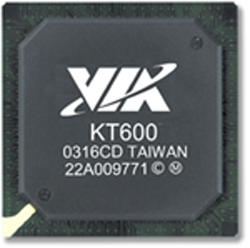 To give you a quick synopsis, the KT600 North Bridge is feature set identical to the KT400A North Bridge save support for 400MHz FSB Athlon XP processors. Virtually all shipping Athlon XP Thoroughbred (and some Barton) processors can run at 400MHz FSB unmodified with the correct motherboard, though your mileage will vary as it always does when you engage in any type of overclocking. We have tested half a dozen KT400A motherboards in our West Coast Labs that we haven't published reviews on simply because we believed that KT400A would be a short-lived, interim solution until VIA could ship enough VT8237 South Bridges to go along with their KT600 North Bridges. Not surprisingly, top tier motherboard manufacturers have not released KT400A motherboards, or have only produced KT400A motherboards in limited quantities.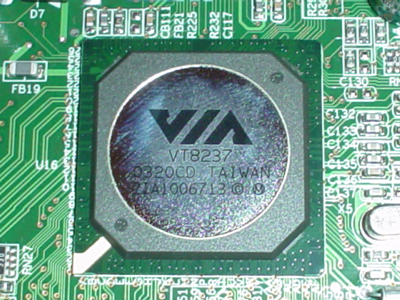 The final and most unique piece of the 8KRA2+ puzzle deals with the VT8237 South Bridge, the latest and greatest South Bridge from VIA and only the second shipping South Bridge on the market behind Intel's ICH5R that integrates support for Serial ATA RAID and eight USB 2.0 ports. In terms of RAID support the VT8237 is actually superior to Intel's ICH5R. The ICH5R only supports RAID 0 and RAID 1 (soft RAID) arrays, while the VT8237 supports RAID 0, 1, & 0 + 1 arrays. The advantage of RAID 0 + 1 is fast data access (like RAID 0) but with the ability to loose one drive and have a complete duplicate surviving drive or set of drives (like RAID 1). In case you didn't already know, RAID 0 + 1 is stripping (RAID 0) and mirroring (RAID 1) combined without parity having to be calculated and written. The VT8237's support for RAID 0 + 1 is a nice addition for users looking for the best combination of RAID support in a desktop motherboard. In addition to all of this VIA has also upped V-link's throughput from 533MB/s to 1066MB/s. Besides the features we just described the VT8237 is identical to the VT8235CE, which has shipped with the vast majority of KT400 motherboards and all KT400A motherboards currently available in retail channels.
UPDATE 7-3-2003