Benchmarking Performance: CPU Office Tests
The office programs we use for benchmarking aren't specific programs per-se, but industry standard tests that hold weight with professionals. The goal of these tests is to use an array of software and techniques that a typical office user might encounter, such as video conferencing, document editing, architectural modelling, and so on and so forth. At present we have two such tools to use.
PCMark8
Despite originally coming out in 2008/2009, Futuremark has maintained PCMark8 to remain relevant in 2017. On the scale of complicated tasks, PCMark focuses more on the low-to-mid range of professional workloads, making it a good indicator for what people consider 'office' work. We run the benchmark from the commandline in 'conventional' mode, meaning C++ over OpenCL, to remove the graphics card from the equation and focus purely on the CPU. PCMark8 offers Home, Work and Creative workloads, with some software tests shared and others unique to each benchmark set. The Creative workload unfortunately seems to fail from the commandline, as the graphical test gives an output of zero (update 3/8: we've found a way around this; will update when we get CPUs retested).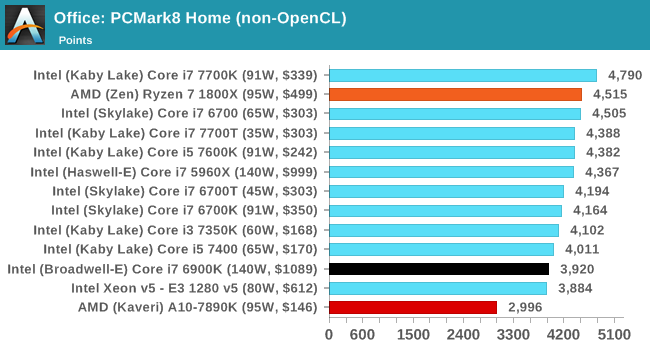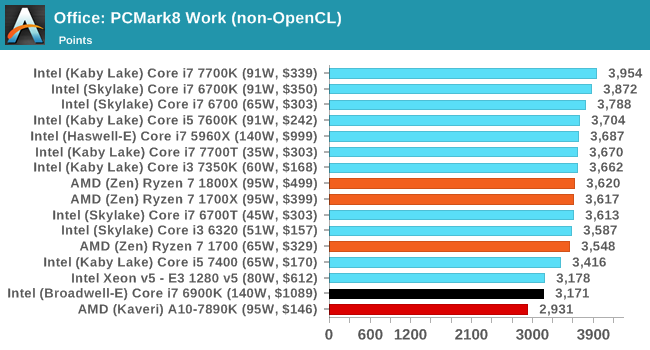 Addendum on 3/8: Originally we posted PCM8 Home scores for Ryzen that were around 3800. On further inspection, these runs were misconfigured due to circumstances beyond our control, and test data is being re-run. The Ryzen 7 1800X in this instance scores 4515.
SYSmark 2014
SYSmark is developed by Bapco, a consortium of industry CPU companies. The goal of SYSmark is to take stripped down versions of popular software, such as Photoshop and Onenote, and measure how long it takes to process certain tasks within that software. The end result is a score for each of the three segments (Office, Media, Data) as well as an overall score. Here a reference system (Core i3-4130, 4GB DRAM, 500GB HDD) is used to provide a baseline score of 1000. A newer version of the benchmark (2014 SE) will be used in future reviews.
A note on contect for these numbers. AMD left Bapco in the last two years, due to differences of opinion on how the benchmarking suites were angled towards Intel processors and had optimizations to show bigger differences than what AMD felt was present. The following benchmarks are provided as data, but the conflict of opinion between the two companies on the validity of the benchmark is provided as context for the following numbers.