Chipsets and Motherboards: 300-series and AM4
Users keeping tabs on the developments of CPUs will have seen the shift over the last ten years to moving the traditional 'northbridge' onto the main CPU die. The northbridge was typically the connectivity hub, allowing the CPU to communicate to the PCIe, DRAM and the Chipset (or Southbridge), and moving this onto the CPU silicon gave better latency, better power characteristics, and reduced the complexity of the motherboard, all for a little extra die area. Typically when we say 'CPU' in the context of a modern PC build, this is the image we have, with the CPU containing cores and possibly graphics (which AMD calls an APU).
Typically the CPU/APU has limited connectivity: video outputs (if an integrated GPU is present), a PCIe root complex for the main PCIe lanes, and an additional connectivity pathway to the chipset to enable additional input/output functionality. The chipset uses a one-to-many philosophy, whereby the total bandwidth between the CPU and Chipset may be lower than the total bandwidth of all the functionality coming out of the chipset. Using FIFO buffers, this is typically managed as required. The best analogy for this is that a motorway is not 50 million lanes wide, because not all cars use it at the same time. You only need a few lanes to cater for all but the busiest circumstances.
If the CPU also has the chipset/southbridge built in, either in the silicon or as a multi-chip package, we typically call this an 'SoC', or system on chip, as the one unit has all the connectivity needed to fully enable its use. Add on some slots, some power delivery and firmware, then away you go.
Platform = SoC + Chipset (Optional)
The AM4 platform will cater for both Ryzen CPUs (Summit Ridge, SR) and the second generation of Excavator APUs (Bristol Ridge, BR). As a result, the capabilities of the two have share some commonality in order to be interoperable with the same motherboard products. As a result, there is only a few minor differences: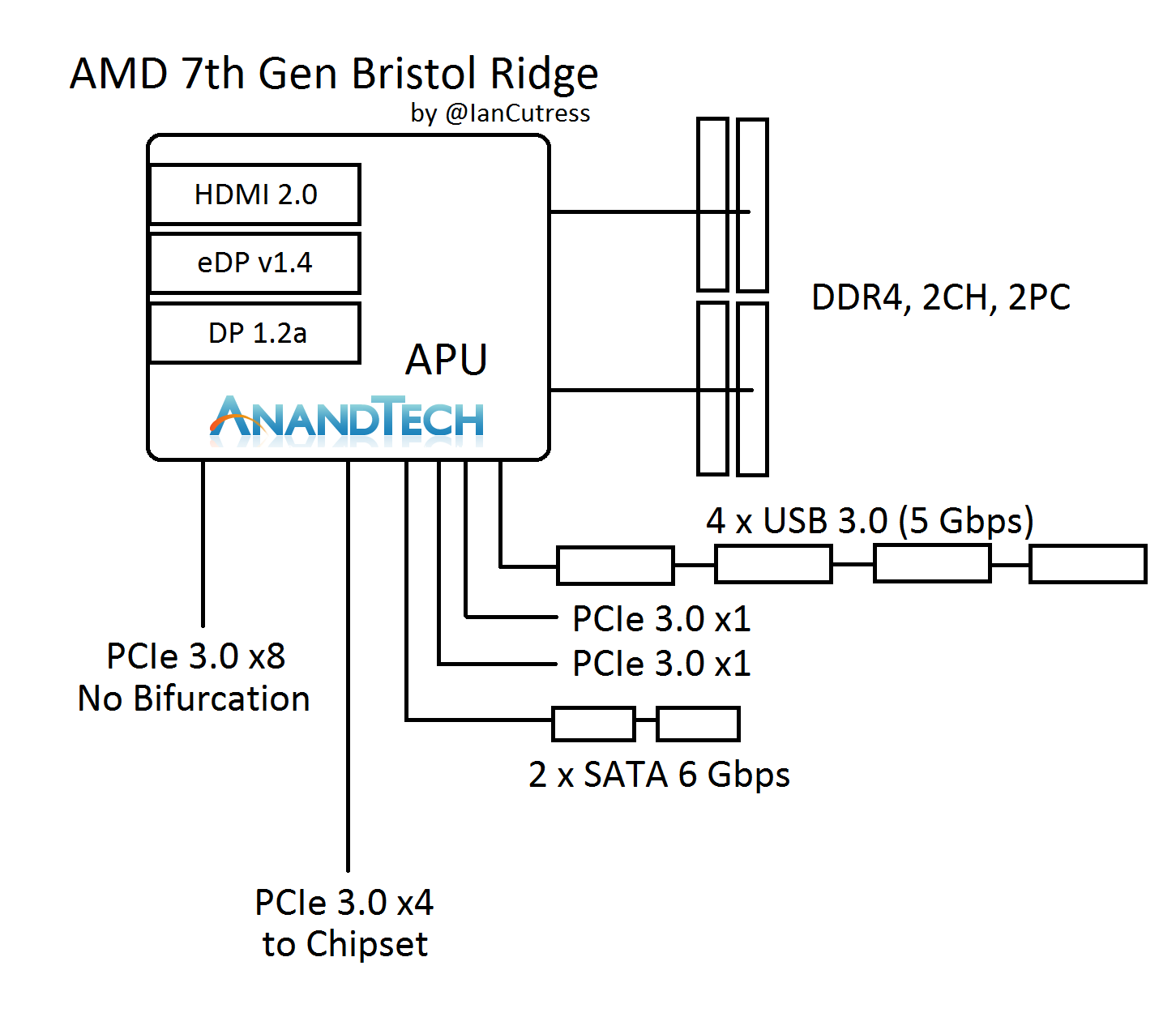 Here is Bristol Ridge, with eight PCIe 3.0 lanes for add-in cards, two SATA 6 Gbps, four USB 3.0 ports, two PCIe x1 lanes, and a PCIe x4 lane for the chipset. The chipset is optional, as those four lanes could be put to use elsewhere (or bifurcated into x1/x1/x2 as required) when extra IO is not needed.
What differs with Ryzen and Summit Ridge is numbers: sixteen lanes for add-in cards and four SATA 6 Gbps ports plus an x2 NVMe (or two SATA plus an x4 NVMe). What AMD is doing with AM4 is a half-way house between a SoC and having a fully external chipset. Some of the connectivity, such as SATA ports, PCIe storage, or PCIe lanes beyond the standard GPU lanes, is built into the processor. These fall under the features of the processor, and for the current launch is a fixed set of features. The CPU also has additional connectivity to an optional chipset which can provide more features, however the use of the chipset is optional.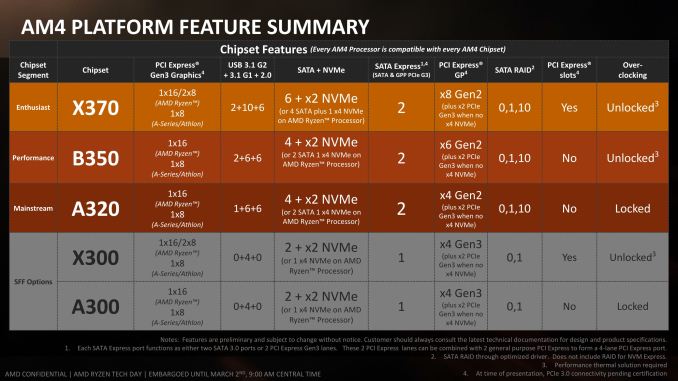 PCIe is Fun with Switches: PLX, Thunderbolt, 10GigE, the Kitchen Sink
Another thing about the x16 link or x8/x8 links, rather than say a total of 28/40 lanes, is that it can be combined with an external PCIe switch. In my discussions with AMD, they suggested a switch that bifurcates a x8 to dual x4 interfaces, which could leverage fast PCIe storage while maintaining the onboard graphics for any GPU duties. There's the other side, in using an x16 or x8 to x32 PCIe switch and affording two large x16 links.
Here's a crazy mockup I thought of, using a $100 PCIe switch. I doubt this would come to market.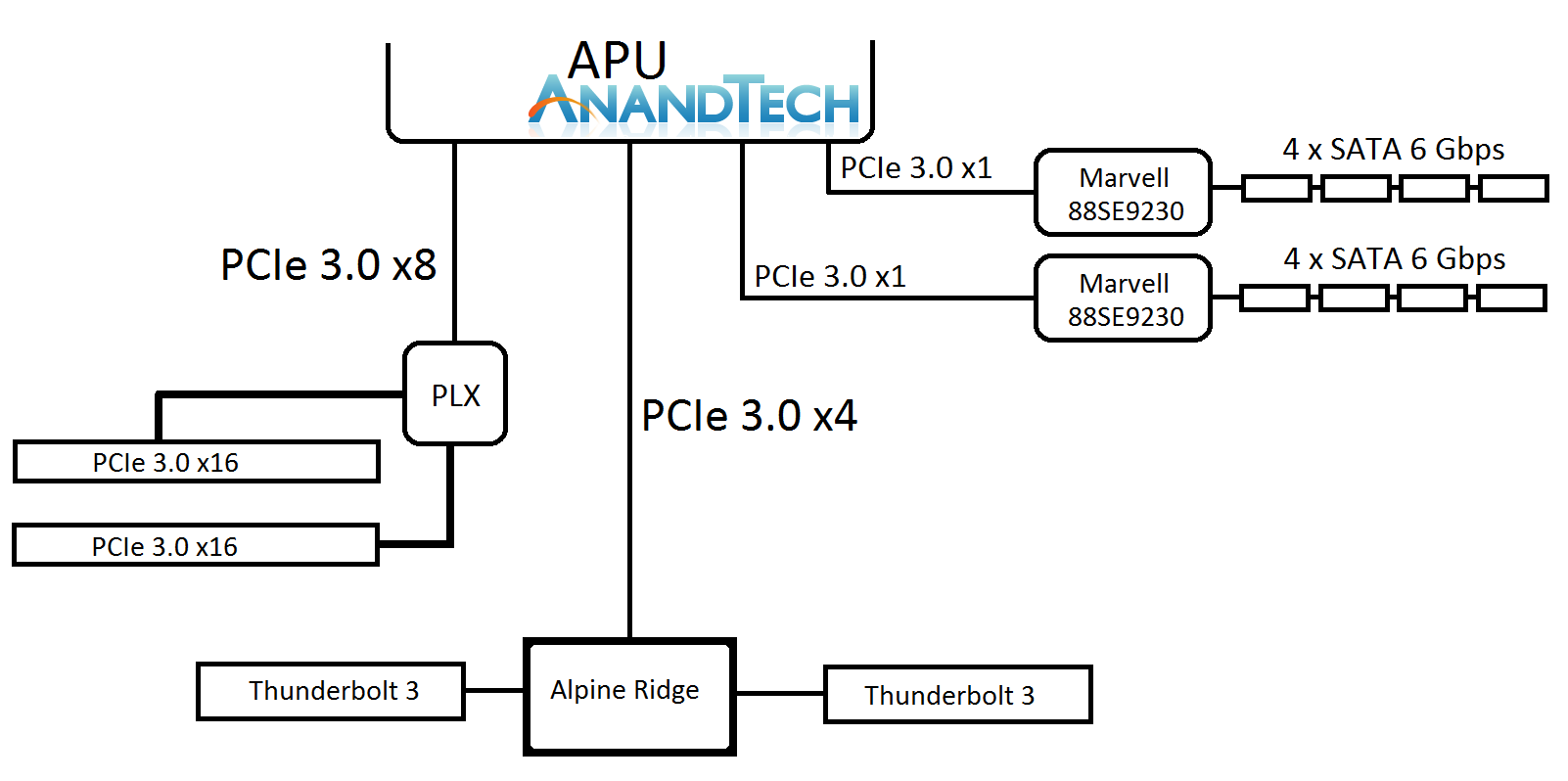 Ian plays a crazy game of PCIe Lego
The joy of PCIe and switches is that it becomes a mix and match game - there's also the PCIe 3.0 x4 to the chipset. This can be used for non-chipset duties, such as anything that takes PCIe 3.0 x4 like a fast SSD, or potentially Thunderbolt 3. We discussed TB3 support, via Intel's Alpine Ridge controller, and we were told that the AM4 platform is currently being validated for systems supporting AMD XConnect, which will require Thunderbolt support. AMD did state that they are not willing to speculate on TB3 use, and from my perspective this is because the external GPU feature is what AMD is counting on as being the primary draw for TB3 enabled systems (particularly for OEMs). I suspect the traditional motherboard manufacturers will offer wilder designs, and ASRock likes to throw some spaghetti at the wall, to see what sticks.
The AM4 Socket
One of the common perceptions of AMD is that they like to keep a socket for many, many generations. Both AM3/3+ and FM2/2+ have existed for at least three generations of CPUs a piece, and the main thinking here is that backwards compatibility was important. Because Ryzen requires DDR4 memory, enables PCIe, and perhaps some other magic, more pins and a new socket is needed, breaking that trend. The new CPU uses 1331 pins, up from the 939-941 we've had before, but essentially in the same dimensions, meaning that the pins are smaller and now easier to break / accidentally smear thermal grease into and not be able to get it out.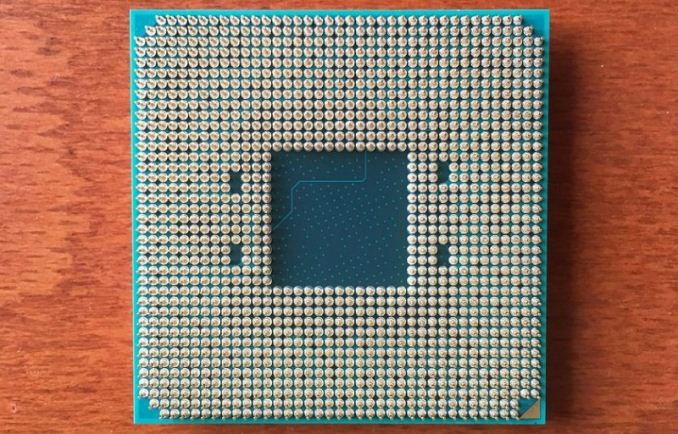 The socket then changes to accommodate the pins, however AMD is still using a zero insertion force (ZIF) method for contact. Which means every so often, if I have a good seal between the CPU and the heatsink, removing the heatsink also removes the CPU – not a critical issue, but not the preferred state of things.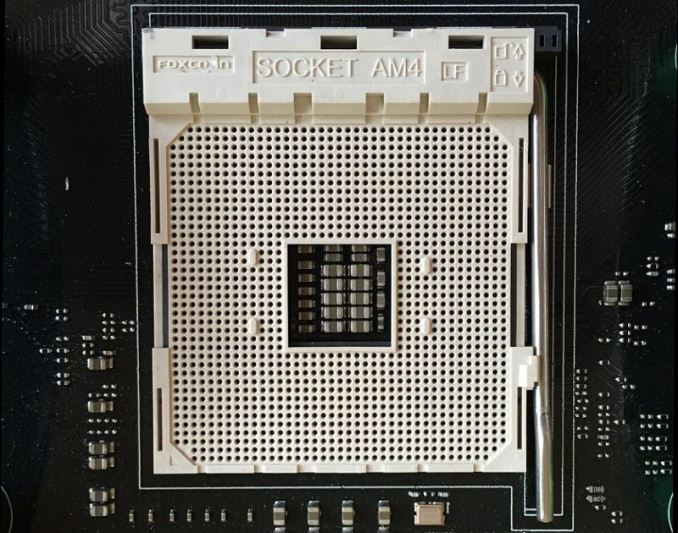 The socket hole mounting does change however, from AM3 to AM4. On AM3 the dimensions were, center hole to center hole, 96mm x 48mm. This led to a very cumbersome rectangular design for sure. AM4 makes the design more square, down to 90mm x 54mm, but is still very square. With the new mounting holes, users will need brackets for existing CPU coolers or buy new coolers with the new brackets. More on that in a second.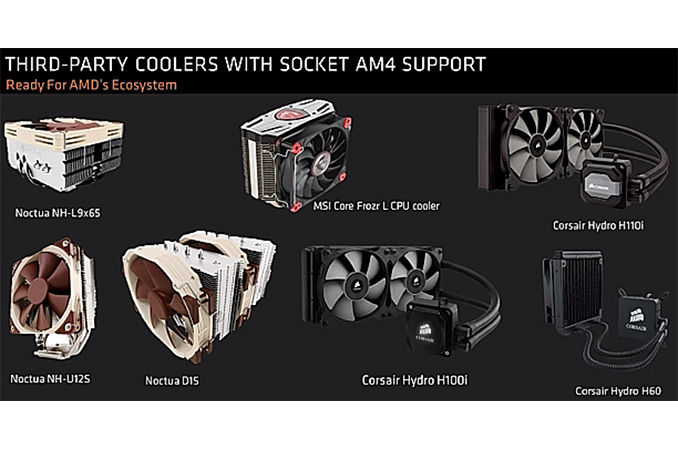 It is worth noting that AMD has still kept the same mounting mechanism from AM3 for coolers that use a spring loaded mount on AMD's plastic clips. So users with a spring loaded mount cooler, will still be able to use it as the plastic clip on the new boards is in the right place. Some motherboard manufacturers are also taking the initiative, and implementing both sets of AM3 and AM4 hole mounts such that the older coolers will be able to be used. However, using an older cooler might result in a few issues depending on the screw height, as reviewers have already been complaining about bad contact. In our review today, we used a Noctua DH-U12S SE-AM4 cooler that implements rails and then a secondary screw system, and it has none of the issues we just described. Ultimately all motherboards will end up just with AM4 holes, but it should facilitate smaller form factor motherboards where AM3 was perhaps too rectangular.
Coolers Supporting AMD Ryzen Processors in AM4 Form-Factor
Manufacturer
Already
Compatible
Requires New
Mounting Kit
Upcoming
ARCTIC
Alpine 64 Plus
Alpine 64 Pro
Alpine 64 GT
Freezer 7 Pro
Freezer 13
Freezer 13 Limited
Freezer 13 CO
Freezer Extreme
Liquid Freezer 120/240/360 (kit to be available in April)
Freezer 12
Freezer 33
Be Quiet!
Pure Rock
Pure Rock Slim
Shadow Rock LP
Dark Rock 3
Dark Rock Pro 3
Dark Rock TF
Shadow Rock 2
Shadow Rock Slim
Silent Loop
Corsair
H60
H110i
H100i
All the remaining Hydro coolers.
Customers can claim their retention bracket here for free, no proof of purchase is required.
Cryorig
-
C1
R1 Universal/Ultimate
H5 Universal/Ultimate
H7
H7 Quad Lumi
M9a
C7
A40
A40 Ultimate
A80
Cooler Master
MasterLiquid 240
MasterLiquid 120
MasterLiquid Lite 120
Hyper 212 LED Turbo
Hyper T4
Hyper TX3 (Plastics)
Hyper TX3 EVO (EU Ver.)
Hyper TX3 EVO (JP Ver.)
Hyper TX3 EVO
Hyper T2
Hyper 101 PWM U
BLIZZARD T2
BLIZZARD T2 MINI
MasterLiquid Pro Series
Nepton Series
Seidon Series
MasterAir Maker 8
MasterAir Pro 4
MasterAir Pro 3
Hyper 612 Ver.2
Hyper 412 Series
Hyper 212 LED
Hyper 212 EVO
Hyper 212 X
Hyper D92
DeepCool
Beta 10
Beta 200ST
CK0AM209
Gammaxx
Gamma Archer
Ice Blade 100
Ice Blade 200M
Ice Edge Mini FS 2.0
Assassin II
Beta 11
Beta 40
Captain Series
Frostwin Series
Gabriel
HTPC-200
Ice Blade Pro 2.0
Lucifer Series
Maelstrom Series
Neptwin Series
Enermax
ETS-T50A-BVT
ETS-T50A-WVS
ETS-T40F-TB
ETS-T40F-BK
ETS-T40F-W
ETS-T40F-RF
ETS-N30R-HE
ETS-N30R-TAA
ELC-LMR240-BS
ELC-LMR120S-BS
MSI
Core Frozr L
Noctua
NH-D15 SE-AM4
NH-U12S SE-AM4
NH-L9x65 SE-AM4
NH-C12P
NH-C12P SE14
NH-C14
NH-C14S
NH-D14
NH-D14 SE2011
NH-D15
NH-D15S
NH-D9L
NH-L12
NH-L9x65
NH-U12
NH-U12F
NH-U12P
NH-U12P SE1366
NH-U12P SE2
NH-U9
NH-U9B
NH-U9B SE2
NH-U9F
NH-U12DX
NH-U12DX 1366
NH-U12DX i4
NH-U9DX i4
NH-U9DX 1366
NM-AM4 upgrade-kit
NH-U14S
NH-U12S
NH-U9S
NM-AM4-UxS upgrade-kit
Anton helpfully put this table together of the recent public statements from the various cooler companies regarding support of users who currently own their products. The statements range from nothing yet to offering a free bracket with proof of purchase of CPU, to proof of purchase with cooler. We suspect more information will come out in due course.
Motherboards
There's going to be a wide ranging mix of AM4 motherboards available, and AMD has already been promoting them as early as January. Recent reports put the number at around 80-85 boards (some for specific regions/customers), using either the X370, B350 or A320 chipsets. In the review samples that the tech press were given, it was a random allocation of either the ASUS Crosshair VI Hero, the MSI X370 XPower Titanium, the ASRock X370 Taichi or the GIGABYTE AX370 Gaming 5. Other vendors such as ECS and Biostar will also be joining the fray on the shelves.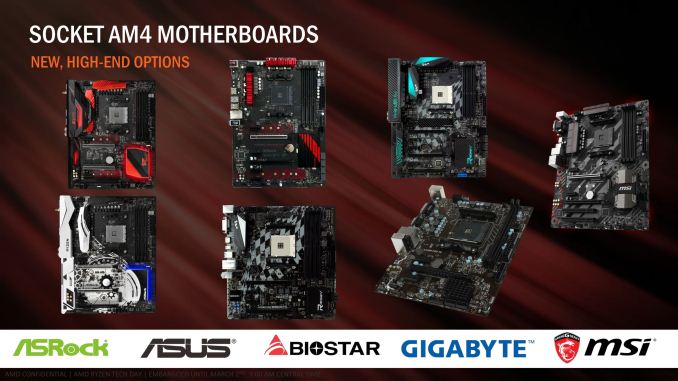 Pricing for AM4 motherboards is expected to start from as low as $50 USD, all the way up to $350 and perhaps beyond. We'll do a bigger motherboard analysis piece later.