The Samsung SyncMaster 172T that we reviewed earlier this year was hailed as one of the best looking monitors by us and many others.  The unusual bezel and stand have reappeared in the 192T, much as we expected.  This design allows for the DVI, analog and power adaptor to plug in without tipping or tilting the monitor.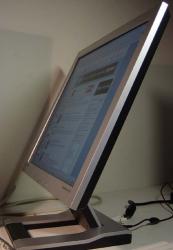 Click to Enlarge
Most LCDs we see plug directly into the back of the panel.  Samsung moved all of these connectors to the base of the stand so that the upper bezel can move freely and also allow for easy access to the VGA and DC connections.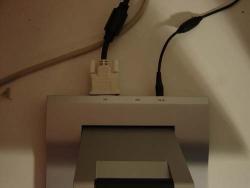 Click to Enlarge
While the 192T does not incorporate the same ultra narrow bezel as the 191T, the panel itself consumes less desk space.  Also, since the panel is wall mountable, the total depth of the LCD can become as shallow as 4 inches.  Conventions and presentations that have traditionally used the AG Neovo S series (it folds down to a horizontal position) may begin to use the 192T and 172T series now that they both incorporate their own horizontal folding.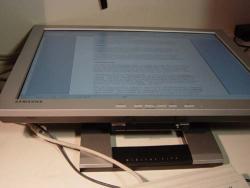 Click to Enlarge