The Gateron Optical Switch
Gateron's optical switches physically resemble the classic Cherry MX switch and, much like regular mechanical switches with electrical contacts, they are available in several different variations. The switches that our sample came with copy the features of the Cherry MX Blue switch, which has audible and tactile actuation feedback. Externally, Gateron's only upgrade is the clear top frame of the switch that allows for the LED lighting to be diffused and evenly distributed around the switch.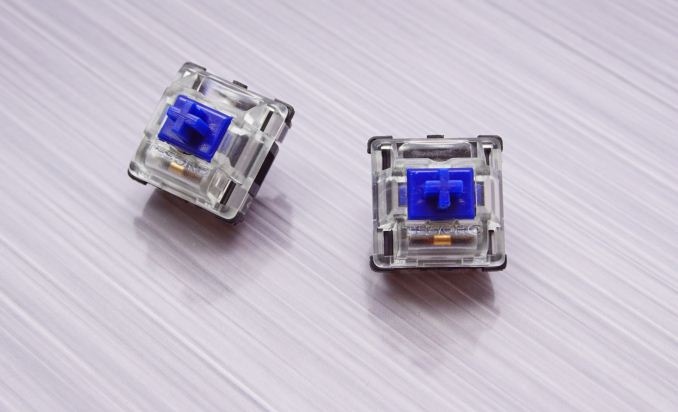 The similarities of the Gateron optical switch to regular mechanical switches are more than just its physical dimensions. Inside we found an almost complete mechanical switch, with a typical metallic spring, a plastic stem and guides, and even one metal contact leaf. There is just one leaf because the switch does not rely on these metallic parts to generate a signal, but the leaf is only needed to emulate the clicky, audible behavior of the blue-type switch. An infrared sensor (on the keyboard's PCB) optically reads the position of the stem and sends an actuation signal once it has reached a specific travel point. In the case of this particular switch, the actuation point is 2 mm below the reset point and the keys have a total travel of 4 mm.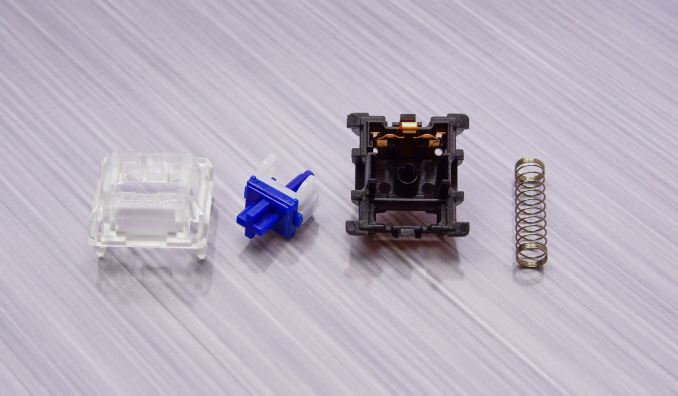 In terms of performance and behavior, the Gateron Blue Optical switch almost perfectly copies the Cherry MX Blue switch variant. It has a relatively high operating force that slightly exceeds 61 cN, with the actuation point being about 0.15 mm after the peak force point. The distinct difference is the reset point of the switch, which is at almost exactly the same travel point as that of the actuation. The mechanical switch would have a reset point significantly above the actuation point, at about 1.5 mm before the reset (top) position of the switch.