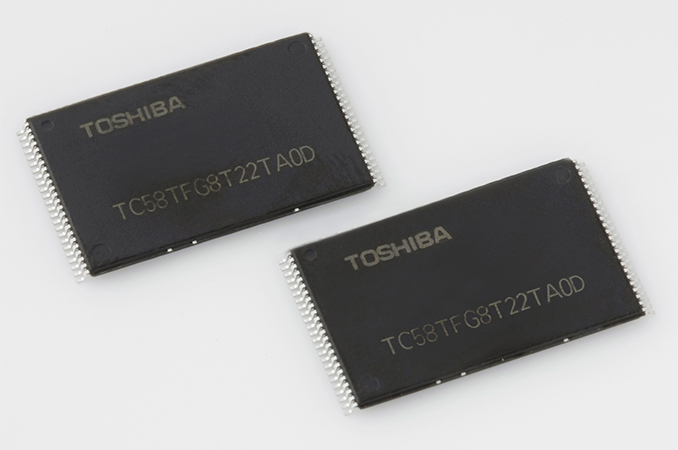 Toshiba on Wednesday said that it had begun to sample its latest BiCS 3D NAND flash memory chips with 64 word layers and 512 Gb capacity. A co-development project with Western Digital, the two companies intend to produce the new ICs (integrated circuits) in high volume sometimes in the second half of this year. Among the first products to use the new chips will be Toshiba's BGA SSD with 1 TB capacity.
Looking at the specifications, Toshiba's 512 Gb (64 GB) 64-layer BiCS 3D NAND will be TLC-based, with the use of TLC being unsurprising here as all makers of non-volatile memory nowadays concentrate on TLC ICs for SSDs. Toshiba as well as its fab and development partner (Western Digital) has not formally revealed the interface speed of their new 512 Gb 3D NAND ICs nor the number of planes per IC, but these are details that the companies are probably going to share when they are ready to ship such devices in high volume (or simply decide to publish their ISSCC presentation from earlier this month).
In fact, a 64-layer 3D TLC BiCS NAND chips per se are not a 2017 breakthrough. Western Digital, has been using its 64-layer 3D TLC NAND devices for actual products (e.g., removable media) since November or December. However, those 64-layer 3D TLC NAND ICs have capacity of 256 Gb, whereas the new chips can store 512 Gb of data. Toshiba itself says that its 256 Gb 64-layer BiCS ICs are in high-volume production today.
Toshiba and Western Digital said that high-volume manufacturing of their 512 Gb 64-layer devices will commence in the second half of 2017 in Yokkaichi, Japan. The two companies said that the new ICs will help them to address various retail, mobile and data center applications. The latter indicates that the devices will be used not only for removable media and mobile storage, but also for high-end enterprise-class SSDs.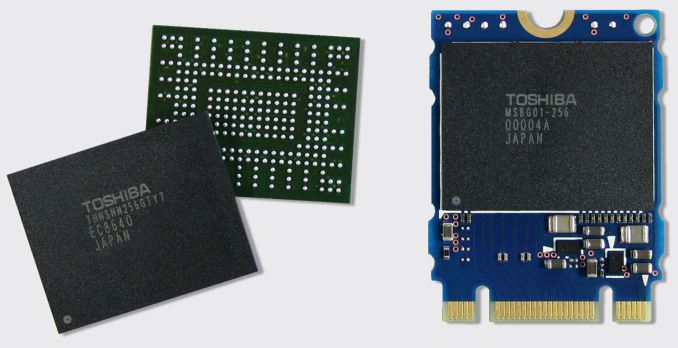 Meanwhile, Toshiba's BGA SSDs will be among the first to use the company's new memory devices. The company plans to produce a BGA drive (as well as M.2 modules based on such BGA devices) with 1 TB capacity featuring 16 chips. Such SSDs are designed for various mobile and UCFF (ultra-compact form-factor) PCs and enable to reduce their thickness and overall footprint as well as improve battery life. Samples of the BGA drives will be available in April, whereas mass production will start sometimes in 2H 2017.
Note: Images are for illustrative purposes only.
Related Reading:
Source: Toshiba