ABIT IS7
Motherboard Specifications

CPU Interface

Socket-478

Chipset

Intel 82865PE MCH (North Bridge)
Intel 82801ER ICH5R (South Bridge)

Bus Speeds

up to 412MHz (in 1MHz increments)

Core Voltages Supported

up to 1.925V (in 0.025V increments)

I/O Voltages Supported

N/A

DRAM Voltages Supported

up to 2.80V (in 0.05V increments)

Memory Slots

4 184-pin DDR DIMM Slots

Expansion Slots

1 AGP 8X Slot
5 PCI Slots

Onboard IDE RAID

N/A

Onboard USB 2.0/IEEE-1394

Eight USB 2.0 ports supported through South Bridge
TI TSB43AB23 IEEE-1394 FireWire (2 ports available)

Onboard LAN

3COM 10/100 LAN (no CSA)

Onboard Audio

Analog Devices AD1985 codec

Onboard Serial ATA

Two SATA connectors via ICH5R (RAID 0 & RAID 1 only)

BIOS Revision

Rev. 13 B03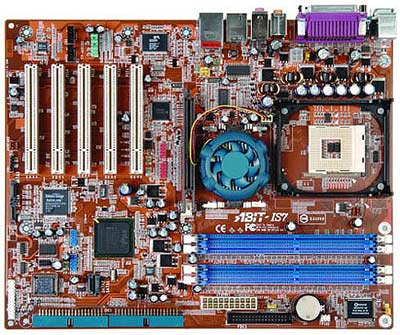 As is to be expected from ABIT, the BIOS options are superb. A nice and high 412MHz FSB is the maximum allowable FSB available in the IS7's BIOS. A 2.8V VDIMM is noteworthy, especially with such a potent motherboard as the IS7. Finally we have the Vcore that is available as high as 1.925V in 0.0250V increments. The Vcore in particular stands out because there are many 865PE and 875P motherboards that are constrained by 1.60V Vcore ceilings, making the serious overclockers quite unhappy. The IS7's 1.925V Vcore is more than enough, in fact we would have been happy with 1.80V.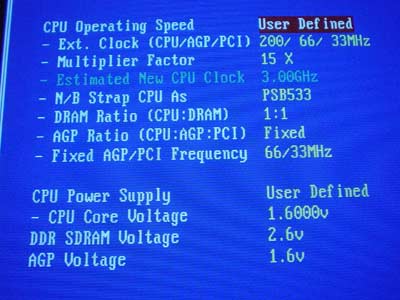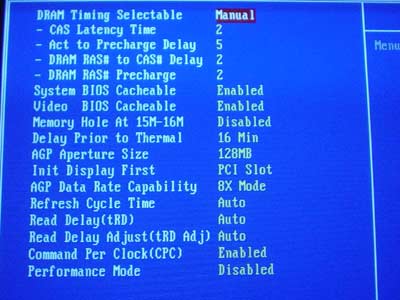 On the performance side of things we see that ABIT is yet another manufacturer that has successfully mimicked PAT (Performance Acceleration Technology) code previously exclusive to 875P motherboards. As a result the IS7 is not only slightly faster than every 875P motherboard we've tested but, ironically, also faster than ABIT's own 875P motherboard, the IC7/IC7-G. It doesn't take much effort to reap the benefits of PAT-like performance from the IS7, simply make sure that your memory timings are as reliably aggressive as your modules are able to withstand, the "PSB533" setting is enabled under "N/B strap" if you're using an 800MHz FSB processor, the 1:1 ratio is enabled along with the "fixed" option for your AGP/PCI bus, and the CPC (Command Per Clock) is enabled in the Advanced Chipset Features section. This applies to users that will be running their IS7 at stock speeds, but if you're overclocking (especially past 250MHz FSB) make sure you use change N/B strap back to PSB800 so as to not max out your memory too quickly. We suggest the 3:2 ratio if you're going well past 250MHz FSB.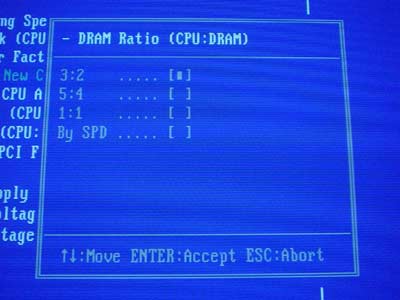 There are only a few negative things to say about the IS7. Firstly there's the layout, which ABIT has struggled with a bit in the recent past. The horizontally placed Primary and Secondary IDE connectors are simply unacceptable for any modern day computer case if you ever plan on using that first or second bay for your optical drive(s).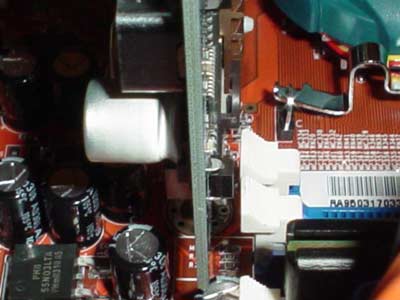 Another poor layout choice is the positioning of the DIMM connectors that are much too close to the AGP slot. Even if your video card isn't all that long the DIMM connectors are still nearly impossible to unhinge unless you go through the annoying and time-consuming task of unscrewing and uninstalling your video card for a simple memory upgrade or initial install.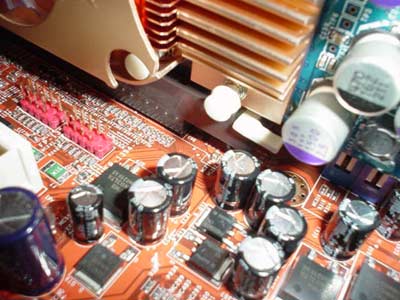 Our final layout complaint deals with the truly mind-boggling location of the AGP lever. The AGP lever is positioned in such a way that makes it virtually impossible to push into place, forcing us to uninstall the memory module in DIMM slot #1 just to get it positioned correctly. Our video card could have been completely void of capacitors (though that's impossible) at its lower edge and we still would not have been able to get a finger near the AGP lever. We don't see what kept ABIT from organizing the capacitors so that this wouldn't be a problem.
Our final general complaint deals with the lack of any SATA-to-IDE adapters, what ABIT calls "Serillel", or as it's now called "Serillel 2". This is a very convenient tool for users that want to use more than the two available Primary/Secondary IDE connectors and who don't happen to have (or want to purchase) any Serial ATA drives. Performance degradation with these adapters is virtually nil, especially if your apps don't require high sustained throughputs of 70MB/s or more (most don't).