Battery Life
One of the things we noted in our Redmi Note 3 Pro review was its excellent battery life, which can be partially attributed to its big 4050 mAh (15.59 Wh) battery. For the Redmi Note 4, Xiaomi actually bumps the battery up to 4100 mAh (15.79 Wh), giving us hope for equally good battery life.
To see how the other hardware changes, including the switch from Snapdragon 650 to Helio X20, impact battery life, we'll run the Redmi Note 4 through our standard suite of battery tests. To make the tests accurate and repeatable, we control as many variables as possible, including minimizing background tasks and calibrating each display to 200 nits at 100% APL.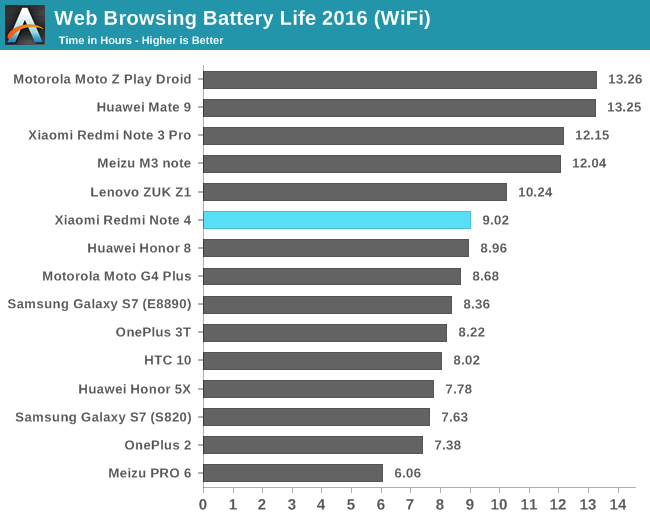 The Redmi Note 4 manages 9 hours of screen on time in our Wi-Fi browsing test that loads, pauses, and scrolls through a number of popular websites with the cellular radio turned off. That's 3 hours more than the Meizu Pro 6 that uses a similar Helio X25 SoC but is constrained by a small 2560 mAh battery. The Redmi Note 4 also lasts a little longer than several current flagship phones, including the HTC 10, OnePlus 3T, and Galaxy S7.
Despite its similar-sized battery, the Redmi Note 4 shuts down 3 hours before the Redmi Note 3 Pro. Because the display is the primary power consumer in this test, an inefficient panel will have a noticeable impact on battery life. The Tianma panel in the Note 3 Pro does not support panel self-refresh, and while I was not able to confirm this, it does not appear the Note 4 supports it either. The Note 4 also does not use content adaptive backlight control (CABC), which can also reduce power consumption.
I tried measuring CPU power, but the usual methods have been broken/disabled on the Note 4. All we can do instead is compare average platform power (APP) numbers, a rough estimate of each phone's average power consumption simply based on total runtime and battery capacity. The Note 4 has an APP of 1.75W, significantly higher than the Note 3 Pro's 1.28W figure. Unfortunately, without cracking open the Note 4 it's impossible to say which combination of components—display, SoC, Wi-Fi radio—are responsible for the increase in power consumption. As further points of comparison, Meizu's M3 note, which also has a 5.5-inch IPS display but only uses A53 CPU cores, has an APP of 1.31W, while Huawei's Mate 8, whose Kirin 950 SoC also uses a combination of A72 and A53 CPU cores but has a larger 6-inch LCD display, only consumes 1.50W on average.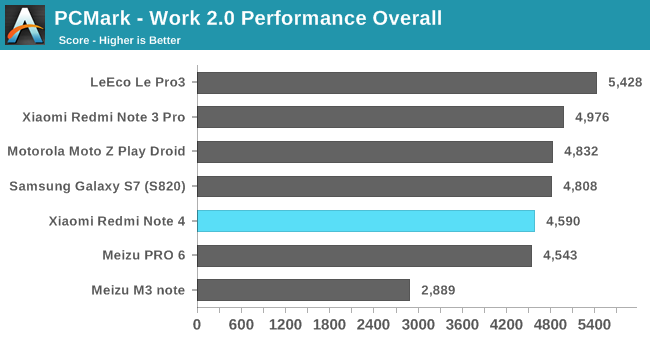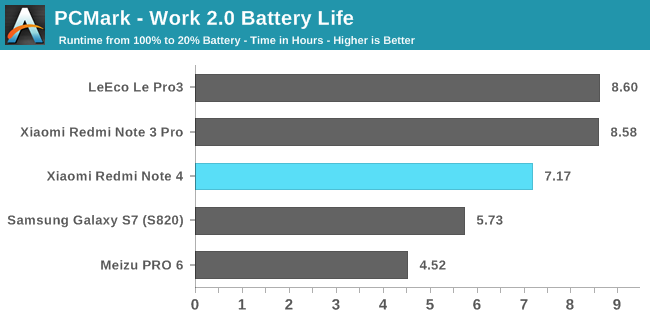 When running PCMark's mixture of real-world workloads that force the CPUs (and GPU) to do more work than in our browsing test, the Redmi Note 3 Pro manages to last 20% longer than the Redmi Note 4, a little less than its 33% margin when browsing with Wi-Fi. While it's disappointing to see a regression in battery life, the Redmi Note 4 is still capable of getting you through a full day on a single charge.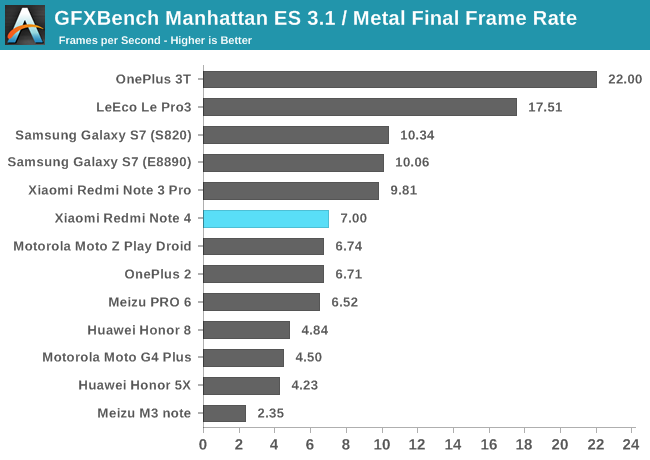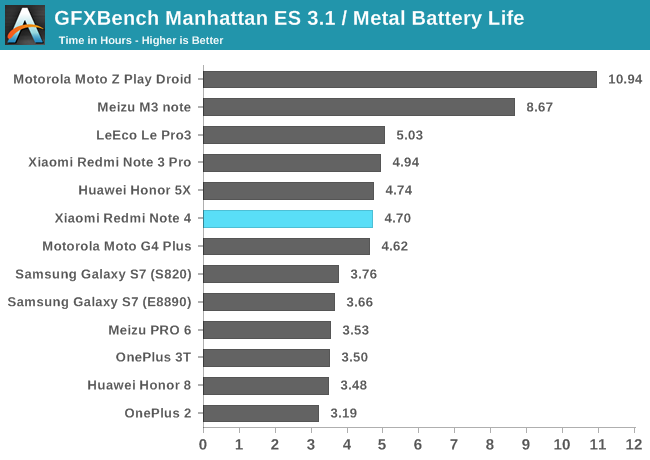 The GFXBench Manhattan ES 3.1 battery test loads the GPU and predicts how long the phone will last while playing an intense game. The Redmi Note 4 manages to last a reasonable 4.7 hours, almost as long as the Note 3 Pro, which also maintains a higher frame rate over the duration of the test. Better battery life usually comes at the expense of performance, however, with the M3 note and Moto Z Play, the longest lasting phones in this test, both posting lower performance values than the Note 4 by the end of the test.
CPU & GPU Thermal Stability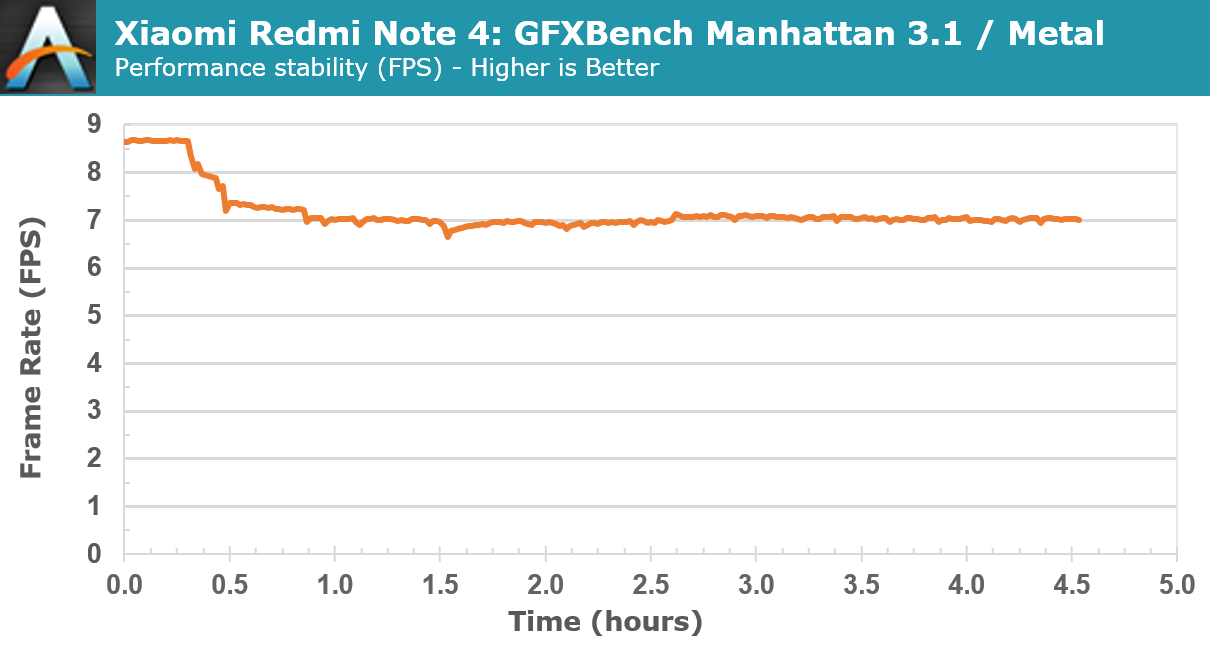 Whereas the Redmi Note 3 Pro can maintain peak performance indefinitely while running GFXBench Manhattan 3.1 onscreen, the Redmi Note 4 can only maintain peak performance for about 18 minutes before throttling back GPU frequency to avoid overheating. Huawei's Honor 8, whose Kirin 950 SoC uses a similar Mali-T880MP4 GPU but with a 200MHz higher max operating point, runs for 42 minutes before throttling forces performance to oscillate wildly between 8-11fps. It's certainly rare to see the smaller GPUs in lower-cost phones experience thermal throttling.
While I was not able to measure GPU power consumption for the Redmi Note 4's Helio X20 SoC, I did get numbers for the Helio X25 in Meizu's Pro 6. Average power consumption when running GFXBench Manhattan 3.1 offscreen was a reasonable 2.19W, essentially the same as the Redmi Note 3 Pro. It's curious then that the Note 4 throttles and the Note 3 Pro does not, but a few possibilities exist: the Note 4's thermal limits are more conservative (the Note 3 Pro does get pretty warm during the test), the Note 4's design does not dissipate as much heat, the Note 4's display consumes more power and limits its overall thermal budget.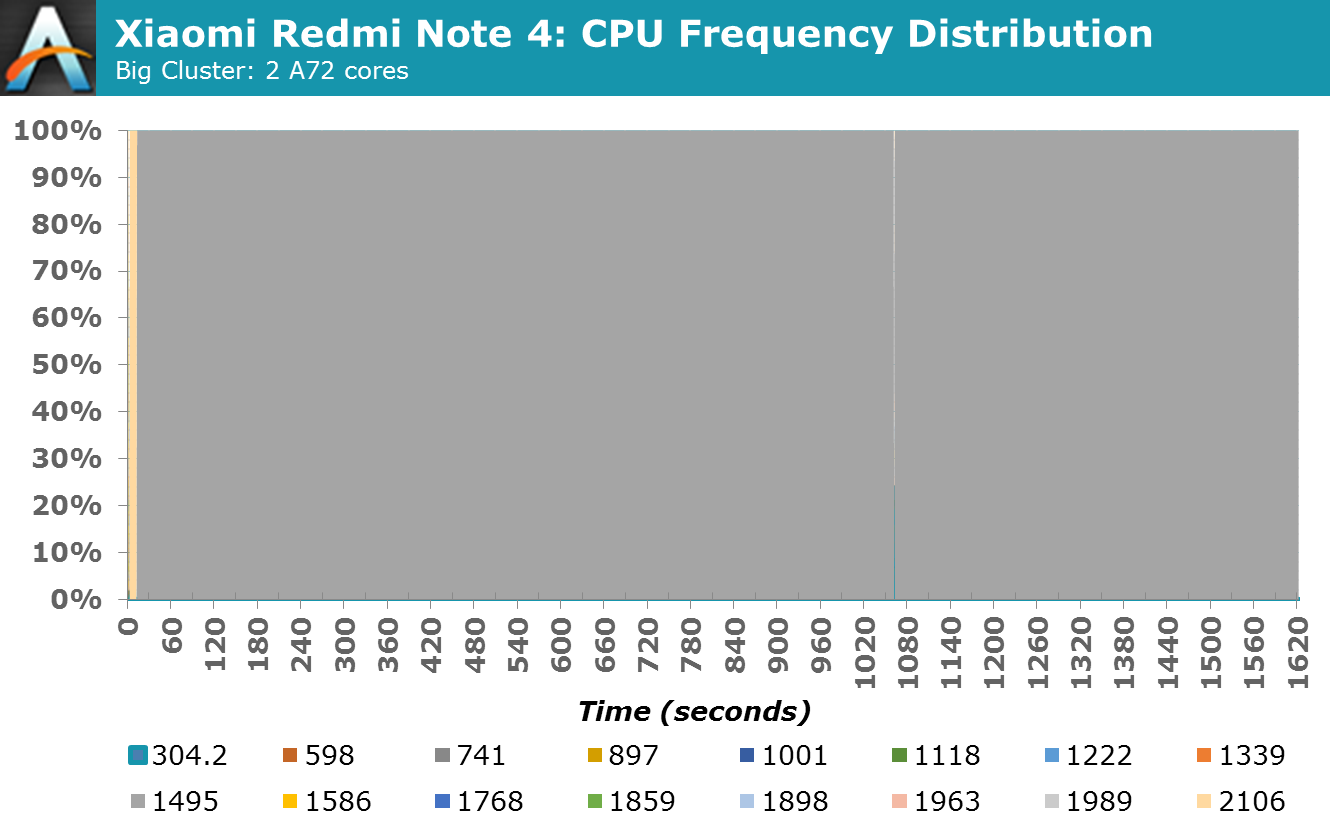 Testing the thermal stability of the big CPU cluster involves running a power virus with two threads to ensure that two big cores are always active. Under these conditions, the Redmi Note 4 can only keep its two A72 cores at their max frequency of 2106MHz for just shy of 10 seconds before throttling them back abruptly to 1495MHz. This is not a particularly good result, although the silver lining is that the two A72 cores maintain the lower frequency for the remainder of the 30 minute test without any further throttling. It's never forced to migrate the threads over to the A53 cores either, an issue that plagued phones using the Snapdragon 810 SoC.
Battery Charging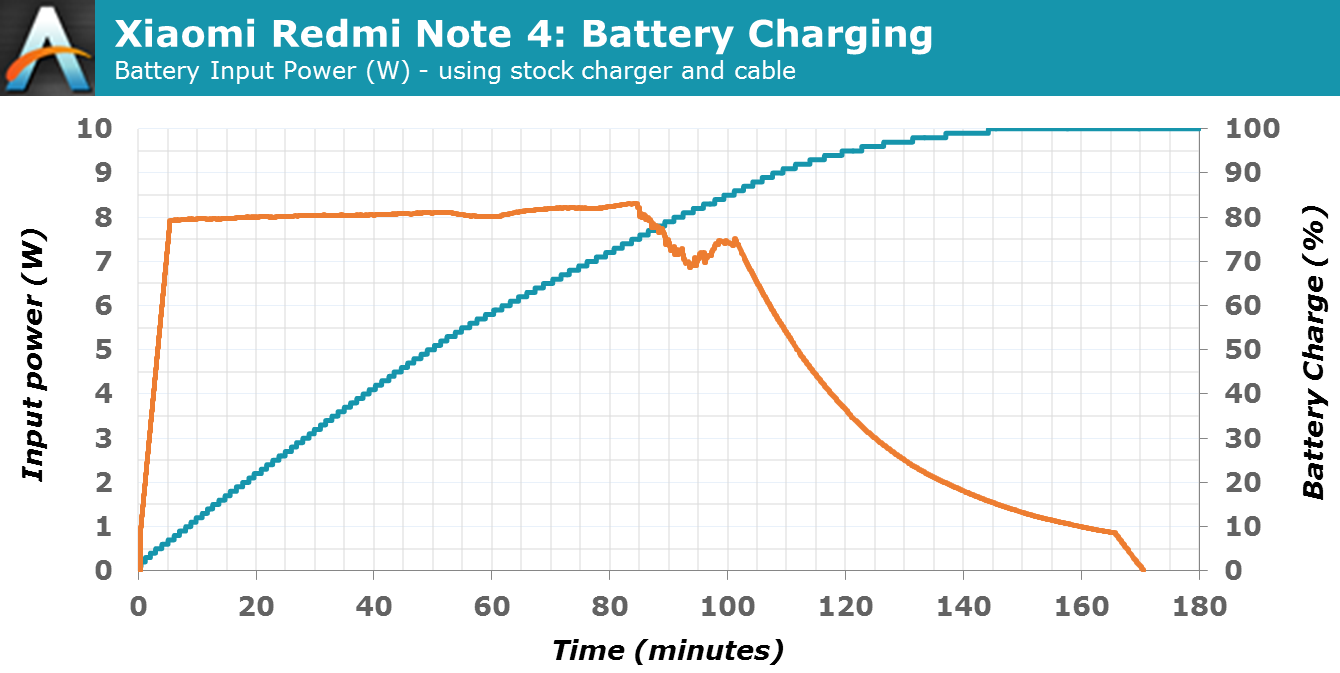 The Redmi Note 4 comes with a 10W charger (5V at 2A) just like the Note 3 Pro, which can fully charge its battery in less than 3 hours; a fairly typical result for lower-cost phones that lack the more sophisticated fast-charging technology found in more-expensive mid-range and high-end phones. After a slow ramp up of over 5 minutes, the Note 4 levels off around 8W, with a peak of 8.31W, which it maintains for 1 hour and 22 minutes before gradually reducing charging power.