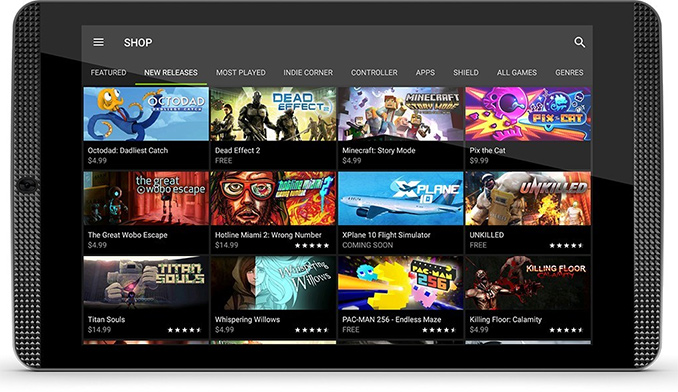 A couple of weeks back NVIDA released their Android 7.0 "Nougat" update for their original SHIELD TV. Now this week their other SHIELD devices are getting in on the action, with the release of the Android 7.0 update for the SHIELD Tablet and its Tablet K1 sibling.
Android 7.0 brings a few major changes to tablets, particularly the implementation of split-screen application mode for improved multitasking. But arguably what makes this update so noteworthy is that Android 7.0 updates for tablets have been few and far between, making this one of the few tablets to get the update so far. Other than Google's most recent tablets such as the Pixel C and Nexus 9, and Sony's Xperia X4 tablet, very few vendors have released updates for their tablets. Which, unfortunately, isn't too surprising given that Android tablet sales outside of the "portable TV" segment have taken a beating.
In the SHIELD Tablet's case things are especially interesting since this is quite likely the only Cortex-A15 powered tablet that will ever receive Google's latest OS. This itself is something of an artifact of NVIDIA's product strategy – the company still sells the refreshed SHIELD Tablet K1 to this day – but I have to give NVIDIA credit where it's due since it means they've kept their promise to offer long-term update support for the Tablet and other SHIELD devices. Coming upon its 3rd birthday I suspect the tablet never got quite as much traction or consumer recognition as NVIDIA was hoping for, but NVIDIA's carved out an interesting niche in a rough market by offering a mid-sized (8-inch) tablet with extended support.
In any case, the Android 7.0 update brings with it the typical slew of feature updates expected with Nougat, including the earlier mentioned multitasking features, notification changes, and the operating system's new and better-performing JIT compiler. Along with Google's feature changes, on the NVIDIA side of matters the update also adds support for the 2017 SHIELD peripherals, should any Tablet owners still need a(nother) SHEILD Controller.
The full patch notes are available below. The update is available now for the SHIELD Tablet and SHIELD Tablet K1, while the LTE version of the original tablet is reportedly still waiting on carrier approval.
New Multitasking Features

Split-screen: Run two apps side by side* in Portrait or Landscape modes
Quick switch: Double tap the Overview button to quickly switch back to the last opened app

SHIELD Controller (2017) Support

Updates to SHIELD controller support

SHIELD Rewards Program

Introducing SHIELD Rewards, the exclusive loyalty program for SHIELD owners

Improved Notifications

Multiple notifications from the same app are now bundled for a streamlined experience
Reply to messages directly from within the notification*
Tap and hold on a notification to quickly silence or block notifications from the app

Improved Power Consumption

Doze on the Go: Doze is now smarter & kicks in even when the device is being carried around

Emoji

Includes all-new Unicode 9 emojis

Usability Improvements

Display & Font size can now separately adjustable to improve redability or screenspace
Quick Settings can now be customized directly from the menu by tapping "Edit"
The top Quick Setting tiles can now be accessed with a downward swipe from the lock screen
Settings now includes a Navigation Menu & Suggestions to improve usability
The "Clear all" option in Overview have been relocated to the top right

System wide improvements including

Updates to SHIELD controller support
New Data Saver: when enabled, limits access to Cellular data for background apps
New JIT complier: improves the speed of App & System updates
Update to Android Security Patch Level December 1, 2016
Source: NVIDIA