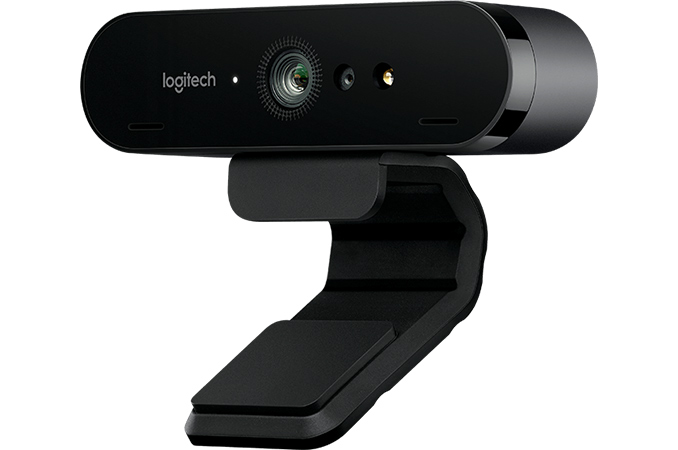 Logitech has announced its BRIO 4K Pro Webcam, one of the world's first webcams that features an Ultra HD resolution as well as HDR. The camera also has an infrared sensor to support facial recognition and Windows Hello.
The Logitech BRIO aka 4K Pro Webcam (960-001105) is based on the company's new 4K sensor, supports up to 4096×2160 resolution at 30 fps (or 1920x1080 at 60 fps), as well as RightLight 3 with HDR backlighting technology. The webcam has autofocus, 5X digital zoom, and is equipped with an infrared sensor. The BRIO can also select between 65°, 78°, and 90° field of view (FOV) options, and the device has two omni-directional microphones with additional noise cancellation options.
Logitech does not reveal a lot of information about its webcam and we do not know what codec it uses or what video encoder chip is inside. What we do know is that the webcam requires USB 3.0 interconnection for 4K video recording, which suggests that video bitrates it supports are fairly high. As with the recently released C922, the Brio 4K will use Logitech's latest software package which includes background replacement (similar to green screen detection). Logitech also lists a physical external privacy shutter on the feature set, allowing users to visually confirm that the camera is not taking video by other means (although, it is not mentioned if this also physically stops audio recording).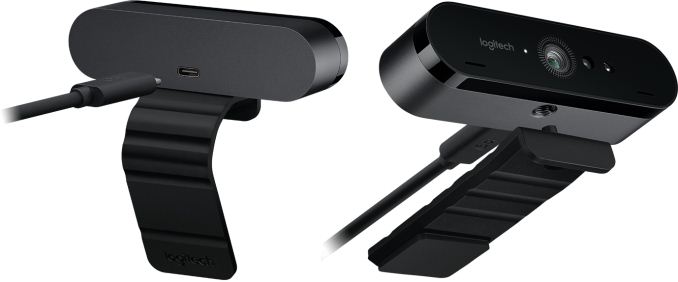 As for compatibility, the Logitech BRIO 4K Pro can work with all modern versions of Windows, Apple's macOS 10.10 and higher as well as with Google Chrome OS version 29.0.1547.70. In addition, Logitech likes to point out that the webcam is suitable with multiple enterprise-class applications, including Skype for Business and Cisco programs with compatible certifications. It is worth noting that due to various reasons, Windows 7 supports up to 1080p only.
The Logitech BRIO 4K Pro webcam is designed to be attached to the top of a monitor, so weighs 63 grams (2.2 oz) while being 102 mm (4") wide and 27 mm (1") tall and 27 mm (1") deep. The clip weighs 44 grams, making the whole construction around 107 grams total. Logitech lists that the webcam comes with a USB 3.0 Type-A cable, indicating a C-to-A connection rather than a straight C-to-C.
The Logitech BRIO 4K Pro Webcam is available today directly from Logitech.com as well as from the company's resellers worldwide. The MSRP of the product is $199 in the U.S., £199 in the UK, and €239 in Europe (those last two include tax).
Source: Logitech