MSI X99A Gaming Pro Carbon Conclusion
For any user going down the high-end desktop route, there are a few platform choices: X99 for the latest, X79 for a good second hand deal, perhaps an AMD FX on a budget, or dual processor for when you really need it. Admittedly that last one is more for the producer of business route, but there have been some recent 2P deals that we might cover in a future review. But if you want the latest, X99 and Broadwell-E tops that chart.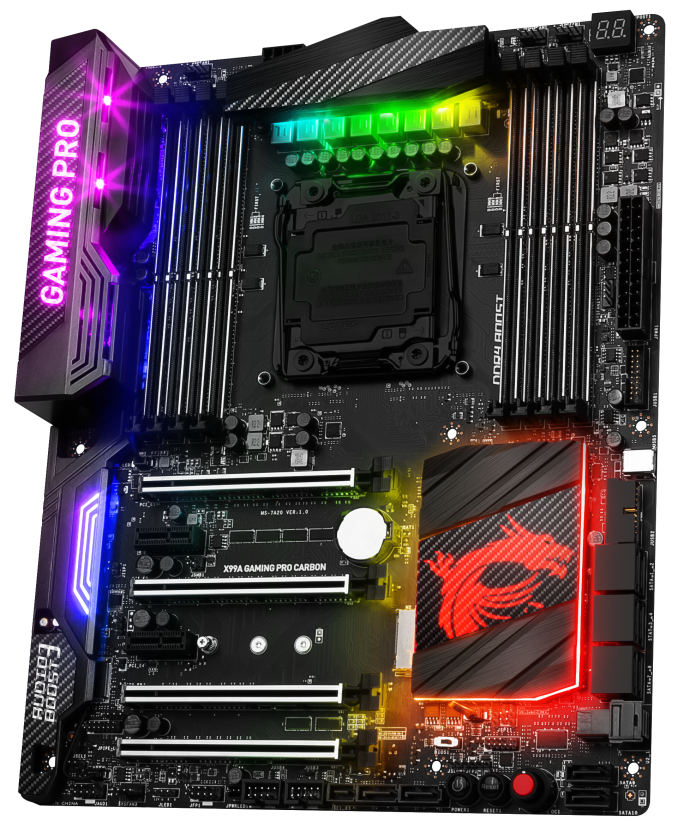 We've actually had the MSI X99A Gaming Pro Carbon in the labs for a while, running various tests, and finally got around to doing review level tests on the board itself. It's certainly an interesting package, going after a sleek back look from the Carbon name but ultimately having substantial LEDs places everywhere. It features a good portion of MSI's latest hardware upgrades, such as PCIe and DRAM guards, an overclocking dial, USB 3.1 and PCIe storage.
The full design aims to be a complete board for most X99 HEDT builds - a full set of DRAM slots, the ten SATA ports from the chipset, PCIe slots arranged to prioritise up to 3-way graphics (four way is supported but one card has to be single slot), USB 3.1 in Type-A and Type-C configurations with the ASMedia ASM1142 controller, an I218-V network controller, an enhanced Realtek ALC1150 audio configuration, and PCIe storage via an M.2 or a U.2 (only one port is supported at once in PCIe mode). To add to this, an internal USB 3.0 Type-C port is designed to aid cables to a front panel that supports Type-C passthrough (such as 1-to-1 or 1-to-hub).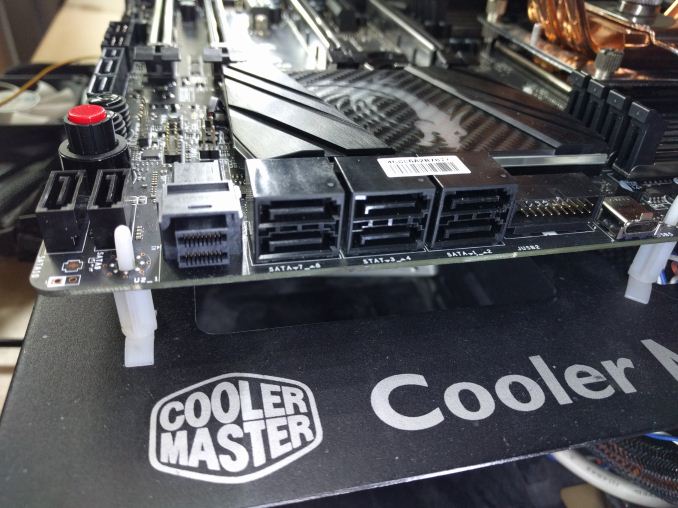 On the LED side, the four zones on the board are coming trolled through the bundled software. There is a wide variety of opinion about the march towards LED everything in the PC space, particularly gaming PCs. Whatever your thoughts, speaking to the manufacturers results in one clear message: it sells. In the case of one company, a tier one for what they make, they told me that the RGB stuff accounts for 70-80% of all their sales now. This is partly why we see it almost everywhere, particularly on high-end gaming gear. The kickback is that it can always be turned off (usually), and in MSI's case a probable justification is that under the Carbon naming, they board is designed to be aesthetically good/neutral, regardless of the LED setting.
On performance, while MSI sets no records for power, USB speed or POST time, the MSI X99A Gaming Pro Carbon goes to the top in nearly all our CPU performance tests. Initially I put the good CPU results out of the box down to multicore turbo plus a variance in the base frequency, but given that every time I probe the base frequency I always get 100 MHz, it makes me wonder if there's something suspect or otherwise. Most of our benchmarks are custom and not industry synthetics, so nothing like software detection could be in play. Nonetheless, it ultimately only effects the user to the extend that there seems to be marginally more CPU performance. GPU performance seems unaffected.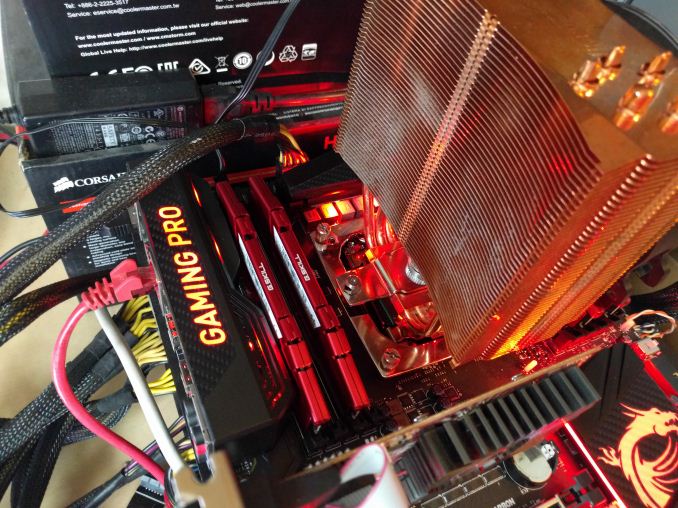 At $330, the MSI X99A Gaming Pro Carbon comes across as an analog to the X99S SLI PLUS, which received a recommended award for being a sufficient performer but at a low cost. The X99A Gaming Pro Carbon has a good set of features, works well out of the box, but having those few extra features (PCIe and DRAM guards, PCIe storage, USB 3.1, improved audio, a sleeker design and LEDs), comes in at $100 more MSRP or, given today pricing, $130 difference. MSI's biggest competition is itself - the SLI PLUS is a hard board to ignore at that price.
Other Intel X99 Motherboard Reviews by AnandTech:
Prices Correct at time of each review
$750: The ASRock X99 WS-E 10G Review [link]
$600: The ASUS X99-E-WS 10G Review [link]
$600: The ASRock X99 Extreme11 Review [link]
$500: The ASUS Rampage V Extreme Review [link]
$400: The ASUS X99-Deluxe Review [link]
$340: The GIGABYTE X99-Gaming G1 WiFi Review [link]
$330: The ASRock X99 OC Formula Review [link]
$330: The MSI X99A Gaming Pro Carbon Review [this review]
$323: The ASRock X99 WS Review [link]
$310: The GIGABYTE X99-UD7 WiFi Review [link]
$310: The ASUS X99 Sabertooth Review [link]
$300: The GIGABYTE X99-SOC Champion Review [link]
$300: The ASRock X99E-ITX Review [link]
$300: The MSI X99S MPower Review [link]
$275: The ASUS X99-A Review [link]
$241: The MSI X99S SLI PLUS Review [link]