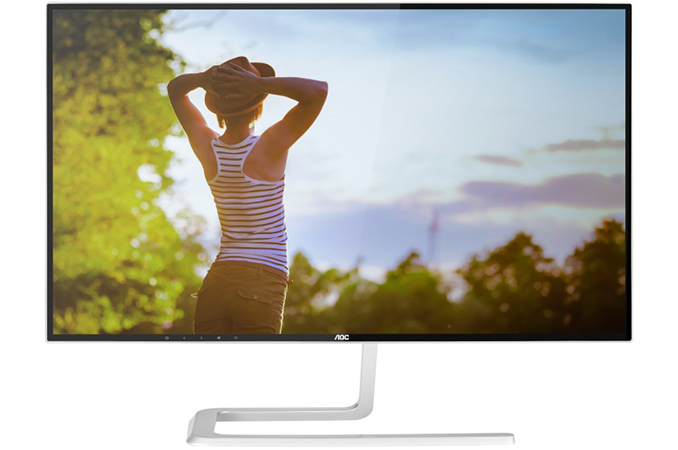 AOC this week introduced two new 27" displays with thin bezels, a fancy asymmetric stand, an IPS panel and QHD resolution (2560×1440). The more expensive of the two monitors comes with a rose gold base as well as a rear embedded with Swarovski crystals.
When it comes to stylish computer hardware in general and displays in particular, it is not always easy to get something that is both aesthetically attractive and technologically advanced. High-quality backlighting requires space, and full-size connectors make devices thicker too, so sleek designs usually have certain compromises. AOC attempted to combine style and technology in its Q2781-series monitors, if having crystals on your monitor is your thing. The displays are based on AH-IPS panels featuring a 2560×1440 resolution suitable up to 350 nits brightness, a 1000:1 contrast ratio, 178°/178° viewing angles, a 5 ms response time and a 60 Hz refresh rate. The manufacturer claims that the Q2718PQ and the Q2718PS displays can reproduce 16.77 million colors, and also claims "full sRGB" (but we would cautiously call it 99%).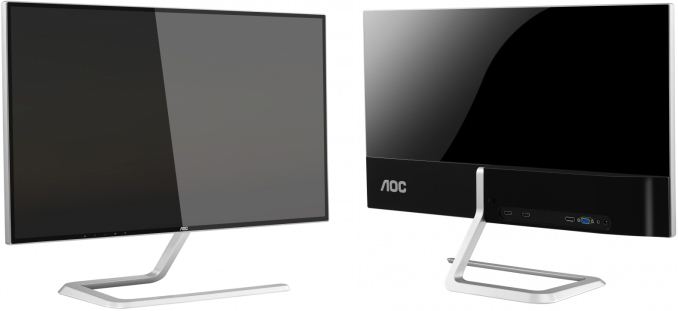 The monitors have very thin bezels on all four sides and have asymmetric L-shaped stands as shown in the picture above. The AOC Q2781PQ has a silver stand and a regular black back panel. The AOC Q2781PS comes with a rose gold base, whereas its back panel is decorated with Swarovski crystals. The tilt of both displays can be adjusted, but the height is fixed.
AOC Q2781-Series Displays
Q2781PQ
Q2781PS
Panel
27" IPS
Native Resolution
2560 × 1440
Maximum Refresh Rate
60 Hz
Response Time
5 ms (gray-to-gray)
Brightness
350 cd/m²
Contrast
1000:1
Viewing Angles
178°/178° horizontal/vertical
Pixel Pitch
0.2331 × 0.2331 mm
PPI
109
Inputs
1 × DisplayPort
2 × HDMI
1 × D-Sub
Audio
3.5-mm headphone jack
Color
Silver
Rose gold
Bling
No Bling
Bling Bling
Power Consumption
Standby
< 0.5 W
Maximum
45 W
As for connectivity, the AOC Q2781-series displays have a DisplayPort, an HDMI header, a D-Sub input as well as a 3.5-mm headphone output. Keep in mind that D-Sub does not support HDCP and certain content may not playback when using such connectors. AOC mentioned that the Q2781-series monitors also feature the company's Clear Vision video engine to upscale SD content to HD quality.
The AOC Q2781PQ is available now at Amazon.com for $349.99, which is below the MSRP of $499. The rose gold version with the Swarovski 'bling' (Ian's edit: each to their own) will be available in the coming months for $599.
Related Reading:
Source: AOC