Cold Test Results
For the testing of PSUs, we are using high precision electronic loads with a maximum power draw of 2700 Watts, a Rigol DS5042M 40 MHz oscilloscope, an Extech 380803 power analyzer, two high precision UNI-T UT-325 digital thermometers, an Extech HD600 SPL meter, a self-designed hotbox and various other bits and parts. For a thorough explanation of our testing methodology and more details on our equipment, please refer to our How We Test PSUs - 2014 Pipeline post.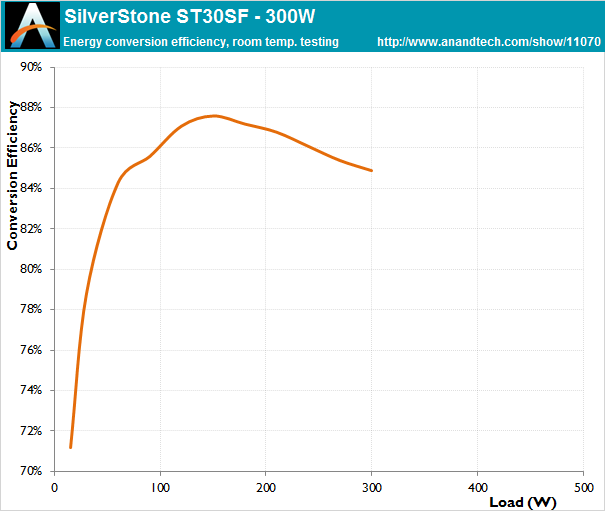 Despite having only an 80Plus Bronze efficiency certification and that we were testing them with a room temperature lower than the standard 25 °C that the testing guidelines dictate, both units failed to achieve even that level of efficiency with a 230VAC input. The maximum efficiency of both units at 50% load is just shy of the 88% figure that they had to reach in order to comply with the certification standards. The platform received its certification rating with an input of 110VAC though, where the efficiency standard dictates a minimum of 85% efficiency at 50% load, not 88%. Even though all switching PSUs are less efficient with an input of 110VAC, it is very much likely that the platform does meet the qualification ratings, even if only barely. Regardless, both the ST30SF and the ST45SF display relatively stable energy conversion efficiency, with an average of 86.1% and 86.3% respectively (within their nominal operational range - 20% to 100% of the unit's capacity). The efficiency plummets at lower loads, diving all the way down to almost 70% at just 5% load.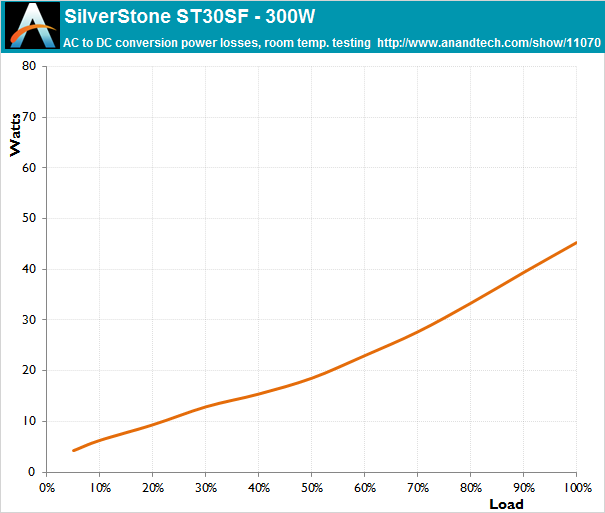 These two PSUs are an excellent opportunity to showcase how picking an oversized PSU can lead to inferior overall performance. With both units based on the same platform but with a severely different power range, the ST45SF is at a great disadvantage with loads lower than 80-90 Watts, whereas the ST30SF come within its nominal loading range with a load of just 60 Watts. What this means is that the ST30SF is significantly more efficient than the ST45SF with a load of about 80-90 Watts or below. By looking at the graphs, we can see that the ST45SF generates significantly greater losses at very low loads due to inefficient operation, making it hotter and louder than its much less powerful sibling. This is an excellent example of how an unnecessarily oversized PSU can be actually detrimental.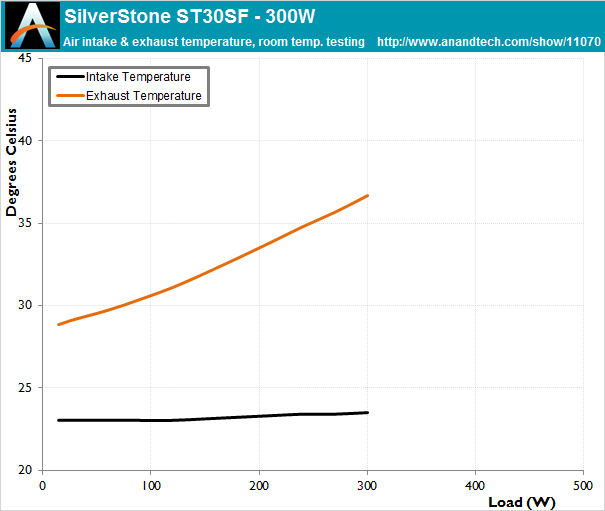 Intake & Exhaust Air Temperature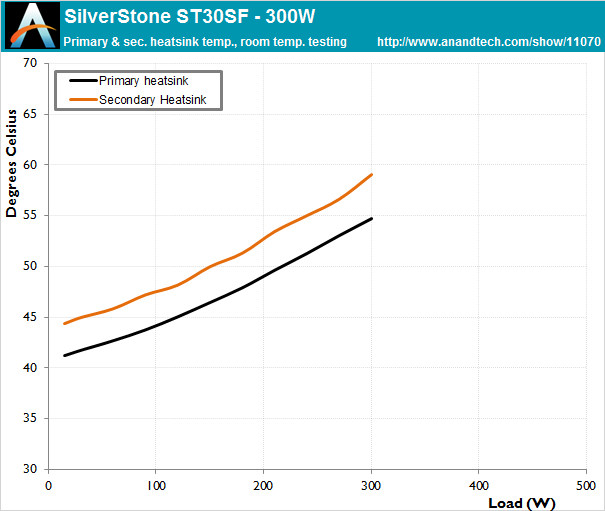 From the sound pressure level graphs, we can see that both units reach about the same maximum noise output when operating in room temperature, although the 450W model does so with an output that is 50% greater than the 300W model. The operating temperatures of the ST45SF are however a little higher, hinting a slightly laxer cooling profile.