AnandTech Price Guides: Past, Present and Future
It has been a while since we posted any new price guides. Many of you may have noticed that we have been continually expanding on the guides, refining our criteria and obtaining the most accurate prices. Today we will take another step in the evolution of the guides.
AnandTech is very pleased to announce our very own RealTime Price Engine. This is not another PriceWatch or PriceGrabber for a few distinct reasons:
| | |
| --- | --- |
|   | 1. Rather than a reseller giving us a list of prices (like PriceWatch and PriceGrabber), we actually run bots and scripts that go check the reseller's prices from their websites. |
|   | 2. We watch hidden costs very closely. Don't expect to see a manufacturer list an item at a low price just to charge $20.00 for shipping. |
|   | 3. All of our resellers are examined very carefully. We do not post resellers with poor feedback or low ratings. |
Currently, we have over 800 listings on almost 200 items. Hopefully, the Price Engine will aide in finding the best prices for the particular product you are interested in.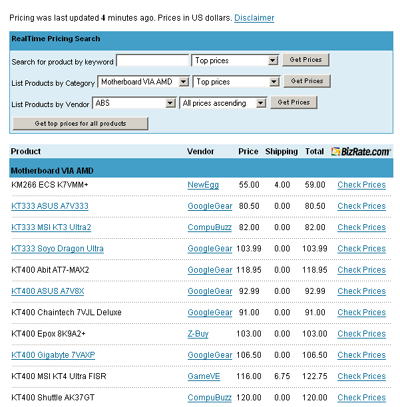 The first thing about the search engine you should notice is that the default page lists the top prices for all items. We have a search menu that allows you to view all resellers for a particular item or category.
The guides themselves have not disappeared! In fact, now that we do not need to continually generate tables with pricings, we are now able to produce more guides on a more frequent basis.
We rely heavily on the input from our readers. Please let us know which items and resellers should be added to our engine! Feel free to discuss the engine in our forums or by emailing me directly.