ASUS P4C800 Deluxe Rev. 1.03: Basic Features
Motherboard Specifications

CPU Interface

Socket-478

Chipset

Intel 82875P MCH (North Bridge)
Intel 82801EB ICH5 (South Bridge)

Bus Speeds

up to 300MHz (in 1MHz increments)

Core Voltages Supported

up to 1.60V (in 0.0125V increments)

I/O Voltages Supported

N/A

DRAM Voltages Supported

up to 2.85V (in 0.1V increments)

Memory Slots

4 184-pin DDR DIMM Slots

Expansion Slots

1 AGP 8X Slot
5 PCI Slots

Onboard RAID

Promise PDC20378 Controller

Onboard USB 2.0/IEEE-1394

Eight USB 2.0 supported through South Bridge
VT6307 IEEE-1394 FireWire Controller


Onboard LAN

3COM 3C940 Gigabit LAN (no CSA bus)

Onboard Audio

Analog Devices AD1985 Controller

Onboard Serial ATA

Two SATA connectors via Promise PDC20378 Controller
Two SATA connectors via ICH5 (non-RAID version)


BIOS Revision

1003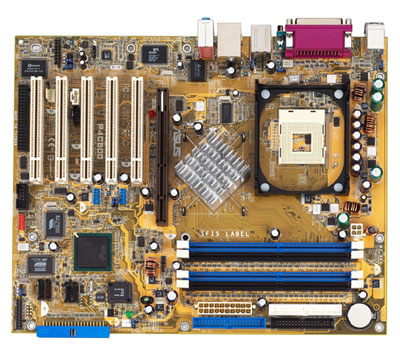 Apparently ASUS has a close relationship with Analog Devices, as they have now standardized on AD sound controllers for at least one series of ASUS motherboards. That one series (and possibly many more) is the Analog Devices AD1985 controller. We are fond of this controller because it has the ability to do several things in software that no other sound solutions can provide, namely dynamically switch its MIC, Line-in and Line-out ports if a user happens to plug their speakers into the wrong audio jacks. Analog Devices calls this technology "Jack Sensing", and in all honestly it's quite an overdue technology, but still a welcome feature nonetheless. Apparently Realtek has an identical technology ready for mass production (dubbed the ALC655, the same controller Gigabyte's 875P series of motherboards uses). Oddly enough Realtek has also named this technology "Jack Sensing". A weird coincidence indeed.

The LAN chip is powered by 3COM 3C940 Gigabit LAN chip, which unfortunately does not utilize Intel's own CSA bus technology. As you can see from our Intel 875P chipset article, CSA does indeed aid in Gigabit performance. We honestly don't know why ASUS opted not to include CSA expect to say that it may have decreased ASUS' time to market and/or costs to produce a non-CSA solution.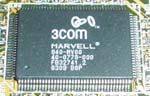 The P4C800 Deluxe's I/O configuration is fairly nice actually, and includes two PS/2 ports, one serial port, one parallel port, one optical out port, four rear USB 2.0 ports, one rear FireWire port, a Gigabit LAN port, and Mic In, Line In, and Line Out, which drive the onboard sound. We love the versatility of the I/O ports on the P4C800 Deluxe, with the highlights being the FireWire, optical out and Gigabit ports. Certainly a unique and useful combo at the moment.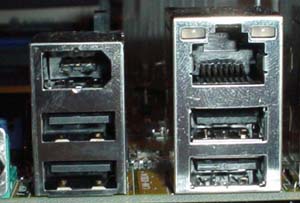 As with all 875P/ICH5/R motherboards, there are two Serial ATA connectors located just below the South Bridge. As you know the ICH5 controls these two connectors, and allows a stream of 266MB/s of data instead of the slower, PCI bus constrained 133MB/s. Read through our 875P chipset review to understand the benefits of placing the Serial ATA controller in the South Bridge as compared to a separate PCI Serial ATA controller.
The P4C800 Deluxe's IDE/Serial ATA drive support is excellent. As usual, there are the standard IDE connectors, dubbed the Primary and Secondary IDE connectors, which support two channels each and therefore up to four IDE drives total. There's one additional IDE connector powered by the Promise PDC20378 controller. This specific Promise controller supports just two IDE channels, meaning a max of two hard drives (no optical drives allowed) can be connected. This same Promise PDC20378 controller also powers two Serial ATA connectors (not the two ICH5-bound Serial ATA connectors), which allows users to connect one SATA drive to each connector. All in all you should be able to connect four SATA and six IDE drives to this motherboard, though we can't imagine what desktop user would have the need for ten drives in one case as the heat, noise, and maintenance required would be quite severe. Though, the drive capability of the P4C800 Deluxe is perfect for small database workstations/servers and the like.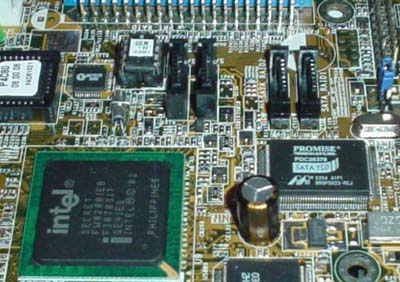 The new ICH5 South Bridge gives the P4C800 Deluxe its USB 2.0 support. You should have no trouble activating eight (instead of just six) independent USB 2.0 ports via the four rear USB 2.0 ports as well as via a 4-port USB 2.0 bracket that you can plug into the onboard USB 2.0 header located just below the right corner of the AGP8X slot.
IEEE 1394 FireWire support is also included with this motherboard, powered by a PCI-bound controller from VIA dubbed the VT6307. This controller is capable of supporting two IEEE 1394 FireWire ports; one of them can be found with all the other I/O ports, while the second FireWire port can be activated by simply plugging in a one-port bracket (which comes bundled with the P4C800 Deluxe) into a red header located at the bottom of the motherboard. For more information on VIA's VT6307 controller visit this web page.