After having examined Gigabyte's 8KNXP Ultra yesterday, today we bring you yet another 875P review, this time from ASUS.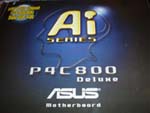 ASUS has, in part, made a name for themselves by having a great track record for reliability, time to market, and cutting edge features. ASUS has produced some problematic desktop motherboards in the recent past (e.g. P4S8X and the P4T533 to an extent), but all in all enthusiasts and OEMs alike look at ASUS as the industry leader in the desktop market (next to Intel perhaps).
This is why today we take a look at ASUS' latest creation, the P4C800 Deluxe. Based on Intel's latest chipset, the 875P, the P4C800 Deluxe is capable of dual channel DDR400 operation and has a few neat tricks up its sleeves that should delight many users. Read on to find out exactly what you can gain by purchasing the ASUS P4C800 Deluxe...