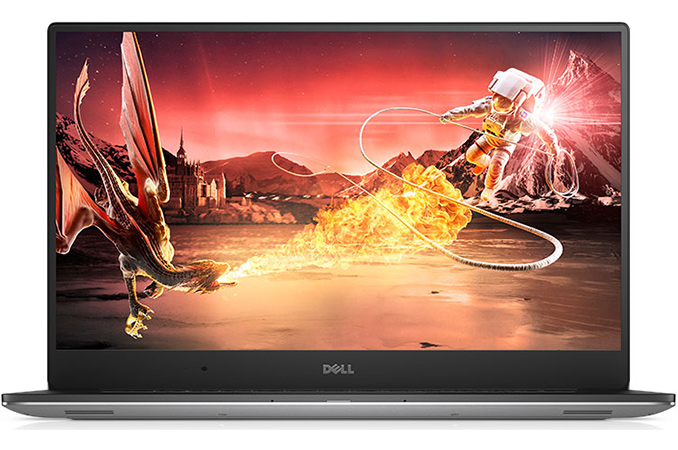 Dell has accidentally published near-final specifications of its upcoming XPS 15 notebook due to be released early next year. The Dell XPS 15 computers are designed for performance-demanding users seeking near bezel-less laptops with above-average performance at a moderate price with a plenty of upgrade options. The new XPS 15 9560 will receive Intel's Kaby Lake processor, NVIDIA's GeForce GTX 1050-series graphics as well as some other optional upgrades not available on current-gen, but will retain the internal architecture and external design.
According to the listing (now removed from the website) Dell's upcoming XPS 15 9560 notebook will use either a dual-core Intel Core i3-7100HQ, a quad-core Core i5-7300HQ or a quad-core Core i7-7700HQ CPU. The aforementioned chips are not yet formally announced, but it is known that they are based on the Kaby Lake microarchitecture and will thus offer improved performance compared to predecessors due to higher frequencies, Speed Shift v2 technology and other refinements. For those who opt for iGPU rather than a discrete model it is important to note that the Kaby Lake CPUs also has an improved video encoding/decoding engine.
The next key enhancement of the XPS 15 9560 over the current-generation XPS 9550 will be NVIDIA's GeForce GTX 1050 GPU with up to 4 GB of GDDR5 memory. NVIDIA has yet has to announce a mobile version of the GeForce GTX 1050, but it is highly likely that the product is based on the GP107 GPU featuring the Pascal architecture and up to 768 stream processors, similar to the desktop version. The new graphics chip should offer a decent performance upgrade when compared to the GeForce GTX 960M used in the current-gen XPS 15. Meanwhile for those planning to play demanding games it makes sense to look at the GeForce GTX 1060 or 1070, which means the Alienware 15.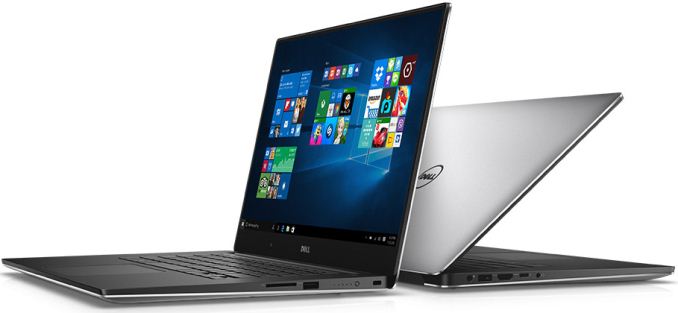 Since the new Dell XPS 15 9560 will retain the chassis of its predecessor, it will support similar InfinityEdge 15.6" display panels: an IPS FHD (1920×1080) or an IGZO UHD (3840×2160) with 100% AdobeRGB color gamut and touch support. Physical dimensions of the unit also remain intact with the predecessor: it weighs around 1.8 kilograms and is up to 17 mm thick.
For storage, the new Dell XPS 15 will use either Seagate's SSHDs or PCIe SSDs with up to 1 TB capacity. Meanwhile, due to improvements of Kaby Lake's memory controller, the new laptops should be compatible with DDR4-2400 memory, offering an additional performance boost over DDR4-2133 used today.
As for connectivity, the XPS 9550 uses Rivet Networks' Killer 1535 802.11 2×2 Wi-Fi + BT 4.1 controller, has one Thunderbolt 3/USB 3.1 Type-C port, two USB 2.0 headers, an HDMI output, a 720p webcam and an SD card reader, which essentially means that there is nothing for the XPS 9560 to upgrade here (at least, not without a major redesign of the whole PC). However, since the XPS machines are often used like workstations, Dell decided to add a fingerprint reader with Windows Hello support as an option.

Since Dell has already taken down the XPS 9560 product page (technically, it is there, but without any data), so prices and exact final configurations / availability dates remain under wraps. Still, being a close partner of Intel and NVIDIA, Dell is typically among one of the first to release PCs based on the new CPUs/GPUs. Therefore we expect the new systems to arrive shortly after CES in the usual XPS 15 price range that starts at $999 and ends at ~$2500 for high-end models.
Related Reading:
Sources: PCMag, WindowsCentral.