Energy Consumption
We know that the POWER8 was not designed to be a performance-per-watt champion. Throughput, single threaded performance, and RAS were the main priorities. However, Tyan does position the GT75 as a virtualization server. In that market, performance-per-watt is important.
We tested the energy consumption of our servers for a one-minute period in several situations. The first one is the point where the tested server performs best in MySQL: the highest throughput just before the response time goes up significantly. Then we look at the point where throughput is the highest (no matter what response time). This is the situation where the CPU is fully loaded.
The final column is calculated by dividing the best throughput by the power usage. We define the "best throughput" as throughput where the balance between throughput and the 95th percentile response time is the best. In other words, beyond that point, throughput increases only slightly (less than 10%), but the response time increases much faster.
SKU
Server Height
TDP
(on paper)
spec
Idle
Server

W
MySQL
Best Throughput
at Lowest Resp. Time (*)
(W)
MySQL
Max Throughput
(W)
Transaction
/s (**)
Tr/watt ( = ** / * )
IBM POWER8 8c@2.3 Tyan
1U
170 W
171
323
330
10300
32
IBM POWER8 10c@2.9 S812LC
2U
190 W
221
259
260
14482
55
Xeon E5-2699 v4
2U
145 W
67
213
235
18997
89
Xeon E5-2640 v4
2U
90 W
76
135
145
9541
71
Xeon E5-2690 v3
2U
135 W
84
249
254
11741
47
At idle, both of the POWER8-based servers reduce their clockspeed to 2.06 GHz and power-gate the cores they do not need. However, the Tyan GT75 PSU is probably more efficient in this case, and the GT75 is a less complex server as well. As a result, the idle power is significantly lower than the S812LC. Still, it is nowhere near the Intel Xeons.
Once we test the server under load, the Tyan GT75 demands a lot more power than the S812LC. That might seem contradictory at first sight, as the latter is equipped with more power hungry CPU. The main culprits are the small, extremely high RPM 1U fans inside the Tyan, which have to work hard to keep a 170W CPU cool in such a cramped environment.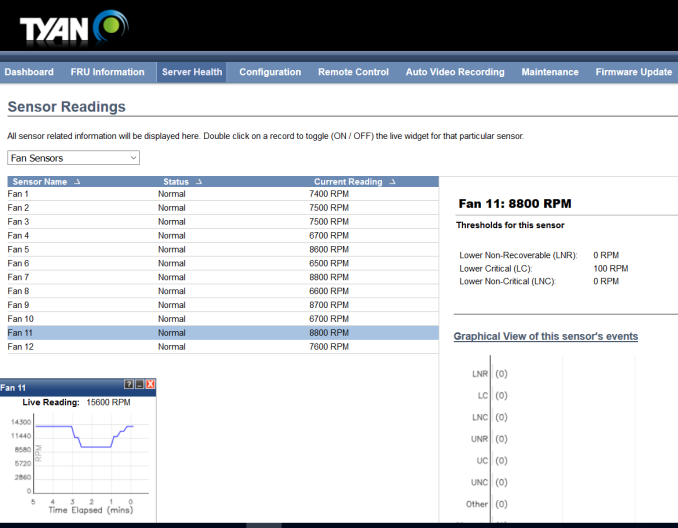 Notice how the IPMI software reports 8800 RPM, but in reality the fan is running at a mindboggling 15600 RPM. A total of twelve such fans results in the cooling system as a whole consuming a lot of power.
This kind of "performance first" CPU policy really needs larger fans and more room. Case in point: in a roomier 2U chassis the load power consumption of a POWER8 setup comes very close to the contemporary 22 nm Xeon E5 v3. It will be interesting to see how this works out in the 1.25U high Rackspace BarrelEye.
Intel's "Broadwell-EP" (Xeon E5 v4) wins here by an vast margin. And there is little doubt that the next generation Skylake Xeons will probably do (slightly?) better.
However, don't count IBM and OpenPOWER out yet. First of all, MySQL is better optimized for x86-64 than for POWER8. Since MySQL is the second most popular database engine (and will probably overtake Oracle soon), we feel our choice is justified. However, it is worth mentioning that PostgreSQL (number 4) and MongoDB (5) have been fully optimized for OpenPOWER and show gains of up to 30%. Lastly, IBM's POWER9 should also do quite a bit better as a result of an improved microarchitecture and being baked with a state-of-the art 14 nm SOI process. The 14 nm POWER9 versus the "tweaked 14 nm" Intel Xeon E5 version 5 should prove a very interesting comparison.