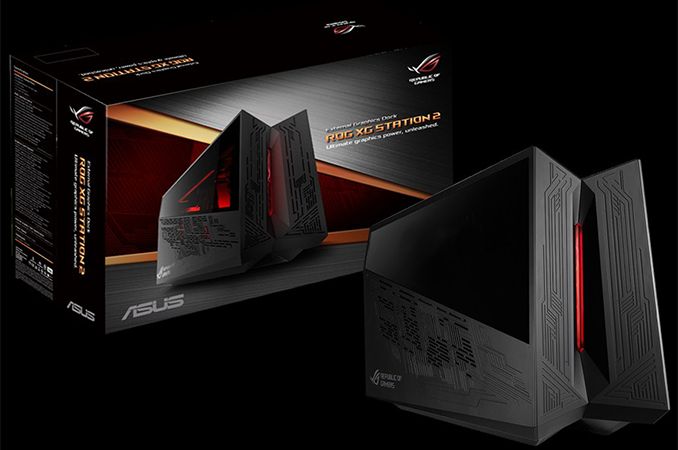 ASUS last week finally launched theROG XG Station 2 external GPU chassis, to enable Thunderbolt 3 systems to implement discrete graphics. The eGFX enclosure from ASUS integrates a 600 W PSU to ensure compatibility with power-hungry graphics adapters, and can house not only a video card but also an additional 2.5" storage device and bundles in extra USB 3.0 ports. The design of the external GPU box features signature 'Republic of Gamers' elements with red LEDs and Mayan-style patterning.
ASUS was among the pioneers of external graphics adapters in 2007 when it first showcased its XG Station with an integrated NVIDIA GeForce 8600 GT GPU. The dock used the Express Card interface, was not upgradeable, was only compatible with select ASUS laptops and its performance was not enough for then-popular games like Crysis (which is partly why it never took off). The company did not bury the idea of external graphics for laptops completely, and at CES 2014 the company showcased its XG Station 2 with a Thunderbolt 2 interface co-developed with SilverStone. The chassis was upgradeable and could house a variety of graphics cards, but the entire platform itself had numerous limitations when it came to bandwidth, hot-plugging, driver support and some others which is why that product was not even released. In January this year, ASUS demonstrated yet another XG Station 2, this time with a proprietary physical interface that used two USB Type-C cables (albeit with 32 Gb/s maximum bandwidth) and was to be compatible with select ASUS laptops. Around that time Intel had managed to finalize its eGFX over Thunderbolt 3 specification with some external help from AMD (see XConnect), whereas Razer showcased their compatible solution up and running (and later commercialized it). The Thunderbolt 3 graphics appeared to be so robust that ASUS decided to drop its proprietary external graphics interface and go with TB3 instead. At Computex in June, the company showcased its XG Station 2 with a Thunderbolt 3 interface, which will finally hit the market in 2017, a decade after the original XG Station (and in the third iteration of its own).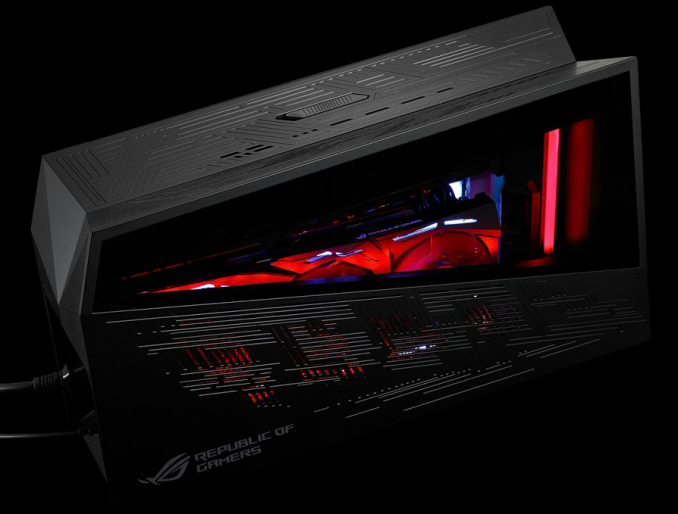 The ASUS ROG XG Station 2 looks exactly like the one demonstrated at Computex: the Mayan patterns serve like the openings to ensure proper cooling and the enclosure is equipped with multiple red LEDs controlled using the ROG AURA technology. The eGFX chassis from ASUS can accommodate a qualified double-wide PCIe x16 video card that is up to 12.2"/310 mm long. Due to TB3 bandwidth limitations, as with all TB3 eGFX enclosures, the GPUs are limited to PCIe 3.0 x4 bandwidth. The company does not specify the exact height of graphics adapters that the XG Station 2 can host, but for demonstrations it has used its ROG Strix boards with enlarged PCBs, hence it is safe to assume that there is plenty of vertical space inside the enclosure. To ensure that graphics cards receive enough power, ASUS integrated a 600 W PSU into the XG Station 2, a more powerful unit than in any other contemporary eGFX chassis. The enclosure has three 80-mm fans to pump up cool air into the box to guarantee proper cooling and enhance GPU overclocking potential for those who need it.
ASUS ROG XG Station 2 eGFX Chassis Specifications
Max Video Card Size
Double-Wide, 12.2" Long
(312 × 170 × 44 mm)
Max Video Card Power
500 W (?)
Connectivity
1 × Thunderbolt 3 (~40 Gbps via active cable)
Chassis Size
6.22 × 17.95 × 10.94 inches
(158 × 456 × 278 mm)
Internal PSU
600 W 80 Plus Gold
System Requirements
Thunderbolt 3 eGFX Certified PC
Thunderbolt 3 w/Active Cable (included)
Windows 10
Compatible ASUS PCs
ROG G701VI
ROG GL502VM
ROG GL702VM

Transformer T303UA
Transformer T305CA

Official List
Compatible Graphics Cads
AMD Radeon RX-series and later
NVIDIA GeForce GTX 10-series and later
Shipping Date
Early 2017
Price
Not cheap at all
UPDATE: The XG Station 2 does not feature any storage bays, contrary to what earlier documents and reports indicated.
The ROG XG Station 2 is not just an eGFX enclosure, but also rather an expansion dock for laptops that adds Gigabit Ethernet, four USB 3.0 ports as well as one 2.5" bay for a SATA hard drive or an SSD. It is noteworthy that the four USB ports are not involved in the TB3 connection and do not use PCIe bandwidth, but have to be connected using a USB 3.0 Type-B cable (which means that the XGS2 needs three cables: TB3, USB and power). From connectivity and expandability standpoint, the ASUS ROG XG Station 2 is on par with PowerColor's Devil Box, but leaves the competitor behind it when it comes to the wattage of internal PSU.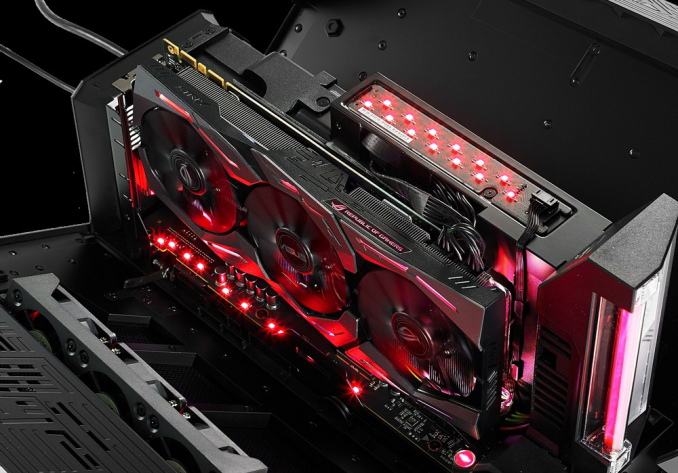 When it comes to compatibility, the ASUS ROG XG Station 2 should work with all systems that feature Thunderbolt 3 and support of eGFX through BIOS and TB3 firmware. ASUS lists its computers that can work with its external GPU enclosure on its website, but also lists systems from other makers. Nonetheless, it should not be a problem for the ROG XG Station 2 to work with appropriate non-ASUS PCs (e.g., with Razer's Blade Stealth) with TB3 and appropriate BIOS/FW.
Comparison of Thunderbolt 3 eGFX Chassis
ASUS ROG XG Station 2
AKiTiO
Node
BizonTech
BizonBox 3
PowerColor
Devil Box
Razer
Core
Chassis Dimensions
Length
45.6 cm
17.95 in
42.8 cm
16.85 in
36 cm
14.17 in
40 cm
15.748 in
34 cm
13.38 in
Height
27.8 cm
10.94 in
22.7 cm
8.94 in
20.5 cm
8.07 in
24.2 cm
9.52 in
21.84 cm
8.6 in
Width
15.8 cm
6.22 in
14.5 cm
5.71 in
8 cm
3.5 in
17.2 cm
6.77 in
10.5 cm
4.13 in
Max Dimension of Compatible Graphics Card
Length
31.2 cm
12.2 in
Height
(PCB+Cables)
over 14 cm
over 5.51"
17 cm
6.7 in
over 14 cm
over 5.51"
14 cm
5.51 in
15.2 cm
5.98 in
Width
4.4 cm
1.73 in
5
1.96 in
4.4 cm
1.73 in
Maximum GPU Power
500 W (?)
300 W (?)
375 W
PSU
Wattage
600 W
400 W
200W/400W
500 W
Form-Factor
internal proprietary
SFX
external
internal proprietary
Cooling Fans (mm)
3 × 80
120
2 × 60
unknown
3 × 80
Connectivity
Thunderbolt
1 × TB3
1 × TB3
2 × TB3
1 × TB3
Ethernet
1 × GbE
-
1 × GbE
USB
4 × USB 3.0
1 × USB-B
-
4 × USB 3.0
SATA
-
-
1×SATA 6Gb/s
-
DisplayPort
-
-
1 × DP 1.2
-
Availability
1/2017
12/2016
10/2016
4/2016
Price
$?
$299
$649
$379
$499
ASUS plans to start sales of the ROG XG Station 2 in early 2017. The company yet has to disclose the final pricing, but given all the advantages that the product has, we expect it will cost more than an average eGFX box.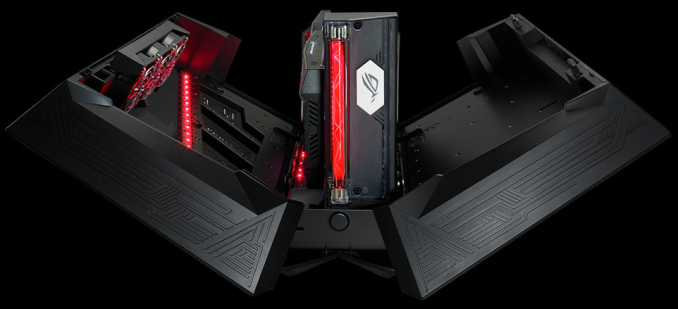 Related Reading:
Source: ASUS