ReLive New Features (3)
Earlier this year, during the Polaris set of pre-briefings, AMD mentioned that it had acquired a company called HiAlgo. HiAlgo had designed a set of software and driver hooks to decrease FPS/power or increase response time by dynamically adjusting resolution by monitoring graphic workloads and gameplay mechanics. At the time the software only worked on DirectX 9, but since the purchase AMD is now bringing part of the package to its driver set. First up is CHILL.
Radeon CHILL
The concept of CHILL is fairly simple. During periods of low user interaction or little action on screen, the CPU and GPU power limit is reduced, causing the hardware to slow down. This reduces the frame rate during periods where a high frame rate is not required, allowing the CPU/GPU to cool down (where the CHILL bit comes in). This also saves power on power-limited systems such as laptops. When CHILL detects more action or more strenuous movement by the user, the power limit is moved back up.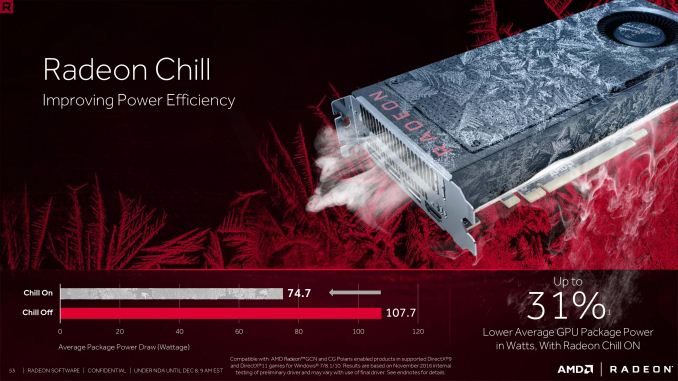 We still need to test the software internally, but the idea means lower temperatures and lower average power consumption. One side-effect of this means that fewer frames are queued in the buffer, which AMD claims it results in a quicker response time from frame generation to frame output.
CHILL will be enabled in ReLive for any GCN enabled product, initially for only specific DX9 and DX11 titles. As a first release of CHILL, AMD is being somewhat cautious and shipping with the feature turned off by default and relying on a list of approved games at this time. We were told that as time goes on it may be turned on by default and games known to be incompatible will be denied by the software.
WattMan: Extended to More Cards
One of the big updates for the release of AMD's Polaris GPUs was the WattMan (what, man?) power management software, taking over from previous overclocking tools.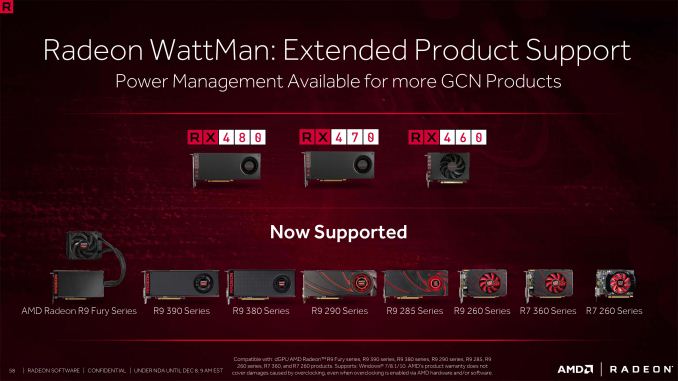 As part of ReLive a number of 200 and 300-series discrete GPUs will now be enabled with WattMan as well as the R9 Fury series.
AMD XConnect Technology
During the gamut of external GPU enclosure announcements around Thunderbolt 3 during the year, AMD's XConnect technology emerged as a leading figure. However, up until now, it mainly requires specific driver sets under specific hardware configurations.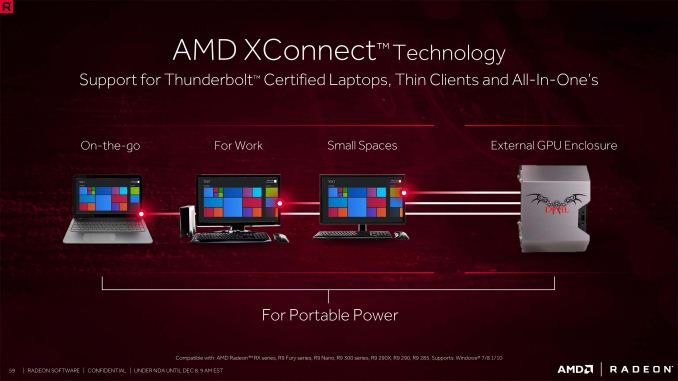 With ReLive this is opened with XConnect now supporting any Thunderbolt certified laptop, thin client and all-in-one when used with an enclosure that supports an AMD Radeon discrete card with GCN 1.2 or above.