System Performance
At this point the Skylake mobile quad-core parts are pretty well known. The review unit is outfitted with the Intel Core i7-6700HQ, which is a 45-watt 2.6-3.5 GHz CPU. It has been the staple of almost all quad-core notebooks this year. Also the review unit is outfitted with just a single stick of 16 GB DDR4-2133 memory, which will hamper performance a bit over a dual-channel setup in some of the more varied tests such as PCMark. It's not quite as critical though on a notebook with a dedicated GPU, but still it would be nice to see 2x8 GB rather than 1x16 GB, unless you wanted to upgrade, in which case the single 16 GB is likely the better choice.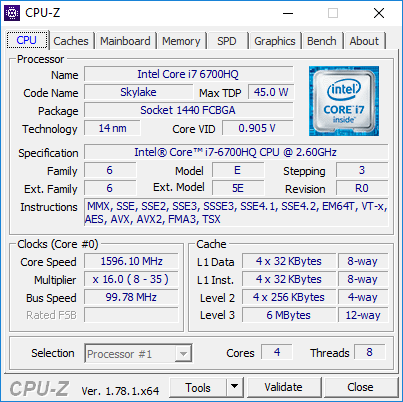 The ASUS GL502VS was put through our standard notebook workflow, which includes a variety of tests to stress different aspects of the device. Several other similar models are used as a comparison, but if anyone wants to compare the GL502VS to any other notebook we've tested, please use our online bench.
PCMark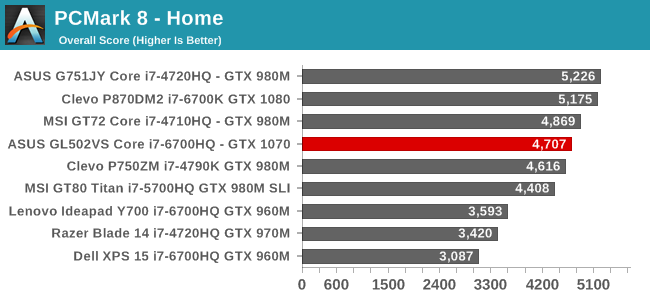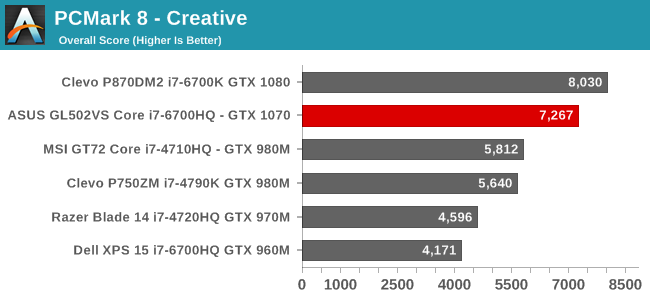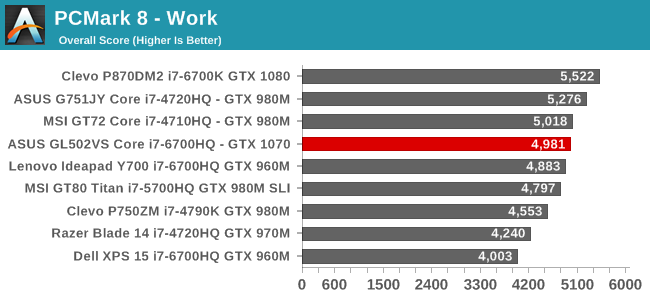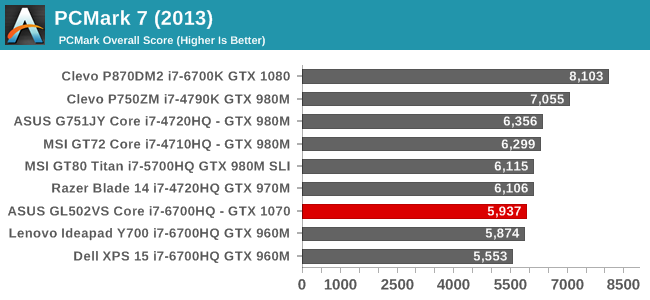 PCMark from FutureMark is a comprehensive system test, which runs through a variety of workloads based on the test chosen. All aspects of the machine impact the final results, including GPU, CPU, memory, drive speed, and even display resolution. The ASUS scores very well here, despite single channel memory performance. The Creative score is quite strong thanks to the much more powerful GPU than previous generation notebooks.
Cinebench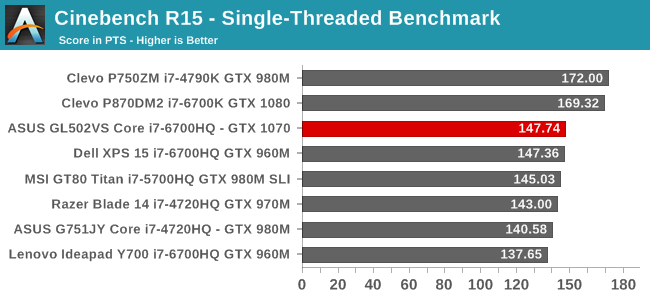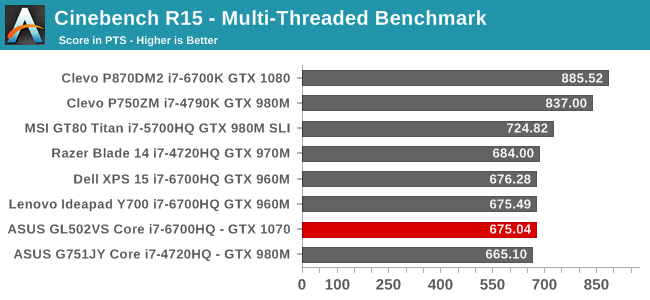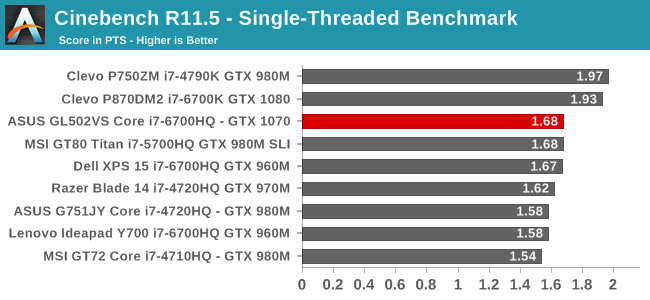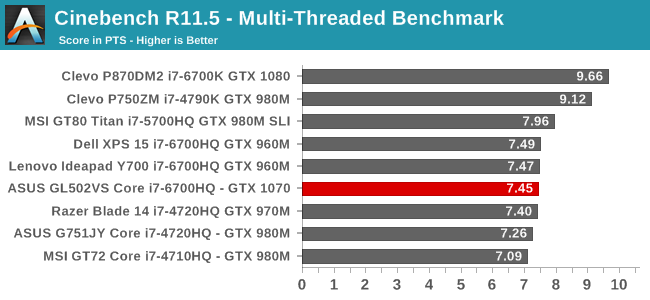 Cinebench is a rendering program which is a pure CPU test. More cores and a higher frequency can pay big dividends on this test. The i7-6700HQ is right in line with other devices with the same CPU.
x264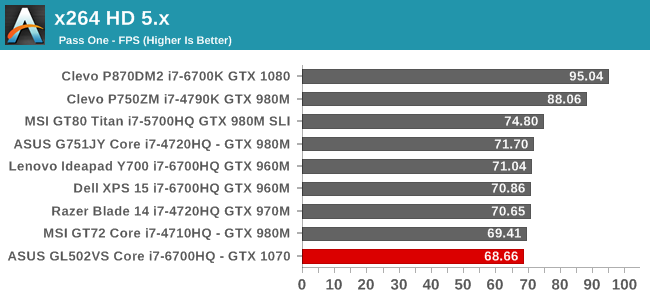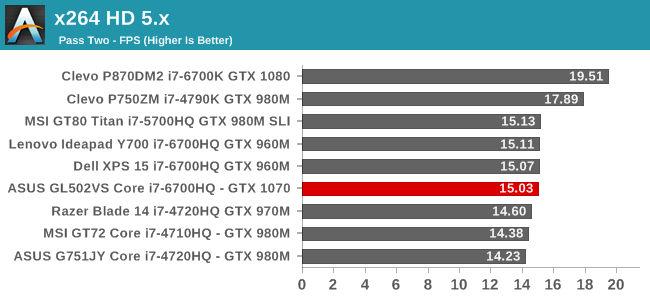 Like Cinebench, this test is mostly a CPU bound test, and once again, the ASUS falls in-line with the other quad-core notebooks featuring this CPU. The desktop class CPUs in the Clevo notebooks have a large advantage on these tests.
Web Tests
The browser is likely the most used application on any computer, and as such browser performance is always important. We've moved to Microsoft Edge as the browser with the release of Windows 10, and like Google Chrome and other browsers, the performance of the scripting engine generally improves over time. Each browser performs better on some tasks than others, so these tests have the browser used on each unit pointed out in the results.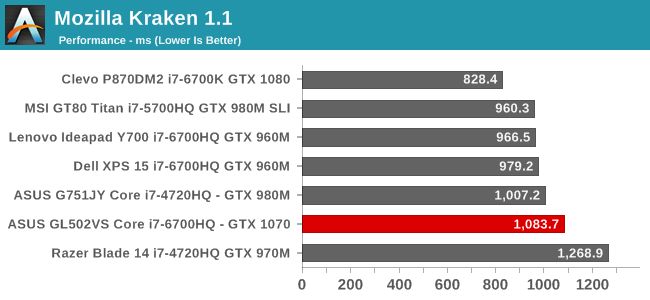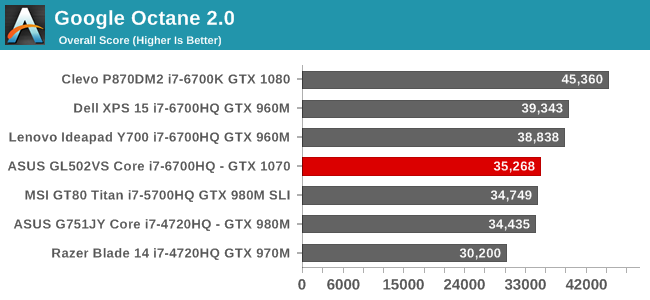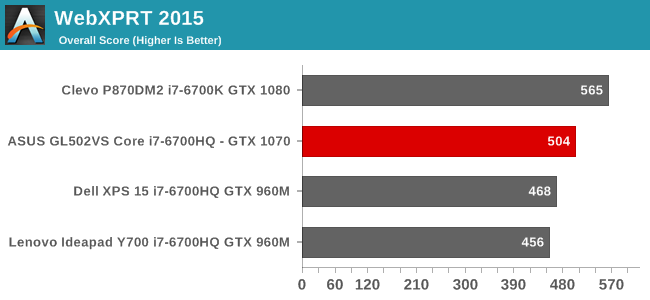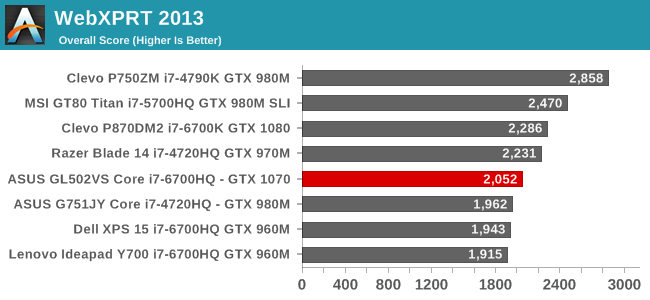 The i7-6700HQ continues to be a strong performer in these tests. The desktop i7-6700K in the Clevo P870DM2 is much quicker, but it's also a 95-Watt CPU.
Storage Performance
There has been a big push the PCIe based storage over the last twelve months, and ASUS has definitely been at the forefront of that movement. But as we know, not all NVMe drives are the same. NAND capacity is always a factor, and of course TLC or MLC can be a big impact, especially on write speeds where TLC struggles. The ASUS review unit shipped with the Samsung SM951 SSD, which is (unusually for this level of device) an MLC drive. This was already hinted at earlier, but ASUS saved some money on the design of this notebook, but they continue to pack in quality hardware inside, and the use of the SM951 has to be commended since it's unfortunately very rare to see over the TLC based PM951.
Being just the 256 GB version, the fewer NAND dies compared to the larger capacity models is really the only issue with performance, but it performs very well regardless. Even random read and write speeds are quite strong.
It's great to see this drive in what would otherwise be considered a budget laptop. Too many laptops, even much more expensive than this one, ship with TLC drives, which are fine, but when you are paying a premium you should expect better.