Battery Life
Pairing the efficient Kirin 950 SoC with a reasonably large 4000 mAh (15.28 Wh) battery proved to be a recipe for long battery life with the Mate 8. For the Mate 9, Huawei keeps the 4000 mAh battery in the mix, but tosses in the Kirin 960 SoC instead, which promises even lower power consumption. Its Cortex-A73 CPU cores consume 20%-30% less power than Kirin 950's A72 cores (same process, same frequency), according to ARM, and TSMC claims its 16FFC FinFET process reduces area and leakage relative to its 16FF+ process used for the Kirin 950.
To see how these changes impact the Mate 9's battery life, we'll run it through our standard suite of battery tests. To make the tests accurate and repeatable, we control as many variables as possible, including minimizing background tasks and calibrating each display to 200 nits at 100% APL.
Our Wi-Fi browsing test loads, pauses, and then scrolls through a set of popular websites while connected to Wi-Fi with the cellular radio turned off. While running this test, the Mate 9 manages 13.25 hours of screen on time, a full 3 hours more than the Mate 8 and almost 4 hours more than the iPhone 7 Plus. This represents a 23% reduction in average platform power consumption relative to the Mate 8 (extrapolated from total runtime and battery capacity), a significant drop considering the display is still the primary power consumer in this scenario. The only phone in the chart above that consumes less power on average than the Mate 9 is the Moto Z Play Droid, which has a smaller 5.5-inch SAMOLED display and a Snapdragon 625 SoC with only Cortex-A53 CPUs on 14nm FinFET. For comparison, both the HTC 10 and Galaxy S7 edge consume about 25% more power on average over the duration of the test.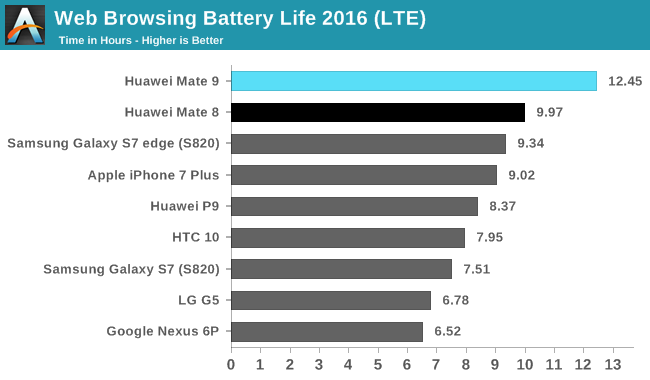 When using the cellular radio instead of Wi-Fi, the Mate 9's screen on time drops to just under 12.5 hours, a duration 6% less than its Wi-Fi result and still significantly better than the other flagship devices we've tested.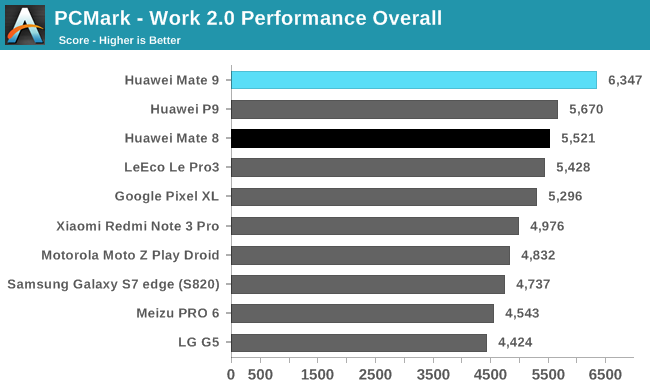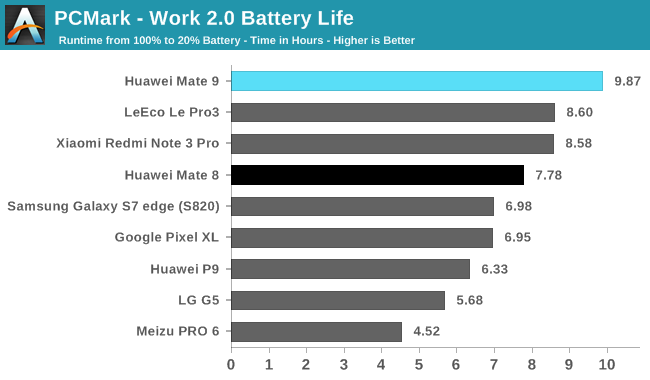 The Mate 9 lasts almost 10 hours when constantly running PCMark's mixture of everyday workloads, just over 2 hours longer than the Mate 8. This is impressive on its own, but even more so considering it also tops the overall performance chart. As long as you're not playing games, the Mate 9 easily gets through a full day on a single charge. The LeEco Le Pro3 is the longest lasting phone with a Snapdragon 820/821 SoC thanks to its large 4070 mAh battery.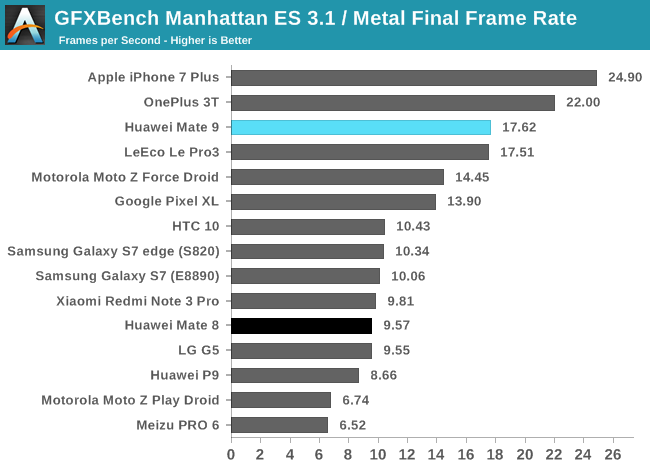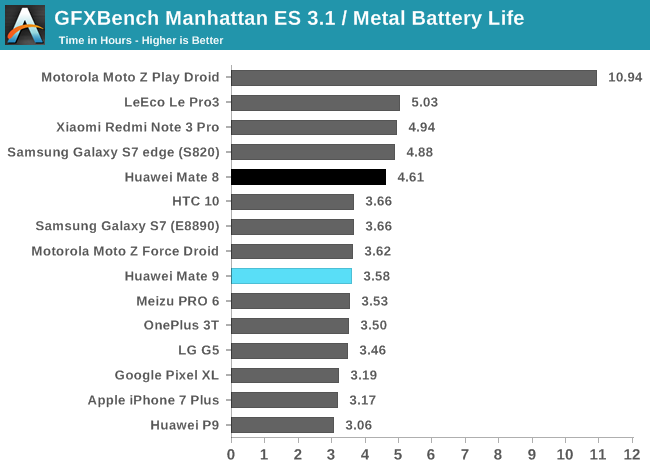 Most of the current flagship phones last around 3.5 hours when playing games, and the Mate 9 is no exception. The Mate 8 lasts 1 hour longer but does so by sacrificing performance; its GPU only has half as many cores after all. As a general rule, the higher the performance the lower the battery life. The iPhone 7 Plus is a good example; it delivers the best performance in this scenario but fails to match the battery life of its peers.
There's another factor to consider when evaluating gaming battery life: display resolution. Higher resolutions require the GPU to process more pixels and use more power. The iPhone 7 Plus, Le Pro3, Mate 9, OnePlus 3T, and Moto Z Play Droid all use lower-resolution 1080p displays, giving them an advantage in both final frame rate and battery life.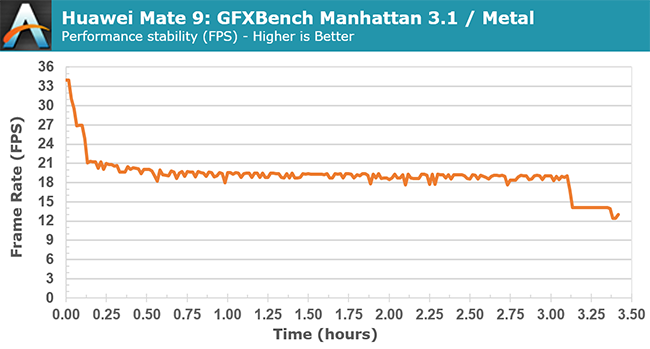 Huawei's Honor 8 and its lower-performing Mali-T880MP4 GPU are able to maintain peak gaming performance for 42 minutes in GFXBench Manhattan 3.1 before reducing GPU frequency to avoid overheating. In contrast, the Mate 9's GPU, with twice as many cores, generates more heat, forcing it to throttle exactly 1 minute into the test (which just happens to be how long the performance benchmark runs). Frame rate then drops quickly to 21fps after 8 minutes, a 38% reduction relative to the peak value. It reaches equilibrium after about 30 minutes, with frame rate hovering around 19fps. This is still a significant improvement compared to the Mate 8, Honor 8, and P9, where peak performance hits 11.5fps and sustained performance is between 9-11fps.
The Mate 9's sustained performance is as good as or better than phones using Qualcomm's Snapdragon 820/821 SoCs too. The Galaxy S7 edge, for example, also experiences a significant 33% drop in performance starting at the 8 minute mark, stabilizing at about 10fps after 31 minutes. The Moto Z Force Droid, with a newer GPU driver, can sustain a peak performance of almost 18fps for 12 minutes, gradually reaching a steady-state frame rate of 14.5fps. The LeEco Pro 3, which uses Snapdragon 821, can maintain 19fps after dropping from a peak value of 33fps.
Once the Mate 9's battery level drops to 10% at the 3.1 hour mark, Huawei's battery saving feature, which cannot be disabled, kicks in, reducing frame rate to 14fps. There's another step when the battery level hits 4%.
Battery Charging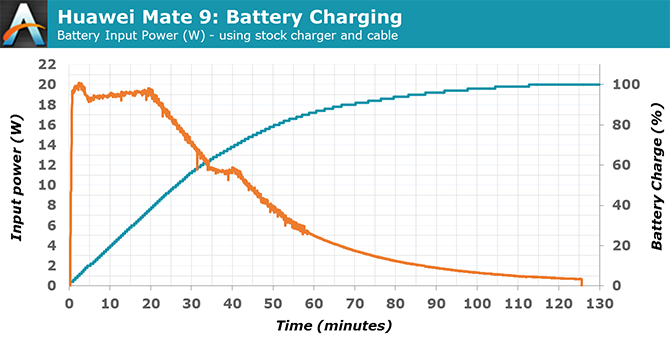 The Mate 9 includes Huawei's SuperCharge fast-charging technology, which is different than the 18W (9V/2A) charging system used by Huawei's previous phones, including the Mate 8. This new system charges at up to 22.5W, while still providing voltage, current and temperature protection circuitry. The included wall charger is rated for 5V/2A (10W), 4.5V/5A (22.5W), and 5V/4.5A (22.5W) operation.
The Mate 9 reaches a peak of 20.2W at the battery shortly after being plugged in. The peak charging period lasts just over 20 minutes before ramping down linearly into a trickle charge phase. The battery charges to 25% in about 12.5 minutes and reaches 50% in about 25.5 minutes. For comparison, the Mate 8's 18W fast-charging system (with the same size battery) charges its battery to 50% in 41 minutes. Unlike some phones, the Mate 9 continues to fast charge even when the screen is on and you're using the phone.
A full charge takes 2.09 hours, 28 minutes faster than the Mate 8. Motorola's TurboPower technology charges the Moto Z Force Droid's smaller 3500 mAh battery to 50% in 19 minutes by pulling up to 24.9W at the battery.
The Mate 9's battery life is excellent in general and a clear improvement over the Mate 8, which was already very good. It appears to be using a new display that consumes less power than the Mate 8's panel, helping to reduce its overall platform power in conjunction with Kirin 960's better efficiency. Unless you do a lot of gaming, the Mate 9 should easily last a day or more on a single charge.