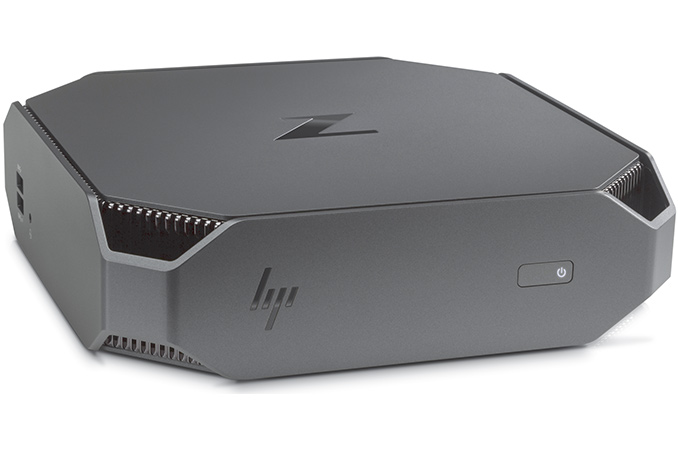 This week HP has announced its new Z2 Mini G3 workstation, which weds a small form-factor with workstation-grade capabilities, along with rated reliability and performance. The new system can integrate Intel's current and next-generation Core i7 or Xeon CPUs, NVIDIA's Quadro GPU, two storage devices and up to 32 GB of DDR4 memory.
One of the desktop PC categories that is actually growing these days is SFF PCs. Such systems are faster than many outdated desktops and are designed to be subtle and discreet. While there are numerous makers of consumer computers that offer miniature PCs which are akin to Intel's NUC, there are no workstations of the same size due to multiple reasons. For example, it is hard to offer workstation-grade endurance/reliability along with performance in a small enclosure due to thermals of desktop components, whereas usage of laptop parts is sometimes prohibitively expensive. Nonetheless, it still can be done. HP decided to capitalize on the SFF PC trend and used its expertise in developing commercial mini PCs as well as all-in-one workstations to develop a miniature workstation which would be small and powerful. The Z2 Mini G3 used to be called 'Ant-Man' internally, implying on a Marvel superhero character.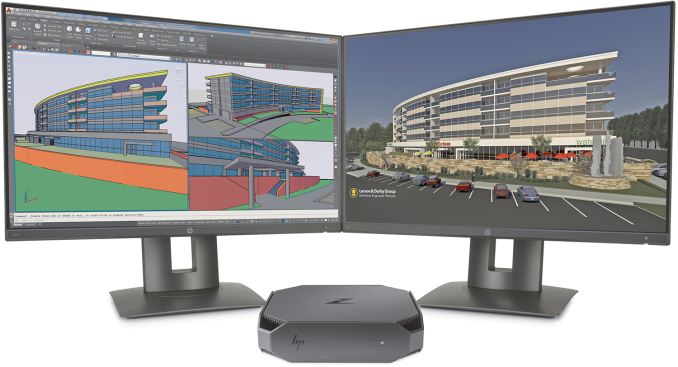 The HP Z2 Mini G3 measures 216×216×58 mm (8.5×8.5×2.28 inches), which is larger compared to Intel's mainstream NUCs, but is smaller than SFF gaming systems like the MAGNUS EN980. The weight of the system starts at around two kilograms (4.5 lbs), it has 75/100mm VESA mounts and can be installed almost everywhere (behind the display, under the desk, on the desk, on the wall, etc.).

The workstation comes in black and to a degree matches the design of other HP Z machines, at least when it comes to versatile connectivity and functionality. For example, the higher-end Z2 Mini G3 models will offer four dual-mode DisplayPort connectors supporting up to six displays. In addition, the system will have four USB 3.0 Type-A and two USB 3.0 Type-C receptacles, a Gigabit Ethernet connector, a Wi-Fi 802.11ac + BT module, and a TRRS audio input.

Inside the Z2 Mini G3 there is a proprietary motherboard based on the Intel C236 PCH and featuring an LGA1151 socket supporting Intel Core i-series or Intel Xeon E3 processors (Skylake and Kaby Lake). The CPU is cooled-down by a relatively large blower. Given the fact that the total power draw of the system cannot be higher than ~180 W due to the power supply, we might not expect high-TDP microprocessors to be used inside the Z2 Mini G3, but it is reasonable to expect the system to support desktop-grade chips with 45-65W thermal design power (hence, four cores with HT, Iris Pro Graphics, etc.). The motherboard has two memory slots and can support up to 32 GB of DDR4 memory with or without ECC.
For graphics, the more advanced versions of the HP Z2 Mini G3 will come with NVIDIA's Quadro M620 GPU (Maxwell, 384 stream processors, 30 W TDP) with 2 GB of GDDR5 memory that is certified to run professional CAD graphics applications. Alternatively, the entry-level HP Z2 Mini G3 models will use Intel's integrated GPUs.
HP Z2 Mini G3 Specifications
Entry
High-End
CPU
Intel Core i3/i5/i7
Intel Xeon E3 v5/v6
PCH
Intel C236
Graphics
Intel integrated graphics
NVIDIA Quadro M620
384 stream processors
2 GB GDDR5 memory
Memory
Two SO-DIMM slots, up to 32 GB of DDR4, ECC supported
Storage
Up to HP Z Drive Turbo 512 GB PCIe 3.0 x4 with NVMe
Up to 1 TB SATA 6 Gbps HDD
Wi-Fi
802.11ac + BT 4.2
Ethernet
Gigabit Ethernet with RJ45 connector
Display Outputs
4 × DisplayPort++
Audio
3.5 mm audio in and audio out
USB
4 × USB 3.0 Type-A (5 Gbps)
2 × USB 3.0 Type-C (5 Gbps)
Specials
Security latch to close USB ports from access
Dimensions
216 × 216 × 58 mm
8.5 × 8.5 × 2.28 inches
PSU (external)
135 W (89% efficient, active PFC)
200 W (89% efficient, active PFC)
OS
Microsoft Windows 10 Pro or Linux
Price
$699
Unknown
When it comes to storage, the HP Z2 Mini G3 supports one 2.5"/9.5 mm SATA HDD (or SSD) as well as one M.2-2280 HP Z Turbo Drive SSD (which is a re-badged Samsung SM951 SSD with NVMe and PCIe 3.0 x4 interface) with 256 GB or 512 GB capacity. The latter will be cooled-down using the airflow from the CPU blower to ensure consistent performance. Initially HP will support up to 1.5 TB of storage by its Z2 Mini G3 (1 TB HDD, 512 GB SSD), but eventually it may certify more capacious storage devices for the system.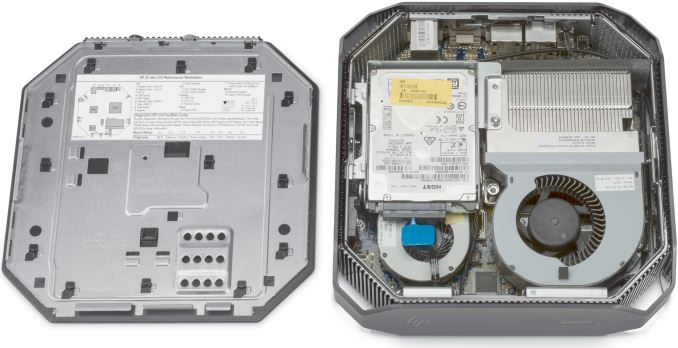 All of HP's Z2 Mini G3 systems will have a three year-long lifecycle option. The starting price of an entry-level SKU will be $699 and the systems will start to emerge in December. The more advanced models with Xeon and discrete graphics will naturally cost more and for the next-gen Intel Xeon E3 featuring the Kaby Lake microarchitecture customers will have to wait until early next year.


Related Reading:
Source: HP