ATTO
ATTO's Disk Benchmark is a quick and easy freeware tool to measure drive performance across various transfer sizes.
By the end of the test, the 960 EVO and 960 Pro are performing identically. The 960 EVO takes longer to get up to full read speed, and the 960 Pro turns in some slightly better write speeds before thermal throttling levels things out.
AS-SSD
AS-SSD is another quick and free benchmark tool. It uses incompressible data for all of its tests, making it an easy way to keep an eye on which drives are relying on transparent data compression. The short duration of the test makes it a decent indicator of peak drive performance.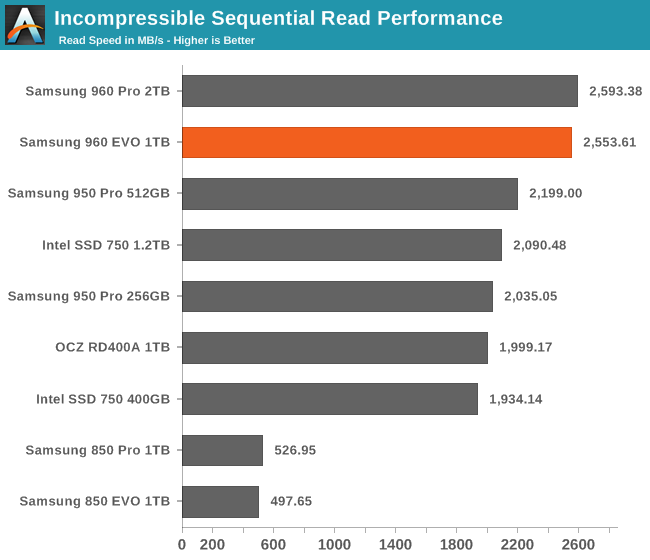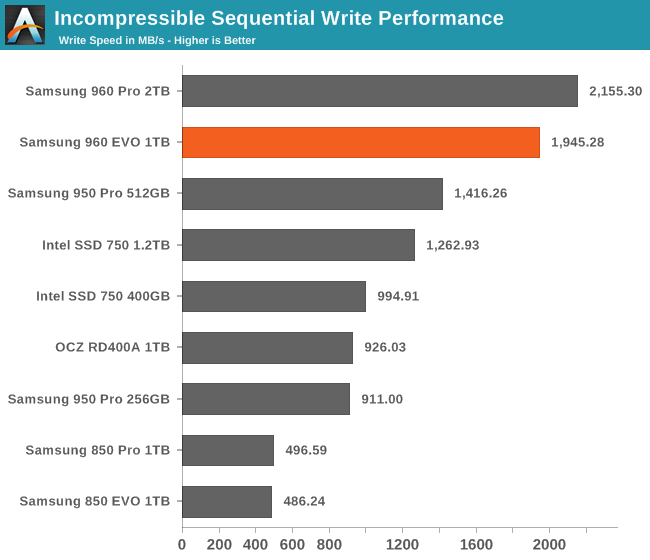 Both AS-SSD sequential tests show that the 960 EVO's peak performance really is second only to the 960 Pro, even if in longer tests some other models are able to outperform the 960 EVO.
Idle Power Consumption
Since the ATSB tests based on real-world usage cut idle times short to 25ms, their power consumption scores paint an inaccurate picture of the relative suitability of drives for mobile use. During real-world client use, a solid state drive will spend far more time idle than actively processing commands. Our testbed doesn't support the deepest DevSlp power saving mode that SATA drives can implement, but we can measure the power usage in the intermediate slumber state where both the host and device ends of the SATA link enter a low-power state and the drive is free to engage its internal power savings measures.
We also report the drive's idle power consumption while the SATA link is active and not in any power saving state. Drives are required to be able to wake from the slumber state in under 10 milliseconds, but that still leaves plenty of room for them to add latency to a burst of I/O. Because of this, many desktops default to either not using SATA Aggressive Link Power Management (ALPM) at all or to only enable it partially without making use of the device-initiated power management (DIPM) capability. Additionally, SATA Hot-Swap is incompatible with the use of DIPM, so our SSD testbed usually has DIPM turned off during performance testing.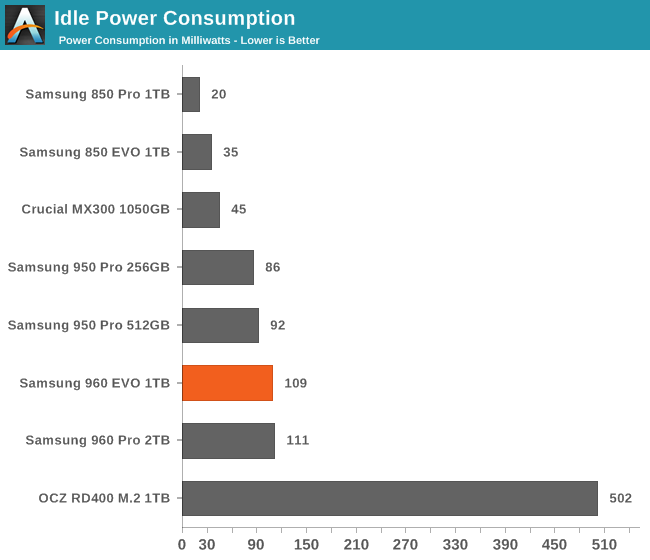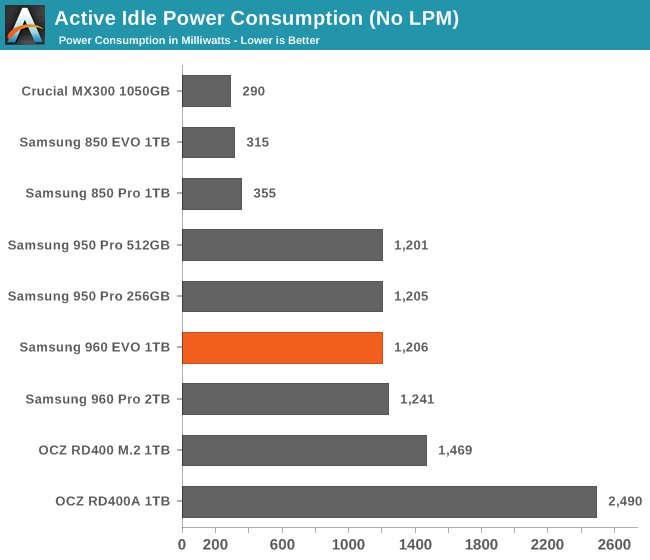 Idle power for the 960 EVO is the same as for the 960 Pro. Our usual testbed configuration does not engage any explicit power saving modes so the 960 EVO idles at 1.2 W where most SATA drives will draw much less than 1W. On systems that make use of NVMe power saving capabilities, idle power will be only a few times higher than the best SATA drives, and this is without making full use of PCIe link power management.