A Note About Drivers
The Intel SSD 750, the Samsung 950 Pro and the OCZ RD400 were all reviewed with the NVMe drivers supplied by the SSD vendors. In the past, vendors have sometimes cited performance as an advantage to using their NVMe driver over the one built in to Windows, but the primary reason has been that Microsoft's driver implements a limited feature set. The driver that was made available as an update to add NVMe support to Windows 7 SP1 and Windows Server 2008 SP1 did not include the necessary interfaces for updating SSD firmware, and even on Windows 8.1 and later the vendor-specific management tools require their own driver for performing tasks like a secure erase.
Samsung's NVMe driver for the 960 Pro was not ready in time for this review. They are planning to release it in mid-November in conjunction with their Magician 5.0 utility. The Samsung NVMe driver will be required to support Magician 5.0's new "Magic Vault" secure archive/backup feature and the new secure file erase feature.
In the meantime, rather than try to hack Samsung's NVMe driver for the 950 Pro to work with the 960 Pro, this review is relying on Microsoft's NVMe driver built-in to Windows 8.1. While most SSD vendors (especially the smaller ones) now say that Microsoft's NVMe driver offers adequate performance and that there is no need for a custom driver to get full performance, there are some pitfalls.
Windows provides two settings for drive write caching policy. By default, write caching is enabled on internal drives and there is an unselected option to turn off write cache buffer flushing. Both options have warnings attached about the possibility of data loss in the event of a power failure. It is normal for SSDs to cache and combine writes rather than immediately send all written data straight to the flash, and this is necessary to overcome the fact that NAND flash write operations are inherently much slower than read operations. Without write caching on the SSD, we would never see good random write performance, let alone random write performance that exceeds random read performance.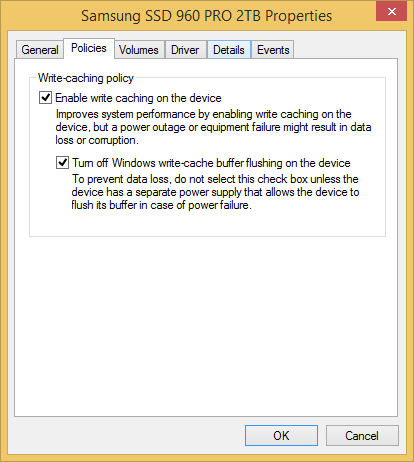 The default write caching policy settings work fine for SATA SSDs. This is not the case for NVMe SSDs when using Microsoft's driver. Microsoft's NVMe driver in the default configuration is extremely conservative about write caching, leading to extremely poor performance on some tests. Checking the second box gives performance that is as expected while leaving it unchecked for a high-end NVMe drive can lead to worse performance than a low-end SATA drive. Normally I would not review a drive with an obscure setting like this changed, especially since it can increase the risk of data loss, but Microsoft's default is clearly broken and not in line with the industry standard practices. The 960 Pro was benchmarked with the settings as shown above, and a more thorough comparison of how NVMe drivers and operating system versions affect performance will be coming in the future.