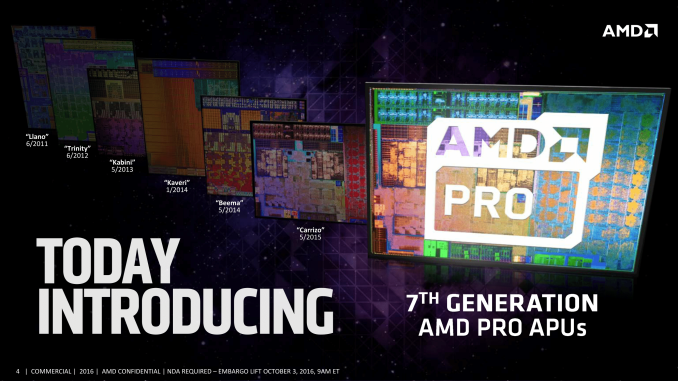 There are a number of directions for 'professional grade' processors in the market, varying from embedded to long-life support to server functionality. AMD's PRO lines of processors are akin to their consumer counterparts, except they run a guaranteed lifecycle of support with 'image stability' (guaranteed OS images) and extended OEM warranties. AMD's PRO line typically covers both embedded systems via the BGA lower parts and commercial/enterprise systems with socketed units. This week AMD is announcing their PRO line using the latest AMD microarchitecture, Bristol Ridge, along with continued support for customer requested features.
If you've ever browsed for an OEM system, or in a brick-and-mortar shop, you may have come across a system labeled something along the lines of 'PRO A8' using an AMD APU. I recently wrote a small news piece which involved an HP system in my local store with an OEM-only APU. These PRO parts enable an OEM to build a particular system, either as a business-to-business sale or directly to customers, and guarantee a fixed longevity for replacements to that system. This is a requirement for a lot of government and business electronic installations – the ability to replace like-for-like in the event of failure. AMD states that the unit shipments of their PRO processor line for commercial, enterprise and the public sector has risen by 45% since mid-2014, or a 20.4% compound annual growth rate (CAGR).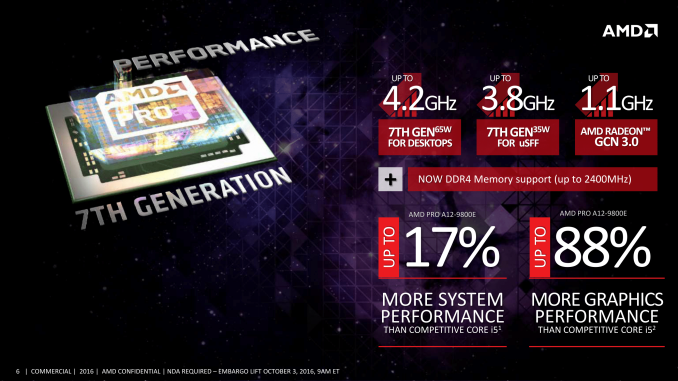 The processors announced today are direct analogues of the consumer grade processors announced a couple of weeks ago, identical in specifications but with PRO in the name and a direct focus on support structures, management, virtualization, security and performance comparisons.
AMD 7th Generation Bristol Ridge PRO Processors
Modules/
Threads
L2 Cache
CPU Base /
Turbo (MHz)
GPU SPs
GPU Base /
Turbo (MHz)
TDP
PRO A12-9800
2M / 4T
2 MB
3800 / 4200
512
800 / 1108
65W
PRO A10-9700
2M / 4T

2 MB

3500 / 3800
384
720 / 1029
65W
PRO A8-9600
2M / 4T

2 MB

3100 / 3400
384
655 / 900
65W
PRO A6-9500
1M / 2T
1 MB
3500 / 3800
384
720 / 1029
65W
PRO A12-9800E
2M / 4T

2 MB

3100 / 3800
512
655 / 900
35W
PRO A10-9700E
2M / 4T

2 MB

3000 / 3500
384
600 / 847
35W
PRO A6-9500E
1M / 2T
1 MB
3000 / 3400
256
576 / 800
35W
All these processors will support DDR4-2400 as standard, and offer USB 3.1 (10 Gbps) support via the appropriate chipset and Type-C with a re-driver chip to support reversible insertion (this is the same as the consumer platform). These new processors are all socketed parts designed for the AM4 platform for now, with BGA components likely to be declared later down the line.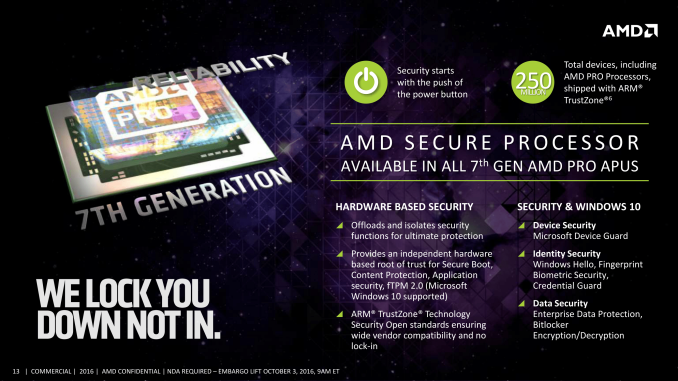 With the PRO APUs, AMD uses an ARM Cortex-A5 to implement ARM TrustZone, offering software agnostic (compared to Intel which does not) support for hardware-based security. This includes Secure Boot, Content Protection, per-Application security, fTPM 2.0, and support for Microsoft Device Guard, Windows Hello, independent fingerprint security, data protection and Bitlocker, among other things. AMD supports this via the DASH management protocol, which is ultimately CPU agnostic and allows users of other DASH systems to get up to speed.
AMD is positioning the APUs to be comparable to various Intel counterparts.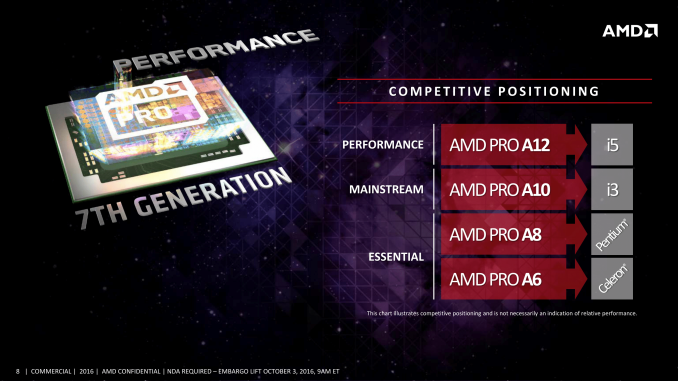 Performance-wise, for the launch, AMD states that in small form factors at 35W and mid-tier at 65W, performance compared to Intel is within 8% for the CPU, but AMD can offer +50-95% in graphics based or graphics accelerated workloads. In this case, AMD was positioning the PRO A12-9800E against the Core i5-6500T for the CPU comparison, and the PRO A12-9800 against the i5-6500 for the graphics comparison. We've asked to get these processors in for testing in order to compare.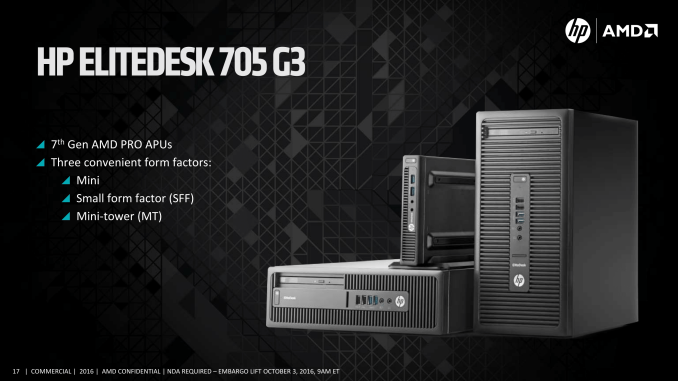 The first systems using the new 7th Gen PRO APUs will be a set of HP Elitedesk 705 G3 systems, in Mini, SFF and mini-tower form factors. Due to the way these commercial systems are promoted, pricing and specifications will depend highly on the support contract aligned with the business customers. AMD is keen to point out that other customers will release their Bristol Ridge PRO based systems over the coming months.