Testing results, maximum fan speed (12 Volts)
The thermal performance of the Phononic HEX 2.0 is a relatively complicated topic. Most typical coolers have a relatively steady absolute thermal resistance regardless of the load or, depending on the cooler's mass, the absolute thermal resistance slightly decreases as the temperature difference increases. The HEX 2.0 shows the completely opposite behavior; it's absolute thermal resistance is very high at lower loads but it sharply degrades at higher loads. This happens because, in layman's terms, the TEC cannot cope with the excessive thermal energy while, at the same time, it inserts its own thermal losses into the system, leaving the relatively small tower cooler to cope with much more than just the chip it is supposed to be cooling.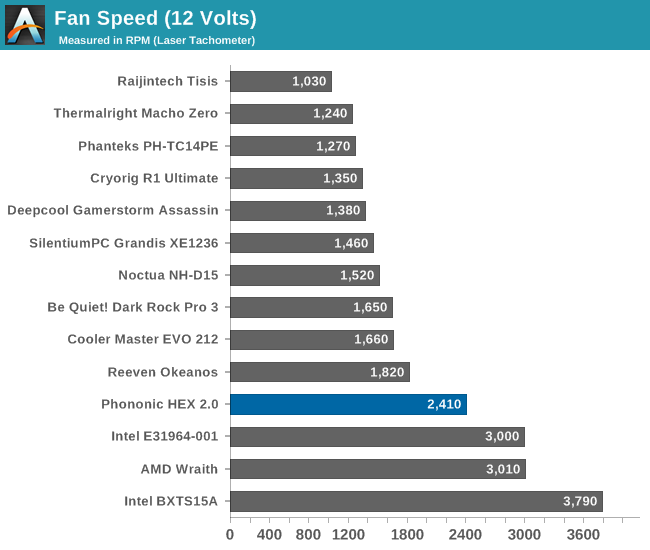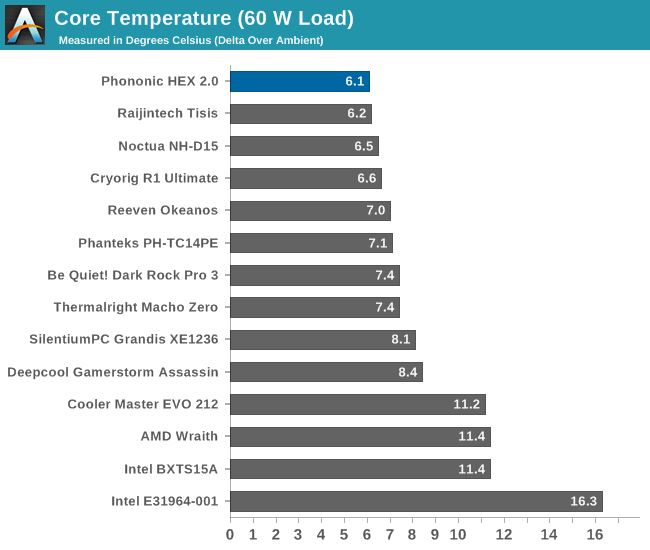 Core Temperature, Constant Thermal Load (Max Fan Speed)
The average thermal resistance of the HEX 2.0 is 0.1459 °C/W, which seems to be poor considering the target audience of this cooler. However, the thermal resistance of the cooler with a low thermal load of 60W is 0.1017 °C/W, easily rivaling the largest of tower coolers and even liquid cooling solutions. As the load increases, the thermal resistance of the HEX 2.0 decreases, particularly with thermal loads above 200W. With a thermal load of 340W, the thermal resistance of the HEX 2.0 drops down to 0.1685 °C/W, hardly competing with the performance of budget-oriented and stock coolers.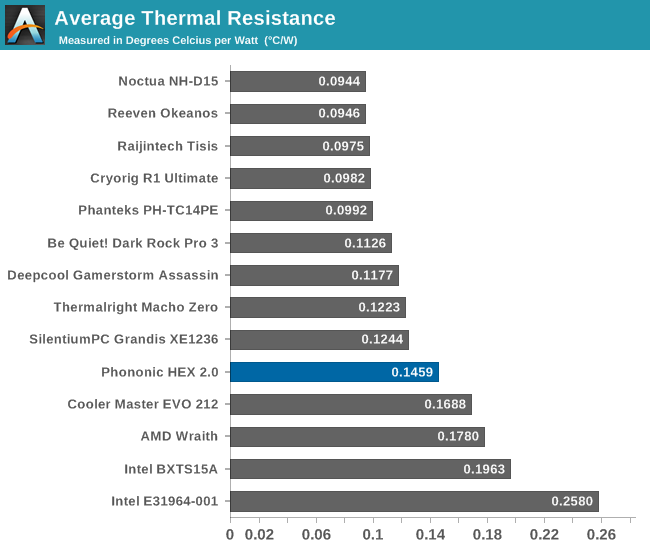 As for the energy consumption, the HEX 2.0 will almost entirely disable the TEC for thermal loads below 20W to minimize consumption and will prevent condensation issues. It will not push the chip to temperatures below the ambient in its balanced mode. If set to the insane mode, the TEC will always operate at maximum mode and could possibly get the CPU to register temperatures below the ambient, but only if the thermal load is very low.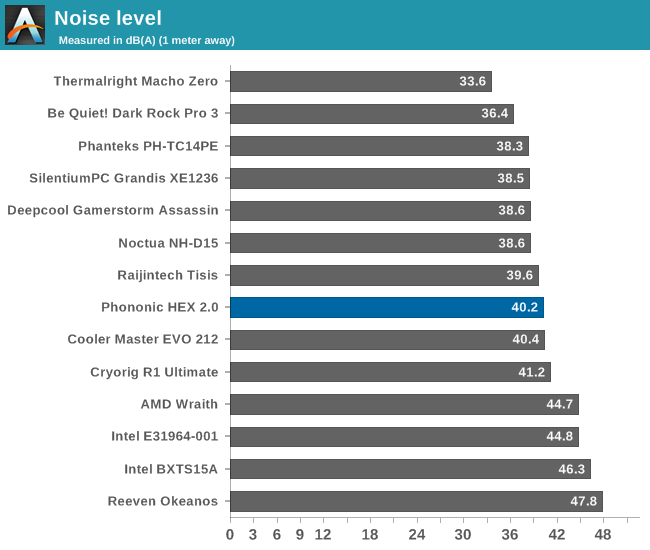 Aside from it turning the TEC off completely, the TEC controller virtually has two operation modes; half power and full power. The controller decides when to set each mode depending on the thermal load and the ambient temperature. Roughly, the TEC shuts down for a thermal load below 15W, it operates at half-power mode for a thermal load between 15W and 90W, and goes at full-power mode for a thermal load above 90W. The TEC itself consumes about 20W at half power mode and 40W at full power mode, with the exact value slightly varying depending on the temperature. Note that a large percentage of this energy consumption is inserted as additional thermal load for the cooler to dissipate.