ASUS P4SDX Deluxe Revision 1.02: Basic Features
Motherboard Specifications

CPU Interface

Socket-478

Chipset

SiS 655 North Bridge (B0 stepping)
SiS 963 South Bridge (A2 stepping)


Bus Speeds

up to 166MHz (in 1MHz increments)

Core Voltages Supported

up to 1.70V (in 0.025V increments)

I/O Voltages Supported

N/A

DRAM Voltages Supported

up to 2.8V (in 0.1V increments)

Memory Slots

4 184-pin DDR DIMM Slots

Expansion Slots

1 AGP 8X Slot
6 PCI Slots

Onboard RAID

Promise PDC20376 controller

Onboard USB 2.0/IEEE-1394

USB 2.0 supported through South Bridge
Realtek RTL8801B FireWire controller


Onboard LAN

Broadcom 5702 Gigabit controller

Onboard Audio

Realtek ALC650

Onboard Serial ATA

Promise PDC20376 controller

BIOS Revision

1004 (January 14, 2003)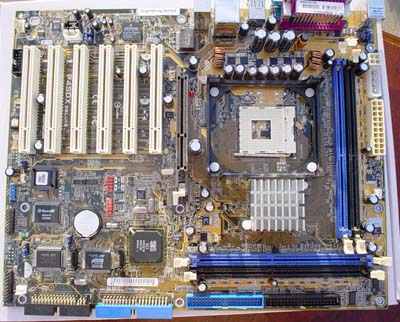 One of nicer features the ASUS P4SDX has to offer is Gigabit LAN, which is capable of 100/1000Mbit/s. The Gigabit LAN is powered by Broadcom's 5702 chip, one we've become quite familiar with over the past several months. Though Gigabit LAN is always a nice feature to have, it won't be any more useful than most other onboard LAN solutions.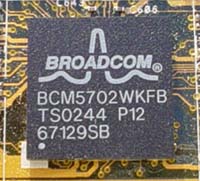 The P4SDX's onboard sound controller comes in the form of Analog Device's AD1980 controller. This is a pretty simple sound solution, and supports features such as 6-channel audio output. Most average users will have no problem listening to music and even playing the latest DX8 video games with this solution. Of course, hardcore gamers will no doubt opt for add-in sound cards like the Turtle Beach Santa Cruz or Creative Labs Audigy 2.
The P4SDX's I/O configuration isn't anything too interesting compared to other I/O setups we've seen. Some of the features include two PS/2 ports, one serial port, one parallel port, four rear USB 2.0 ports, a Gigabit LAN port, an optical out port, and Mic In, Line In, and Line Out, which drive the onboard sound. This is quite a nice blend of a wide range of different serial technologies; the only thing we would have added is one or two FireWire ports.
The Promise PDC20376 controller is what powers the P4SDX's Serial ATA RAID capabilities. This controller is capable of, among other things, supporting RAID 0 (striping) and RAID 1 (mirroring) arrays. While certainly a nice feature to have, we still eagerly await South Bridges with integrated Serial ATA150 support. This will allow for significantly better performance than the PCI bus-constrained Serial ATA controllers on the market today.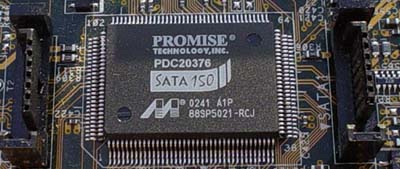 The Promise PDC20376 controller also gives life to the P4SDX's IDE RAID support. If you'd like to connect an IDE hard drive in RAID, you'll be able to do so via the horizontally placed IDE connector powered by the Promise PDC20376 controller. Of course, there's also Primary and Secondary IDE connectors, which support a maximum of four drives (ATAPI or IDE) combined.
Like the SiS 648, the SiS 655 chipset integrates USB 2.0 support. In total, you're allowed to enable up to six USB 2.0 ports on the P4SDX; four of those USB 2.0 ports are available in the I/O panel and the final two are available via a USB 2.0 bracket bundled with the ASUS P4SDX.
The ASUS P4SDX is also FireWire ready. The Realtek RTL8801B FireWire controller powers the two FireWire headers located from the third PCI slot down from the AGP slot. A two-port FireWire bracket is included with the ASUS P4SDX Deluxe bundle to activate these ports.