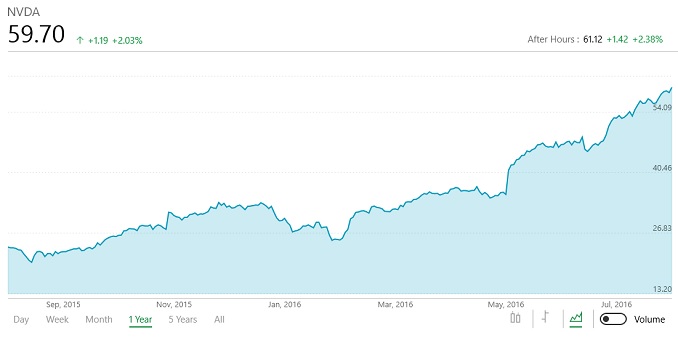 This afternoon, NVIDIA announced their quarterly earnings for the second quarter of their 2017 fiscal year, which ended July 31. NVIDIA had record revenues for the quarter, coming in at $1.43 billion, which is up 24% from a year ago. Gross margin for the quarter was 57.9%, up 2.9% from a year ago, while operating expenses fell 9% to $509 million. Operating income for the quarter was $317 million, up 317% from Q2 2016 where it was just $76 million due to a write-down of the Icera modem division. This also impacted net income, which was up 873% to $253 million, and earnings per share of $0.40 was up 700% compared to the Q2 2016 results.
NVIDIA Q2 2017 Financial Results (GAAP)
Q2'2017
Q1'2017
Q2'2016
Q/Q
Y/Y
Revenue (in millions USD)
$1428
$1305
$1153
+9%
+24%
Gross Margin
57.9%
57.5%
55.0%
+0.4%
+2.9%
Operating Income (in millions USD)
$317
$245
$76
+29%
+317%
Net Income
$253
$196
$26
+29%
+873%
EPS
$0.40
$0.33
$0.05
+21%
+700%
NVIDIA also released Non-GAAP measures, which "exclude stock-based compensation, legal settlement costs, product warranty charge, acquisition-related costs, contributions, restructuring and other charges, gains from non-affiliated investments, interest expense related to amortization of debt discount, and the associated tax impact of these items, where applicable" and therefore don't factor in the Icera write-down. In Non-GAAP measures, revenue was the same $1.428 billion, and gross margin was 58.1% which was up 1.5% from the Q2 2016 Non-GAAP results. Operating income was up 65% to $328 million, and net income was up the same 65% to $313 million. Earnings per share were up 56% to $0.53 compared to last year's Non-GAAP results.
NVIDIA Q2 2017 Financial Results (Non-GAAP)
Q2'2017
Q1'2017
Q2'2016
Q/Q
Y/Y
Revenue (in millions USD)
$1428
$1305
$1153
+9%
+24%
Gross Margin
58.1%
58.6%
56.6%
-0.5%
+1.5%
Operating Income (in millions USD)
$382
$322
$231
+19%
+65%
Net Income
$313
$263
$190
+19%
+65%
EPS
$0.53
$0.46
$0.34
+15%
+56%
At the heart of this is NVIDIA's GPU business, which has diversified quite a bit over the last several years. For Q2 2017, NVIDIA's GPU business brought in $1.196 billion in revenue, up 18% from last year and up 14% over last quarter. NVIDIA's Tegra platform, which is primarily automotive now, but still powering a couple of consumer devices like the SHIELD Tablet K1 and the SHIELD Android TV, brought in revenues of $166 million, which is up 30% from a year ago. NVIDIA's "other" category is the $66 million they report per quarter for the payment from Intel for licensing.
Broken down by market, gaming is still the largest market for NVIDIA, with revenues of $781 million attributed to gaming, which is up 18% year-over-year. This has been spurred by the recent releases of their latest Pascal GPUs for the desktop, which hold the current performance crown with the move to a new FinFET node. Professional Visualization brought in $214 million, up 22% from a year ago, and NVIDIA just announced Pascal based Quadro cards as well, so I would expect this growth to continue if Quadro matches GeForce. The Datacenter revenue had the biggest jump, up 110% year-over-year to $151 million, and NVIDIA has put a lot of effort and marketing into deep learning to achieve this kind of growth. Automotive accounted for $119 million in revenue, up 68% from a year ago, and NVIDIA's OEM and IP market was the only one to see a small loss of 6% revenue compared to last year, down to $163 million.
NVIDIA Quarterly Revenue Comparison (GAAP)
In millions
Q2'2017
Q1'2017
Q2'2016
Q/Q
Y/Y
GPU
$1196
$1079
$959
+11%
+25%
Tegra Processor
$166
$160
$128
+4%
+30%
Other
$66
$66
$66
flat
flat
For next quarter, NVIDIA is expecting revenues of $1.68 billion, plus or minus 2%, with GAAP margins of 57.8% and non-GAAP margins of 58.0%, plus or minus 0.5%.
With record revenue, a more diversified platform, and the current GPU performance crown, NVIDIA has been easily outperforming the PC market with their strong focus on one of the few bright spots in the PC market – gaming. We've seen several companies transition to practically only selling gaming computers, and that is because of the higher margins and strong sales they've seen. NVIDIA has been riding this wave with successful launches of it's Maxwell products, and now Pascal.
Source: NVIDIA Investor Relations