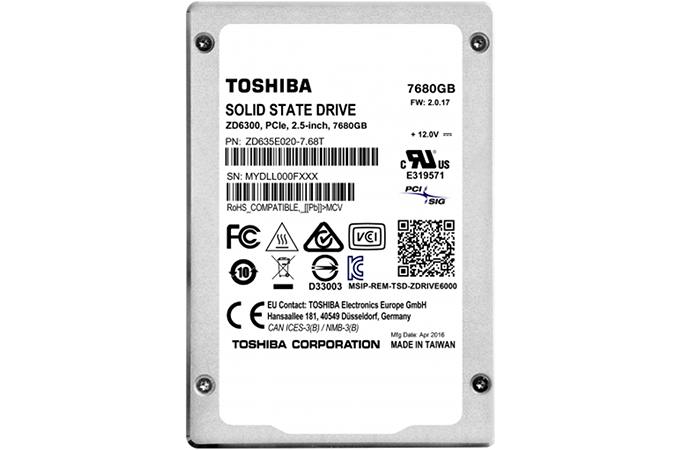 Toshiba has quietly expanded its ZD6300 family of SSDs with a 7.68 TB model, its most capacious storage device announced to date. The new drive was designed for mixed workloads and uses Toshiba's time-proven A19 eMLC NAND flash memory. Due to enhanced endurance and a lot of NAND used for overprovisioning, the SSD can be pre-ordered for approximately $12,000, depending on the seller, though its official MSRP is still unknown.
The Toshiba ZD6300 7.68 TB (ZD635E020-7.68T) SSD uses PMC-Sierra's "Princeton" controller (which is now called Flashtec NVMe PM8604 1032) with PCIe 3.0 x8 interface (which Toshiba splits into two x4 interfaces), 16 NAND flash channels and NVMe 1.1b protocol. The drive will be available in 2.5"/15 mm form-factor with U.2 connector (SFF-8639) in a bid to enable compatibility with different server chassis (specifically for those, which support multiple SSDs). The new 7.68 TB drive from Toshiba support the same functionality as other ZD-series drives from the company (which were originally introduced under OCZ brand), such as dual-port capability, AES-256 encryption, full power loss protection, end-to-end data protection and so on.
OCZ Z-Drive 6000 Series Specifications
6000
6300
6300 Max Capacity
Capacities
800 GB, 1,600 GB, 3,200 GB, 6,400 GB
960 GB, 1920 GB, 3840 GB, 7680 GB
Form Factors
2.5"/15mm U.2
2.5" 15mm & HHHL AIC
2.5"/15mm U.2
Interface
PCIe 3.0 x4 (NVMe 1.1b)
Controller
PMC-Sierra "Princeton" aka Flashtec NVMe PM8604 1032
NAND
Toshiba A19nm 128Gbit MLC
Toshiba A19nm 128Gbit eMLC
Endurance
1 DWPD
3 DWPD
1 DWPD
Encryption
AES-256
Power Loss Protection
Yes
Warranty
Five Years
The ZD6300 7.68 TB SSD uses higher durability eMLC memory to guarantee better endurance, which is why it supports maximum sequential write speed of up to 2.9 GB/s (in line with the ZD6000-series drives). However its maximum sequential write speed is 1.4 GB/s (or actually lower) due to higher program latencies of eMLC (which is in line with other ZD6300-series products).
Typically, the key differences between the ZD6000 and the ZD6300 SSDs (which were officially announced) were usage of eMLC by the latter in order to enable three drive writes per day (DWPD) over a five-year period, which was more suitable for mixed workloads (something that the ZD6300 were designed for). What is important is that the Toshiba ZD6300 7.68 TB SSD belongs to the less-known Max Capacity sub-family from the Z-Drive 6300 product stack that uses eMLC, but not in order to enable 3 DWPDs, but to maximize capacity using more durable ICs. The ZD6300 Max Capacity family has not been announced officially, but such SSDs are available for purchase (as pointed out by Ilya Gavrichenkov, my former colleague from another web-site). The ZD6300 Max Capacity drives do not reserve vast amounts of eMLC NAND flash for overprovisioning, unlike the regular ZD6300-series products, to enhance endurance, but this allows it to increase capacities by 20%, albeit at a relatively high per-gigabyte cost.
Consequently, from a raw NAND capacity configuration point of view, Toshiba's ZD6300 7.68 TB SSD is the same drive as the ZD6300 6.4 TB product: it has 8128 GB of memory, but it makes 7680 GB available to the user rather than 6400 GB. Just like the ZD6300 6.4 TB drives, the 7.68 TB model uses 32 of 16-die packages featuring 128 Gb eMLC NAND flash memory devices produced using Toshiba's second-generation 19 nm process technology.
It should be noted that apart from the ZD6000/ZD6300 SSDs with one or three DWPD, Toshiba also offers high-endurance SSDs with 10 or 25 DWPDs in their ZD-series product lineup. Such drives are naturally more expensive, but those, who need very high endurance, are usually willing to invest in such storage solutions. Still, since requirements of such customers are very diverse, Toshiba does not publish specs of such drives because virtually all of them are built to order and are not available from usual resellers.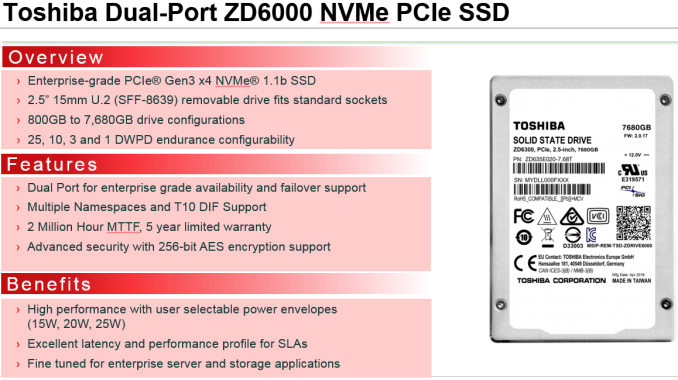 Speaking of availability, Toshiba tells us that it is sampling the ZD6300 7.68 TB product with customers. Meanwhile, there are several resellers, who are offering to pre-order the SSD for $12,563, $12,090 or even $11,252. Since the product is still in the sampling stage and is not yet officially shipping, Toshiba naturally keeps its actual price under wraps.
Source: Toshiba