Audio Quality
The PRO 5 is a smartphone for music lovers. Its unique dual-path audio system delivers excellent performance by using high-quality components. The traditional headphone output circuit uses a Wolfson WM8998 audio codec IC with a 24-bit DAC and a dynamic range of 122dB. Meizu's "Hi-Fi Sound 2.0" audio path includes an ESS Technology es9018k2m SABRE32 24-bit DAC, with a dynamic range of 127dB and low noise operation, a dual-channel Texas Instruments OPA1612 op-amp, and high-current transistors from NXP.
Given Meizu's previous focus on audio quality with the PRO 5 and the MX4 Pro before it, one would assume the PRO 6 would carry on this legacy; unfortunately, the PRO 6's audio solution is more pedestrian—a definite downgrade from the PRO 5. Its CS43L36 audio codec IC belongs to Cirrus Logic's low-power family and includes a Class-H headphone amplifier. Cirrus Logic's other low-power ICs have less dynamic range and higher noise than the Wolfson DAC in the PRO 5; however, I could not find any official documentation for this part, and based on what I heard during my listening tests, this does not seem to be the case for the PRO 6's DAC.
The PRO 6's headphone amplifier is reasonably powerful, easily pushing low-impedance headphones to very high volume levels. Its sound quality is also impressive with no significant deficiencies. No, it cannot match the clarity and soundstage of the PRO 5's "Hi-Fi Sound 2.0" audio path, but the PRO 6's Cirrus Logic audio codec actually sounds cleaner than the Wolfson codec in the PRO 5's traditional audio path. As another reference point, the PRO 6 matches the sound quality of the iPhone 6s, which also uses a Cirrus Logic audio codec.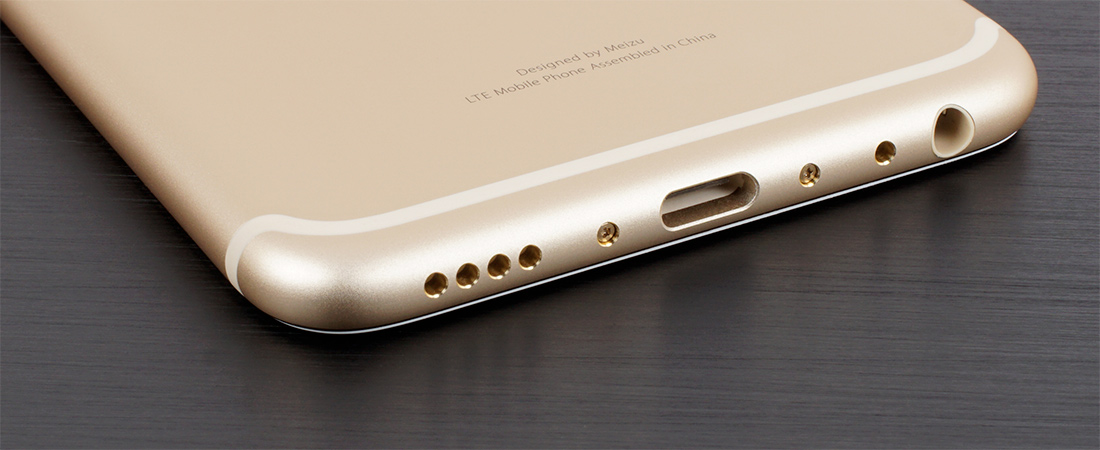 The PRO 6, like the PRO 5, has a single external, downward-firing speaker powered by an NXP class-D audio amplifier. The output specifications for the PRO 6's TFA9911UK amplifier are the same as the PRO 5's TFA9890: 3.6W (RMS) into 8Ω (1.0% THD+N) or 7.2W peak into 8Ω. It also has an internal boost converter that raises supply voltage to 9.5V to improve headroom during transient peaks and speaker protection processing that monitors temperature and excursion to maximize sound output while reducing clipping and distortion.
Given the similarity in specs, it's no surprise to hear the PRO 6 match the PRO 5's volume, which is better than average. The speaker protection processing works very well; it keeps the speaker distortion free even at max volume, effectively capping the speaker's output to what it can handle for a given song. Unlike similar solutions, however, there's no perceptible changes in volume level as it moves through the song, avoiding the annoying warble that occurs if volume levels are adjusted to aggressively or abruptly.
I'm not sure if the PRO 6 actually has a different speaker, but it does sound better than the PRO 5. It does not sound as tinny and there's definitely more low-end output—not bass punch but just a more full-bodied sound. The PRO 6 also does not overemphasize midrange frequencies like the PRO 5, giving it a more balanced sound that does not make vocals too prominent. These differences persist even after making EQ adjustments, so the sound of the PRO 6's external speaker is an improvement over the fairly poor-sounding PRO 5, and it's above average overall.
Video Quality
While we've seen video quality and features improve over the past several generations in at least some flagship phones, video recording has not received the same level of attention from all OEMs and especially in phones at lower price points. Hardware and software licensing costs are partially to blame as recording high-resolution video stresses CPU, DSP, ISP, and memory performance, eats up storage space, and requires sophisticated software algorithms to improve audio and video quality.
The PRO 5 captures decent looking video overall, but its 1080p video suffers from a lower than average encoding bit rate. All of its video modes other than 4K also use the H.264 Baseline profile, which is missing some features that can improve video quality. The PRO 5's audio is also encoded at a fairly low 96 Kb/s at 16 KHz.
Meizu PRO 6: Rear Camera Video Modes
Video Mode
Video
Audio
UHD 4K
3840x2160, 43 Mb/s, H.265 Main
128 Kb/s, 48 KHz AAC
FHD 1080p
1920x1080, 17 Mb/s, H.264 High
128 Kb/s, 48 KHz AAC
HD 720p
1280x720, 9 Mb/s, H.264 High
128 Kb/s, 48 KHz AAC
VGA 480p
640x480, 5 Mb/s, H.264 High
128 Kb/s, 48 KHz AAC
Slo-mo
1280x720, 120fps, 8 Mb/s, H.264 High
-
Meizu PRO 6: Front Camera Video Modes
Video Mode
Video
Audio
FHD 1080p
1920x1080, 17 Mb/s, H.264 High
128 Kb/s, 48 KHz AAC
HD 720p
1280x720, 9 Mb/s, H.264 High
128 Kb/s, 48 KHz AAC
VGA 480p
640x480, 5 Mb/s, H.264 High
128 Kb/s, 48 KHz AAC
Fortunately, the PRO 6 uses higher-quality encoding parameters for both video and audio. All H.264 video modes now use High profile encoding, and audio is encoded at a more sensible 128 Kb/s, 48 KHz stereo AAC.
The PRO 6, like the PRO 5, records 2160p30 (4K) video using the H.265 codec, otherwise known as High Efficiency Video Coding (HEVC), one of the few devices to do so. This is significant because H.265 offers better video quality at the same compression ratio as H.264 or twice the compression of H.264 at a similar quality level. Storage space is the limiting factor when recording 4K, because the PRO 6 does not impose a time limit.
Increasing bit rate to 17 Mb/s, the same bit rate used by the Galaxy S7 and LG G5, and moving to the H.264 High profile dramatically improves the PRO 6's 1080p video quality relative to the PRO 5. Video taken outdoors in good lighting shows sharp detail and low noise. Noise levels increase in lower-light conditions, but it's not excessive and video quality is still pretty good. Whether shooting indoors or out, the PRO 6 does a good job setting white balance and exposure, and there's no macroblocking during quick pans.
The PRO 6's camera quickly adjusts exposure when moving between light and dark scenes, which is shown in the video sample above; however, the change is not perfectly smooth, occurring in discrete steps that can be a bit distracting. Videos can get a little shaky because there's no optical (OIS) or electronic (EIS) image stabilization. And while the hybrid AF system works well most of the time, it does search for focus lock more than it should, randomly losing and reacquiring focus. The microphone does seem to pick up audio well.
The PRO 6's 720p30 video also looks good, very similar to the 1080p mode but with slightly less detail. It also captures 720p slow-motion video at 120fps without the dropped frames and upscaling tricks some other phones employ. The smooth video does show more noise grain than the regular speed video modes, but this is an unavoidable consequence of the higher shutter speed. The camera's discrete exposure adjustments and focus hunting are even more noticeable in slow motion, however, and the phone imposes a 60-second recording limit, which is odd considering there's no restriction on 4K video.
The PRO 6 is not the best phone for capturing video, but overall it does a pretty good job. It's lacking a few features found in other flagship phones, though. There's no 1080p60 mode, no HDR video support, and no image stabilization.