Hitman
The final game in our 2016 benchmark suite is the 2016 edition of Hitman, the latest title in the stealth-action franchise. The game offers two rendering paths: DirectX 11 and DirectX 12, with the latter being the case of DirectX 12 being added after the fact. As with past Hitman games, the latest proves to have a good mix of scenery and high model counts to stress modern video cards.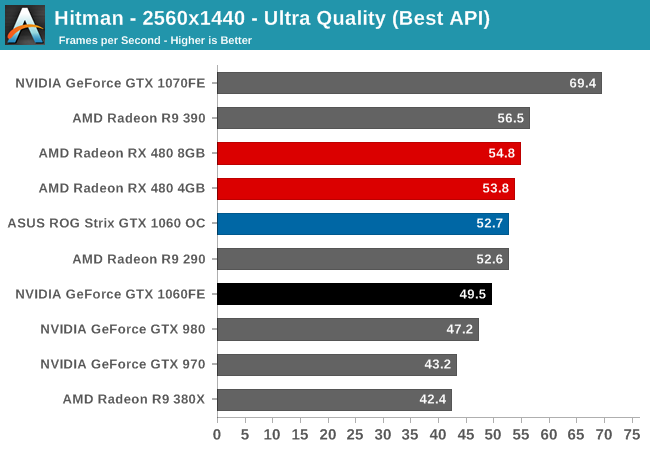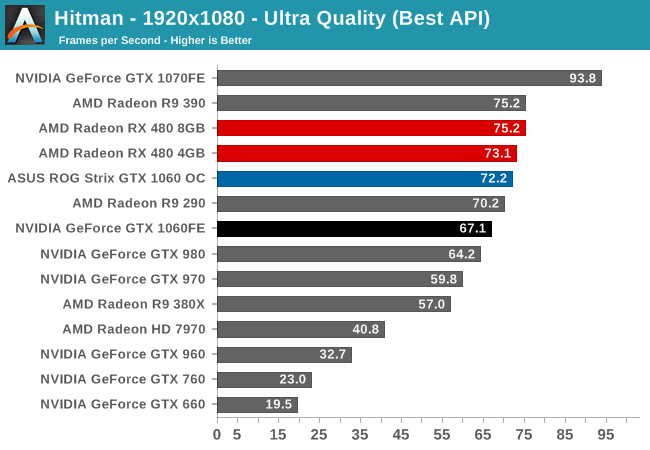 While the full API results are broken out in Bench, for this article I'm only listing the performance with the faster API for each card, as at this point we've seen a very consistent pattern in Hitman: AMD cards do better under DX12, while NVIDIA cards do better under DX11.
In any case, this is the one and only case where we see the GTX 1060 lose. At both 1440p and 1080p NVIDIA's mainstream card falls to AMD's own mainstream competitor by roughly 10%. This despite the fact that GTX 1060 enjoys a larger than normal 4-5% performance advantage over GTX 980.
As for the generational comparisons, GTX 1060 at least comes out well ahead of its predecessors. Compared to GTX 960 it delivers over twice the performance of NVIDIA's former mainstream card, and nearly 3.5x more performance than GTX 660.