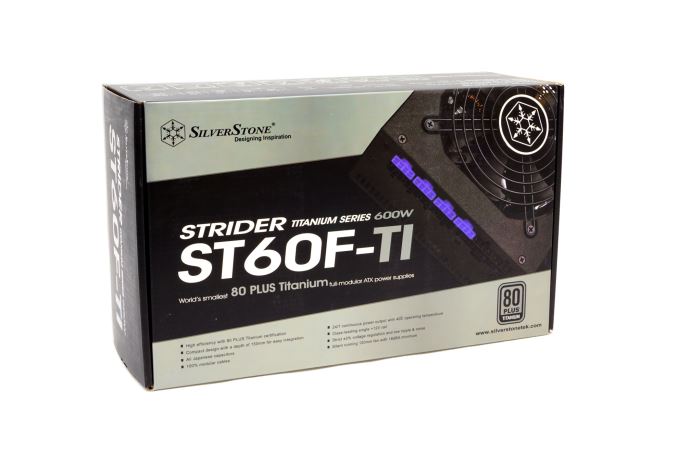 SilverStone is a reputable manufacturer of PC components, strongly focused on the development and marketing of small form factor and proprietary systems. A very large portion of the company's computer case at retail consists of small form factor and proprietary designs, and cases that frequently can support ATX power supplies in these form factors. SilverStone also markets its PSUs, and is currently offering dozens of them via five different main series.
Introduction
One of SilverStone's main PSU series is the Strider series, with the main notion of which is to offer high performance ATX PSUs of minimal proportions. Specifically, the company is trying to minimize the length of their units, as the other two dimensions need to remain the same in order to maintain ATX compliance. We recently had a look at the Strider ST55F-PT 550W PSU, an 80Plus Platinum certified PSU that SilverStone is using to specifically target gamers and advanced users building compact systems. 80Plus Platinum efficiency should nowadays be more than enough for even the most demanding of users, but there are those who are willing to pay extra just to get the pinnacle that the technology can currently offer. SilverStone is obviously aware of this, and has recently expanded the Strider Series by inserting 80Plus Titanium certified units into it. In this review we are having a look one of the three new units of that series, the Strider Titanium ST60F-TI 600W PSU.
Power specifications ( Rated @ 40 °C )
AC INPUT
100 - 240 VAC, 50 - 60 Hz
RAIL
+3.3V
+5V
+12V
+5Vsb
-12V
MAX OUTPUT
20A
20A
49A
2.5A
0.3A
100W
588W
12.5W
3.6W
TOTAL
600W
Packaging and Bundle
We received the Strider Titanium PSU inside a large and very sturdy cardboard box. Inside the box, the PSU is protected by two thick polyethylene foam pieces and a nylon bag, as well as extra cardboard walls. This is about the maximum level of reasonable shipping protection that one could design. Aesthetically, the theme is simplistic and serious, focused mainly around the model number of the PSU itself. The main features of the PSU are printed on the front side of the box, while more specific details can be found on its sides and rear.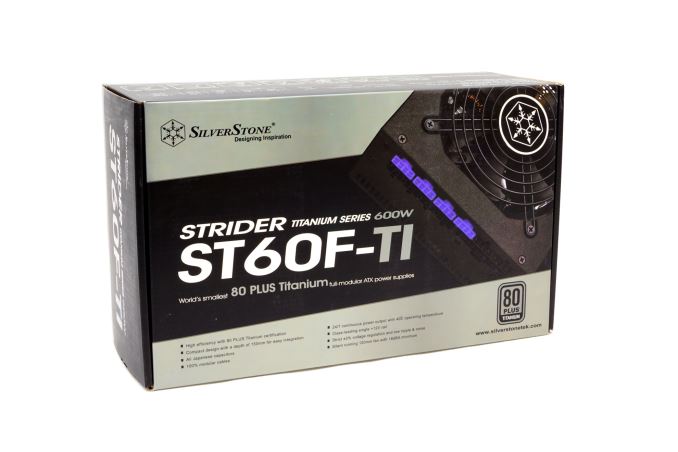 SilverStone supplies a fairly rich bundle alongside with the new Strider Titanium series units. Inside the box we found a standard AC power cable, four black mounting screws and four black thumbscrews, a few cable ties, four long cable straps, a magnetic filter for its fan (or another 120 mm fan), and a well written manual.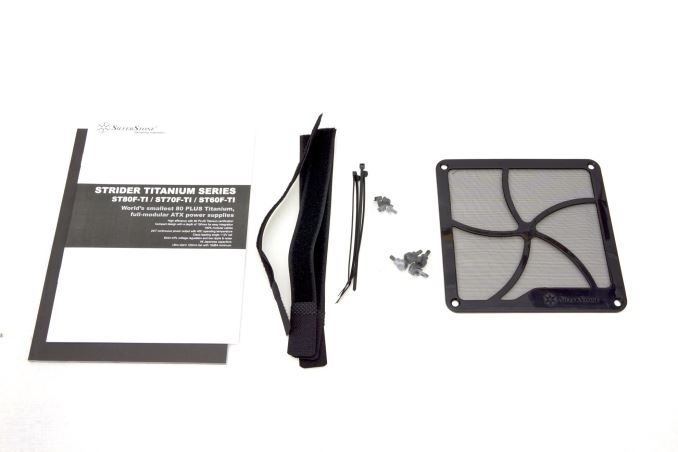 The modular cables of the Strider Titanium are "flat" type, ribbon cables, including the main 24-pin ATX cable. All of the wires and connectors are black, with the sole exception being the PSU side connectors of the PCI Express cables, which are blue.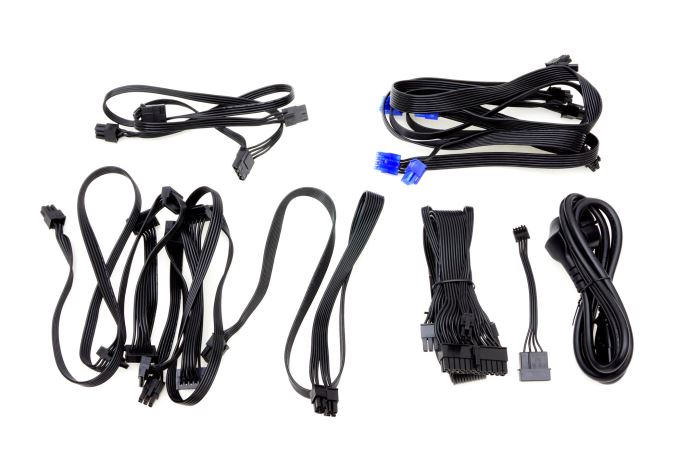 SilverStone Strider ST60F-TI
Connector type
Hardwired
Modular
ATX 24 Pin
-
1
EPS 4+4 Pin
-
1
EPS 8 Pin
-
-
PCI-E 6+2 Pin
-
2
PCI-E 8 Pin
-
2
SATA
-
8
Molex
-
3
Floppy
-
1