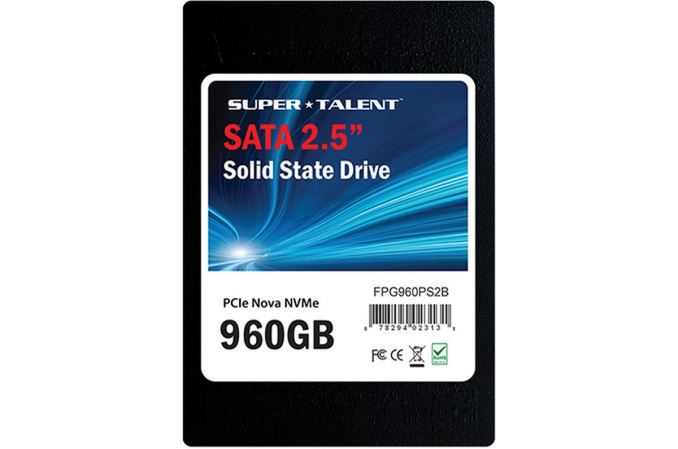 The march to U.2 adoption is slow but coming - it is already more successful than SATA Express ever was. Consumer motherboards are now coming equipped with slots, and we've seen a single vendor supply drives to the consumer space - a number of players behind the scenes are shipping to enterprise users, and are expected to launch consumer grade products at some point in the next twelve months. While not specifically aimed at consumers, we got word that this week Super Talent has added a family of SSDs with U.2 connector into its lineup of products. Their new PCIe Nova drives will be aimed at servers and workstations first, and will offer capacities up to 2TB as well as high quoted performance. In fact, the new SSDs will be the fastest drives in Super Talent's lineup and will compete against high-end drives from companies like Intel and HGST.
The Super Talent PCIe Nova SSDs with a U.2 (SFF-8639) connector and PCIe 3.0 x4 interface will be based on MLC NAND memory and will be offered in various configurations, initially starting with 120 GB, up to 1920 GB. The manufacturer does not disclose the exact model of the controller or the exact type of flash it uses to build the devices, but it claims that the drives have maximum sequential read speed of 3 GB/s and maximum sequential write speed of 2.2 GB/s. Super Talent also does not specify endurance of the SSDs, but declares a mean time between failures (MTBF) at 1 million hours, which is in line with consumer storage devices.
Super Talent PCIe Nova SSD General Specifications
Capacity
120 GB
240 GB
480 GB
960 GB
1920 GB
Model Number
FPG120PS2B
FPG240PS2B
FPG480PS2B
FPG960PS2B
FPG1T9PS2B
Controller
unknown
NAND Flash
MLC NAND, unknown manufacturer
Sequential Read
Up to 3 GB/s
Sequential Write
Up to 2.2 GB/s
Form-Factor
2.5"/9.5mm
Interface
U.2 with PCIe 3.0 x4
MTBF
1 million hours
As for dimensions, all drives come in 2.5"/9.5 mm form-factor, rather than 7mm. They are still compatible with almost all desktops, servers, workstations as well as other applications with large storage bays and U.2, however some mobile devices might have limitations. Keep in mind that Super Talent officially positions its PCIe Nova drives for servers and workstations, despite the consumer based MTBF and no listed enterprise features.
The U.2 connector has still got some traction to gain in the desktop space, with about a dozen motherboards currently supporting the native connector and over 100 others suitable via M.2 to U.2 converter cards. On the enterprise side, companies like Intel and HGST have released a number of SSDs for servers and workstations featuring this interface and server/storage systems makers like Supermicro support U.2 with their latest SuperServer and SuperStorage solutions, including features such as the NVMe 1.2 protocol as well as hot-swapping.
The main driving force for U.2, at least publicly, has so far been Intel and its DC P3xxx-series SSDs. For workstations, Intel also released its SSD 750-series drives with the SFF-8639 connector in 2015. As a result, Super Talent's PCIe Nova SSDs will not have a lot of competitors. At this time, Super Talent has not disclosed prices for the PCIe Nova line, but enterprise customers can contact their local ST reps for more info.
Source: Super Talent