The Intel Coolers
We have seven Intel coolers to test for the means of this review. Six are stock coolers accompanying processors that the company has released during the past decade and the seventh is the Intel BXTS15A (TS15A) that the company recently released as an aftermarket upgrade.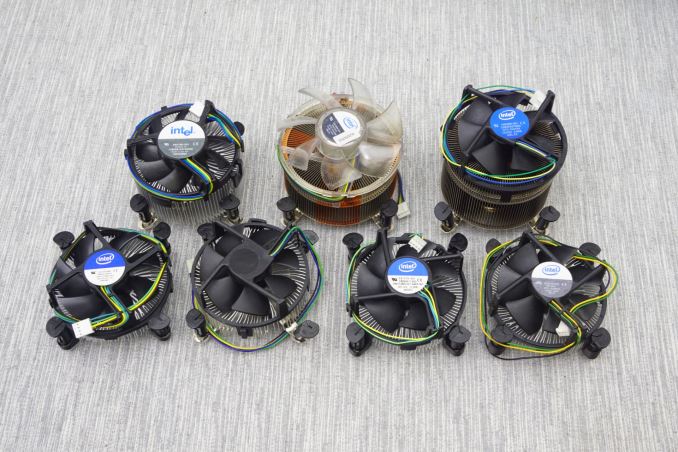 Vendor
Cooler
Common Bundle
Core
Fins
Fan
(mm)
Mass
(g)
Intel
D75716-002
Socket 775 Celerons
Alu
Alu

≈80

118
C25704-002
Socket 775, P4 6x0
Cu
Alu

≈80

132
E97378-001
Socket 1155 Intel i5
Cu
Alu

≈80

146
E97379-001
Socket 1155 Intel i3
Alu
Alu

≈80

92
D60188-001
Socket 775, C2D E8x00
Cu
Alu

≈80

419
E31964-001
Socket 1366 i7-X
Cu
Cu/Alu

≈100

435
BXTS15A
Aftermarket, ≈$30
Cu
Alu

≈80

362
The Intel C25704-002 and Intel D75716-002 probably are the oldest coolers in this review. These were usually accompanying Socket 775 Intel Celeron and Pentium 4 "Prescott" processors several years ago. They are of nearly identical size and very similar in terms of design, with the exception that the D75716-002 has an aluminum core and a less powerful fan.

Intel C25704-002 and D57516-002
The Intel D60188-001 is essentially an overgrown C25704-002. Intel has been receiving a lot of criticism back in the day for having noisy stock coolers, therefore they nearly doubled the mass of the C25704 and used a significantly less powerful fan. The Intel D60188-001 usually was the stock cooler accompanying high performance Core 2 Duo processors.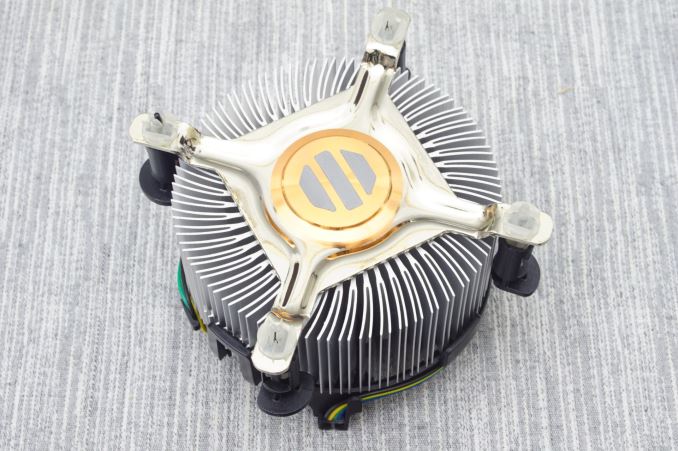 The E97378-001 and the E97379-001 look almost identical and their ID numbers are very close, but major differences can be discerned when the coolers are turned upside down. Aside from the E97378 having a copper core, the E97379 has significantly lower mass and straight fins, hinting the use of a more powerful fan. Bent pins cause significant turbulence at high airflows and unnecessarily increase the cooler's noise output.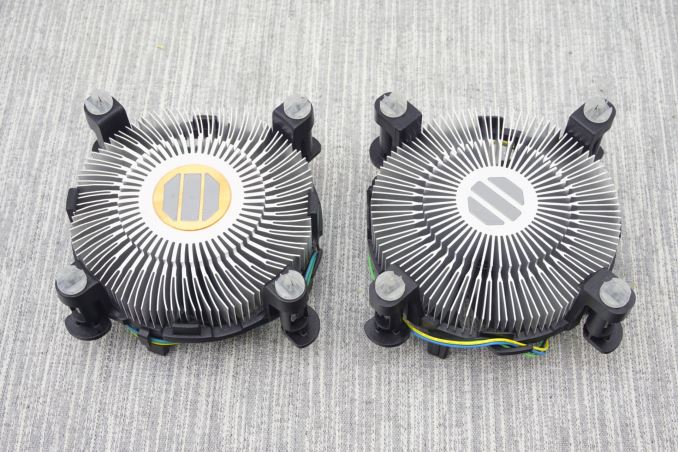 Intel E97378-001 and E97379-001
Intel's first attempt to design a high performance cooler was probably the Intel E31964-001, the stock cooler of socket 1366 i7 Extreme processors. They kept the core design the same but replaced half of the aluminum fins with copper fins and used a semi-transparent fan with blue LEDs. The mix of aluminum and copper fins creates a "flower" visual effect similar to that first seen on Zalman CNPS coolers nearly two decades ago. The straight fins and very high current rating of the fan hint that the Intel E31964-001 is not designed with silence in mind.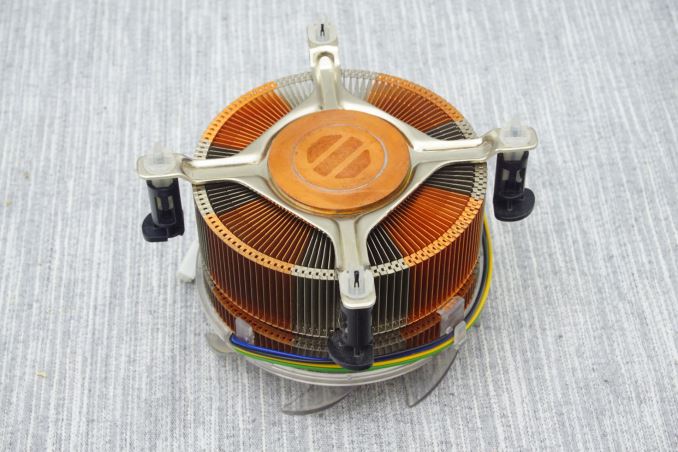 The Intel BXTS15A is an aftermarket cooler sold by Intel as an upgrade for socket 1151 CPUs but will also fit on older 1150/1156 processors. A mere glimpse on the cooler reveals that it is just an oversized version of the company's stock coolers, mostly just much taller than what they have been supplying alongside with the CPUs. It is almost identical to the E31964-001, but has only aluminum fins and they are taller. It also has straight fins and a very strong fan, hinting that this will not be a silent cooler either.