The front of the SlateVision's motherboard is much more bare than the back of the unit, most likely because it is this side which has to rest against the screen.
Besides the system's internal battery and the remaining 64MB of RAM, the southbridge is also mounted on the front of the motherboard. For a southbridge FIC decided to go with an ALI M1535+. On top of a 2 channel ATA-100 controller, Super I/O controller, and Fast IR controller, the M1535+ also offers integrated audio with SoundBlaster Pro/16 compatibility.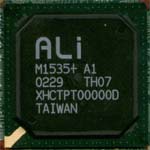 There was also a silkscreen for an additional chip on the front of the SlateVision's motherboard. If this space will be used and what will go there is still a mystery to us.
While we were taking apart the SlateVision, we thought we would take a look at the electrostatic screen. Removing the 10.4" screen reveals that behind the screen lies a Wacom digitizer unit. It is not clear what the specific model number of the digitizer is, but you can be fairly certain that it is an OEM only solution.
It turns out that FIC's claim of a protective sheet over the LCD panel is true As the picture shows, there was a fairly thick layer of glass/plastic resting over the LCD panel. This did more than protect the screen from damage: it also provided us with a hard surface to write upon. The texture of the screen was very pleasing, not smooth like glass and not bumpy. In fact, the surface feels a good deal like an actual paper surface which proves to be a nice touch. Also, the protective layer was not very susceptible to finger prints, meaning that we were not forced to clean the screen surface after every time we wrote something on the screen.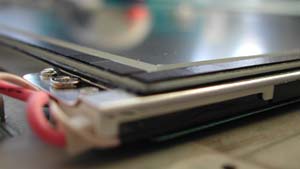 Our unit came with a 20.0GB IBM Travelstar 40GN hard drive. The drive is one we have seen used before in mobile systems and features a reasonable average seek time of 12ms with a 2MB data buffer and a 4200RPM rotation speed.
As we mentioned before, the speaker on the SlateVision was not the most impressive speaker we have come across. Then again, FIC was more considered with size than fidelity, and the internal speaker is certainly small. To give the speaker credit, it did a fine job at playing back Windows and system sounds.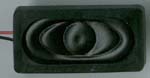 The battery on the SlateVision is a 6 cell 3600mAH lithium-ion battery pack. We did not have the change to run formal battery tests on the system, but from what we did get to observe we suspect that the SlateVision lasts from 3 to 4 hours on a full battery charge. Be sure to check back in our final SlateVision review to see just how long the battery does last.