Conclusion
I always try to use every keyboard that we review as my personal keyboard for at least a week. My typical weekly usage includes a lot of typing (about 100-150 pages), a few hours of gaming and some casual usage, such as internet browsing and messaging. I personally prefer Cherry MX Brown or similar (tactile) switches for such tasks, but I do not consider linear switches to be inconvenient either. The very subtly tactile Romer-G was almost perfect for such tasks, as it was very comfortable and relatively quiet, but I found it nearly impossible to get accustomed to its short travel distance and stop bottoming keys down. Still, even with the keys bottoming down, the G910 Orion Spectrum was very comfortable over long typing sessions. Note however that the tactile feeling of the Romer-G switch is nearly imperceptible and cannot provide effective feedback - you should consider the Romer-G to be much more like a linear rather than a tactile switch.
The intended market of the G910 Orion Spectrum is that of advanced and professional gamers. In terms of comfort, gamers will love the keyboard, as it is highly responsive and very convenient to use. The limited programmability however is disappointing considering the target group of the keyboard, with only the nine G keys being programmable on the entire keyboard. This limits the flexibility of the G910 Orion Spectrum, especially for hardcore gamers, but also for advanced professionals.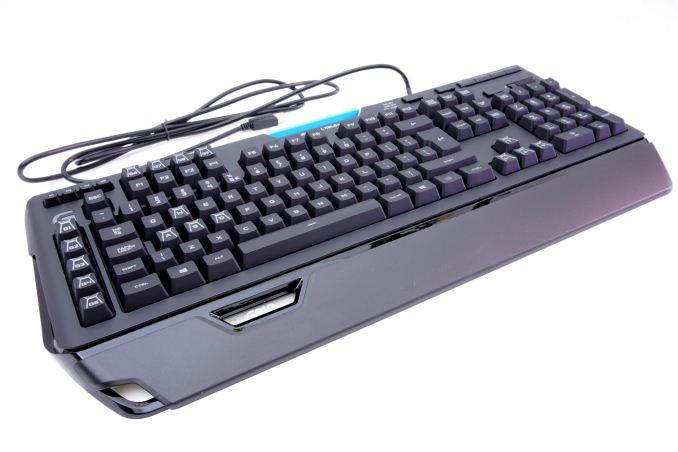 The Setpoint software is quite good, being visually appealing, simple, and effective. We feel that the macro recorder could include some more advanced options, especially the ability to record/insert mouse movements. Very few manufacturers implement such advanced macro capabilities but it is a feature that we do expect to see with keyboards this costly.
The ARX Control application however, in our opinion, does not really provide any useful information or features. It can only monitor the system's hardware or provides options that are directly accessible via buttons found right on top of the keyboard itself. It could be useful if applets for popular games and applications were readily available, but there are only a few available applets. Most of the available applets were developed by individual programmers and offer very limited information or are buggy. Logitech's support of the ARX Control software seems to be minimal at best, leaving the development of applets almost exclusively to volunteer enthusiasts. For the majority of users, the ARX Dock will be nothing more than a nice stand for their phones.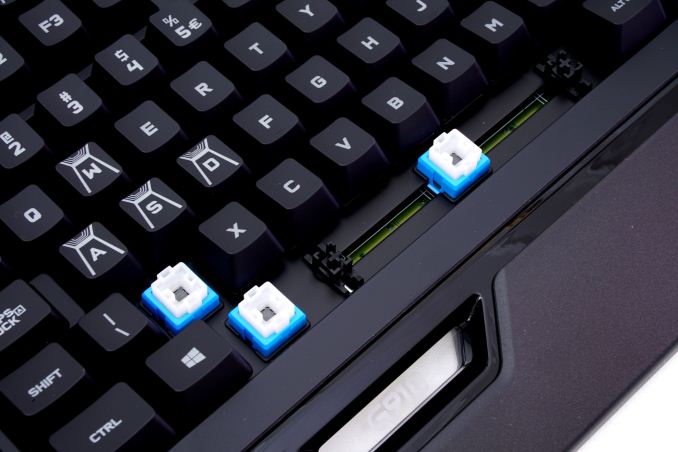 Aesthetics are a subjective matter but we feel that the designer achieved a perfect balance of elegance, modernity and extravagance. Some could insist on a metallic top body for a keyboard of this price range, but that would be nothing more than an aesthetic preference. Despite its plastic body, the Logitech G910 Orion Spectrum is a very high quality, solidly built keyboard. It is also very functional, with a healthy number of macro keys, mode switch buttons, multimedia controls and a good volume control wheel. What the keyboard lacks is the presence of USB pass-through ports. We consider that to be a significant issue for the G910 Orion Spectrum because of the ARX Dock, as the intended Android/iOS device requires a power source.
Overall, the G910 Orion Spectrum is a very good keyboard but we feel that it does not live up to Logitech's expectations. Generally speaking, it is the same keyboard as the G910 Orion Spark, just with cylindrical keycaps and a straight palm rest. These corrections do make the G910 Orion Spectrum much more comfortable to use, but they are unlikely to prove enough to convince advanced users that the G910 Orion Spectrum can justify its price tag. With an MSRP of $180, the G910 Orion Spectrum is one of the more expensive keyboards on the market, and a user's expectations at this price point are very high. Lacking full programmability and with very limited support for its unique feature, the ARX Dock, we feel that the G910 Orion Spectrum will be easy prey of its competition, at least until Logitech brings down the price.